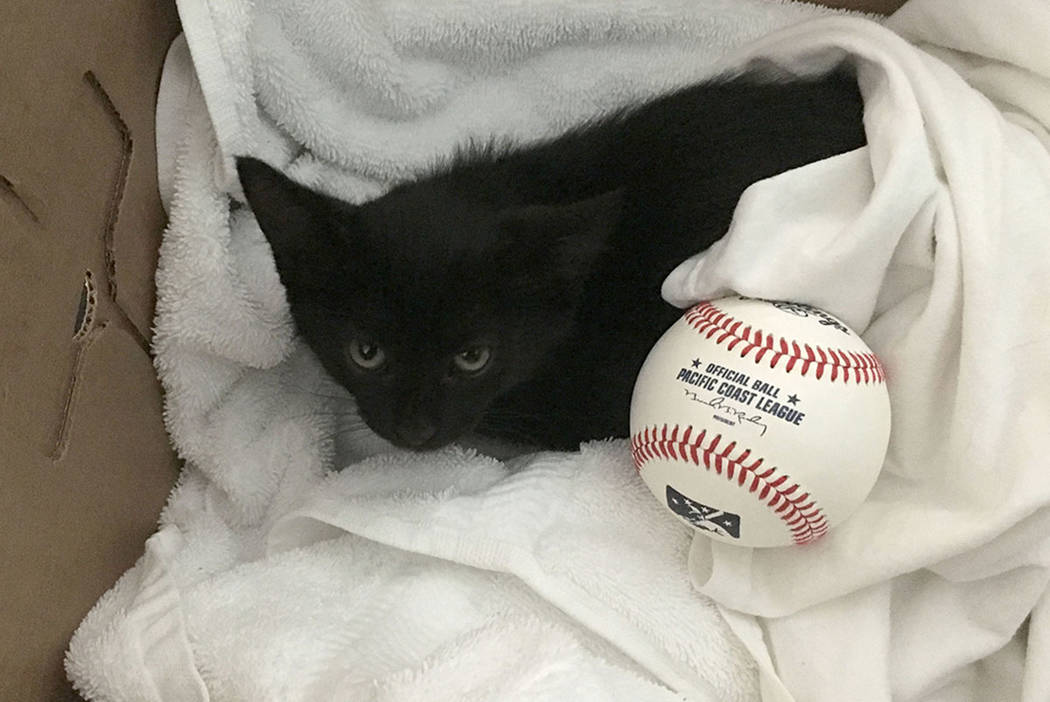 When the 51s games end for the night and the fans clear the stands, Cashman Field's other tenants come out.
Stray cats roam around, sometimes in the stands, sometimes working their way onto the field, sometimes in other places around the ballpark. Not every night, but certainly more than a few.
The cats have been around the field for years and nobody knows exactly how many there are, but this year, kittens have been popping up.
They've caught the eye of 51s trainer Deb Iwanow, who has been helping rescue the kittens she finds by taking two of them to the vet and, eventually, helping get them adopted.
The first kitten she found was at the top of the dugout between the door and the wall. It was a male, about four to five weeks old, grayish with tiny white paws.
She found him on May 28, the day before Memorial Day, so she took the kitten home with her. Being a holiday weekend, she had to wait a couple days before taking it to East Charleston Animal Hospital to get its shots.
She was going to take it to a shelter, but decided she didn't have the heart to leave it there. Initially, she was actually hoping to keep it, but with the 51s being on the road as much as they are, that option wasn't feasible.
By Wednesday, Iwanow had found a permanent home for the kitten with a member of the 51s' ticket office.
"I was really upset when I had to give up the first one because after three or four days I had fallen in love with it," she said. "I promised my parents and my sister because she was here during that homestand that I wouldn't touch another one."
Ultimately, she had to break that promise when she found another kitten earlier in June. "I didn't have a choice," she said.
This one, a black cat, was about two months old. She was a little dehydrated, so Iwanow again took her to the vet.
The tiny kitten got fluids and its shots and stayed over night before being adopted by 51s administrative assistant Esther Lopez.
Lopez wasn't exactly looking for a cat, but couldn't resist. And, like Iwanow, didn't want to see the kitten go to the shelter.
"I actually just went over to see the cat that Deb got and she was so cute and little," Lopez said. "She was completely all black, not a spot of white on her, and I just fell in love with her. I was like 'I have to take her home.'"
The kitten was a little bit skittish at first, she said, but now has settled into her new home.
All of Lopez's pets have had names that begin with K. And given where she was found, she settled on Koufax for the new kitten's name, after Los Angeles Dodgers great Sandy Koufax.
"She's the one who ran onto the field during the game, so I wanted it to be something baseball related and I'm a huge Dodgers fan," Lopez said.
A Cashman cats quandry
Vice president of operations and security Nick Fitzenreider said the cats have always been at Cashman.
"When I came here 30 years ago, there were always cats around here and then they kind of disappeared," he said. "To be honest with you, as long as there's cats roaming acreage like this, generally (we) don't have a problem with mice so I kind of like the cats to be around."
Though nobody seems quite sure where they reside — or where the litters might be — they likely are behind the fences or by the berm in the outfield, seeking out cooler areas.
A member of the grounds crew told Iwanow that there were three litters. Judging by the two kittens she found, she believes there are at least two.
"I don't remember seeing any last year but it seems like this year there's just this influx," Iwanow said. "I'm not sure whether the best idea is just to go out and try to find them and get them or whether the best idea is let them come to us, and when they come into our world, then we take responsibility."
Iwanow has two cats of her own back home in New York — one that was rescued at a ballpark in Florida and the other from a shelter — that her parents watch over while she's in Las Vegas. If and when more kittens do come out, Iwanow will continue to make sure they are well taken care of and put in suitable new homes.
"I'd like to save as many as I can, but realistically I live in a hotel and I have my responsibilities," Iwanow said. "It's hard for me, but if they come out, then like I said, I want them to be comfortable, I want them to be safe, I want them to be healthy. I've always had respect for all living things, so it's important to me that you treat them with respect."
Contact Betsy Helfand at bhelfand@reviewjournal.com. Follow @BetsyHelfand on Twitter.