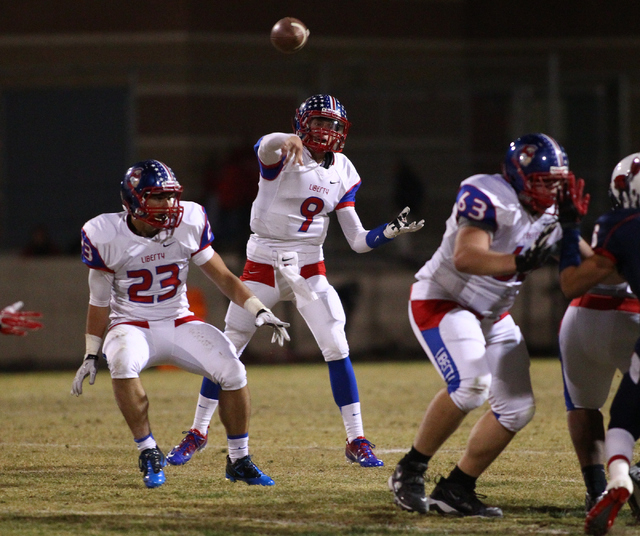 Liberty football coach Rich Muraco entered the season unsure of his team's offensive identity.
The Patriots had lost their all-time leading rusher Niko Kapeli and quarterback Kai Nacua, a three-year starter, to graduation.
Senior Tyler Newman quickly established Liberty as a passing team.
The Patriots moved away from a run-heavy offense and became the state's top passing attack. Newman was dominant, passing for 3,988 yards and 42 touchdowns in leading the Patriots to a 10-4 record. For his efforts, the Review-Journal selected Newman as the state's Player of the Year to highlight the all-state team.
"We weren't 100 percent sure what direction our offense was going to go in," Muraco said.
"As the season got going, Tyler just made all the right plays and the kids kind of rallied around him, and we were able to open up our playbook more because of him. It was fun as a coach to open up the offense and get more people involved."
Newman's shining moment came Oct. 11 when he matched a state record with nine passing touchdowns against Del Sol. He completed 19 of 22 passes for 496 yards in that game.
Newman had seen plenty of playing time as a junior, but spent more time at receiver than quarterback. He had battled Nacua for the quarterback job in that offseason, but gladly made the position switch when Nacua won the starting role.
"When it was clear he was going to be the backup, instead of pouting, he just decided 'I'm a good athlete and I need to be on the field, whatever it takes,'" Muraco said. "If he dedicated himself to being a wide receiver, he'd be able to be on the field. As a coach, you want your best athletes on the field. And he did a good job for us."
Muraco said Newman's positive outlook when he was forced to play receiver went a long way with his teammates.
"He wanted to be the starting quarterback, but he understood his role on the team," Muraco said. "I think he earned a lot of respect with his attitude of 'just let me get on the field and play.'"
Once Nacua graduated, Newman wasted no time taking over as the team's leader.
"He was able to get the young receivers and those guys worked hours outside of the normal practice time developing some chemistry with the throws," Muraco said. "It paid off when the season came around, putting the ball in a tight spot, and he had the confidence that Drew (Hladek) or Deseon (McQuaig) were going to make plays."
Hladek had only 16 catches as a junior and McQuaig hadn't caught a pass for Liberty before this season. But with Newman slinging the ball, both shined. McQuaig caught 56 passes for 1,084 yards and 13 touchdowns in earning first-team all-state honors. Hladek had 58 catches for 911 yards and nine TDs.
Newman didn't just focus on those two. Three other receivers had more than 20 catches.
"Most importantly is his intelligence and ability to make quick decisions," Muraco said. "And he's a good decision maker. Very rarely does he throw a bad pick. And on top of that, he's deceptively elusive."
While Newman didn't match the area's top running quarterbacks like Bishop Gorman's Randall Cunningham or Basic's Antraye Johnson, he did plenty of damage with his feet. Newman finished with 511 rushing yards and nine touchdowns.
"Maybe just looking at him, you wouldn't realize how good an athlete he is," Muraco said of the 5-foot-11-inch, 190-pound Newman. "He really is a great basketball player and the baseball coach is trying to get him to come out and pitch. Really, whatever sport he wants to play, he's good at."
Contact reporter Damon Seiters at 702-380-4587 or dseiters@reviewjournal.com. Follow @DamonSeiters on Twitter.