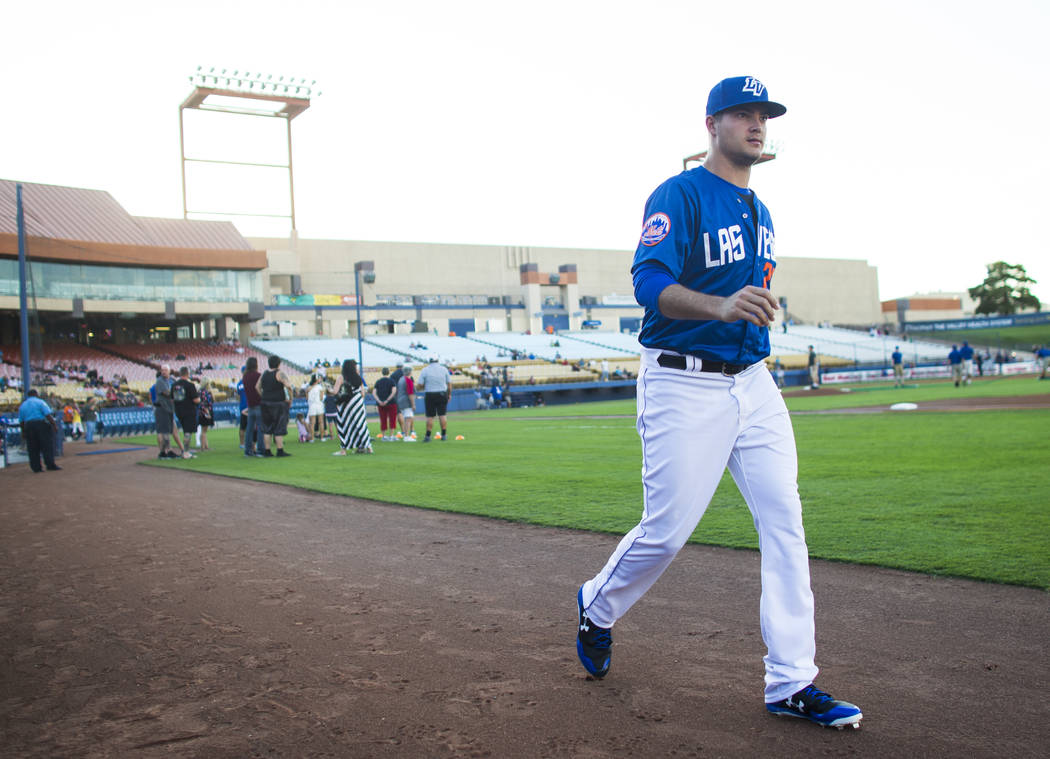 As the July 31 trade deadline approached, Addison Reed's name had been tossed around in rumors to the point where it likely would have been more surprising if he hadn't gotten traded.
Jamie Callahan, a Red Sox prospect, knew the team was looking to make a move with the deadline approaching. He just didn't know he would be part of a deal.
Callahan, along with Stephen Nogosek and Gerson Bautista were shipped to the New York Mets that day for Reed and so far, Callahan has fit in well with his new team.
The right-handed reliever joined the 51s, while the others two were assigned to Class-A Advanced St. Lucie.
Callahan, 22, is now the Mets' No. 29 prospect, according to MLB.com. In the span of a couple days, he went from living in Pawtucket, Rhode Island, to moving across the country to Las Vegas.
"It's bittersweet when you've been with an organization your whole career and you have a lot of friends, you know a lot of people and they've been good to me and you find out that you've been traded and you're happy, you're excited," Callahan said. "It's a great opportunity but at the same time you're kind of torn. You've got your friends that you're leaving and you're heading to a new place and so it's kind of bittersweet."
Though surprising, Callahan expressed a lot of excitement about the move.
Callahan joined the 51s during their longest homestand of the season and has some time to get acclimated to the city. Though he said he hasn't seen a lot more just the hotel he has been staying at, he did venture down to The Venetian.
"It was like a little Italy. … It was sick. I got to see the boats," Callahan said. "I'm from a small town in South Carolina. I was like 'Whoa. This is cool.' I've never seen anything like this before."
On the field, everything is mostly the same, though his greeting to the Pacific Coast League was Max Muncy, the first batter he faced, slamming a game-tying home run in the ninth inning on Aug. 4.
"It's a tough league for pitchers but a challenging league so it's exciting to see how my stuff plays out here," Callahan said.
Coming into Thursday, Callahan was 5-2 with a 3.27 ERA in 34 games this season across two levels. He had given up two runs — one earned — in his two innings with the 51s thus far.
Viola said Callahan is capable of throwing 95-97 mph on a consistent basis, something the 51s haven't had out of the bullpen this year and that he would likely be used in late situations.
"It's a short-term analysis here but you would like to see going in more consistency with the secondary pitches the slider and the splitfinger but you see that they're capable of being plus pitches as well and if you've got somebody with that kind of an arm who has the capability of having three plus pitches, you've got somebody who could really make a difference in the big leagues," pitching coach Frank Viola said.
With a little less than a month left in the season, Viola would also like to see Callahan pitch in back-to-back games, something he did just once this season with in the Red Sox organization to see how he handles it.
Callahan, for his part, is focused on being himself and not changing what had gotten him to Triple-A in the first place.
"He was traded for a pretty good big leaguer so you come in you want to show people that you warranted being traded, you want to show people that there was a reason why you were traded but you don't have to prove anything to anybody," Viola said. "This kid's gotten up the ladder pretty quick. He's still only 22 years old. He's pitching in Triple-A.
"He's done OK and I think this is just the start for him. I think he's going to keep going forward and I think he's going to get better and better."
More 51s: Follow all of our Las Vegas 51s coverage online at reviewjournal.com/51s and @RJ_Sports on Twitter.
Contact Betsy Helfand at bhelfand@reviewjournal.com. Follow @BetsyHelfand on Twitter.