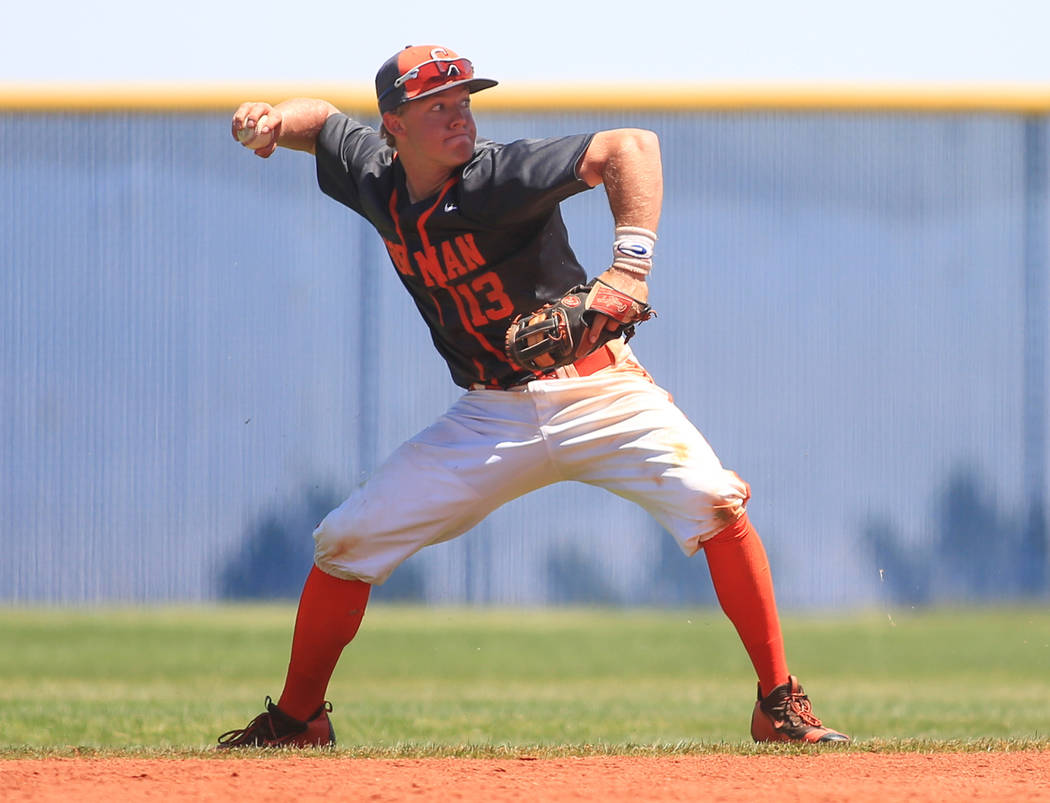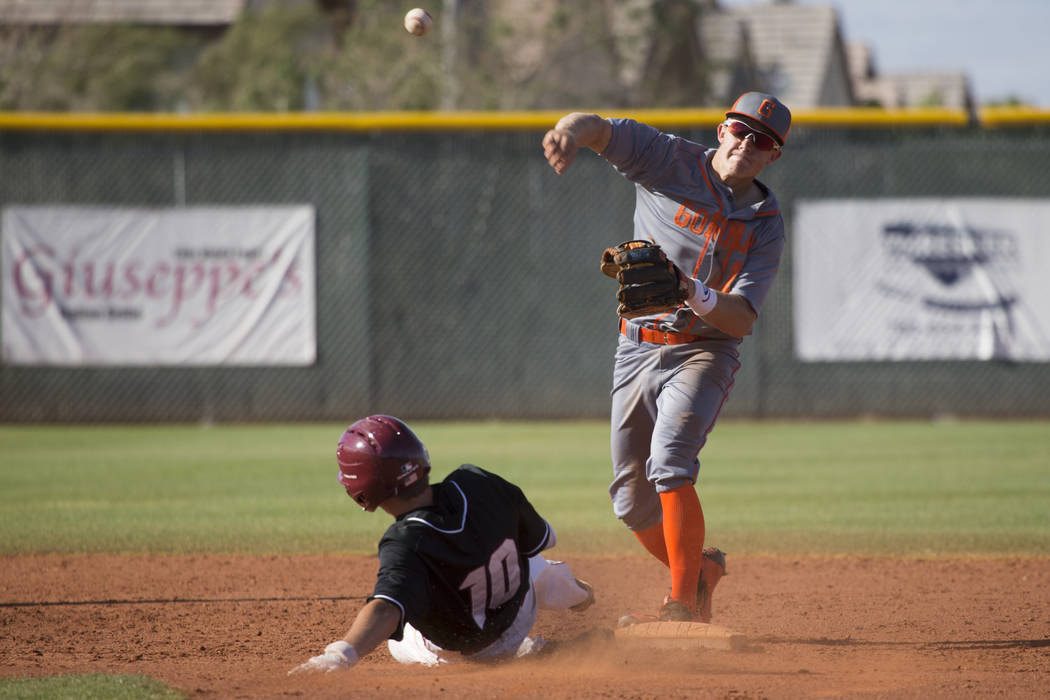 Bishop Gorman's baseball team was suddenly facing elimination and in dire need of a spark Saturday after a 13-2 loss to Centennial.
So leadoff man Nick Israel provided it, kicking off the game by blasting a home run to right-center field. Gorman bounced back from its most lopsided loss of the season to defeat the Bulldogs 11-8 for the Sunset Region title, and the Gaels hope Israel continues to be a catalyst in the Class 4A state tournament, which begins Thursday at Las Vegas High.
Gorman (30-5) faces Rancho (25-8) at 4 p.m. Basic (26-7) plays Galena (23-13) in the opening game at 1.
"Him getting on is very important for us," senior center fielder Jorel Hingada said of Israel. "Once he gets on, then we know we're going to roll."
Israel has gotten on more often than not, posting a .522 on-base percentage. He's batting .398 with six homers and has scored 43 runs.
"He leads, we follow," Gorman coach Gino DiMaria said. "And he has to set the tone. Our team is a very contagious team. I know a lot of teams believe once a kid starts hitting it gets contagious, but we're a contagious team. If our top of the order starts swinging, then we respond a lot better."
DiMaria expects the offense to lead the charge during the state tournament as it has all season. The Gaels don't have as deep a pitching staff as in past seasons. Gorman played Centennial twice Saturday for the Sunset title, and neither of the Gaels' starting pitchers made it out of the first inning.
"We always said that hitting is going to win games for us this year, especially getting into the state tournament," DiMaria said. "If we do that well and we get good, quality pitching, we'll have a shot at this."
The home run has been one of Gorman's key weapons this season. The Gaels have hit 47 homers in 35 games, led by junior Austin Wells, who has eight. Hingada and Nick Hernandez each has seven home runs, and six players have at least five. Every starter has hit at least one home run.
"The home runs this year have been unbelievable," said Hingada, who is batting .404 with 35 RBIs and a team-high 49 runs. "We don't really focus on them, but they come when they come and we have the power to do it. Any pitcher that's on the mound, they should know that we're coming out to hit a home run."
Senior catcher Jordan Sadovia said he has confidence that the pitchers are up to the task as the team looks for its second state title in the past three seasons. But he also knows the offense will be there should the pitchers falter.
"Our offense has been kind of carrying us all year," Sadovia said. "It's just all about picking each other up. If the pitcher struggles, we're going to do our very best to pick him up and find a way to win. The offense has been huge, and we've just got to keep rolling."
There's good reason for the confidence. Gorman is hitting .371 and averaging 9.2 runs.
"Right now, we're just relying on what we've got," Israel said. " We've got our bats. And we're going to war with our bats, and hopefully our bats will get us where we need to go."
More Preps: Follow all of our Nevada Preps coverage online at nevadapreps.com and @NevadaPreps on Twitter.
Contact prep sports editor Damon Seiters at dseiters@reviewjournal.com or 702-380-4587. Follow @DamonSeiters on Twitter.