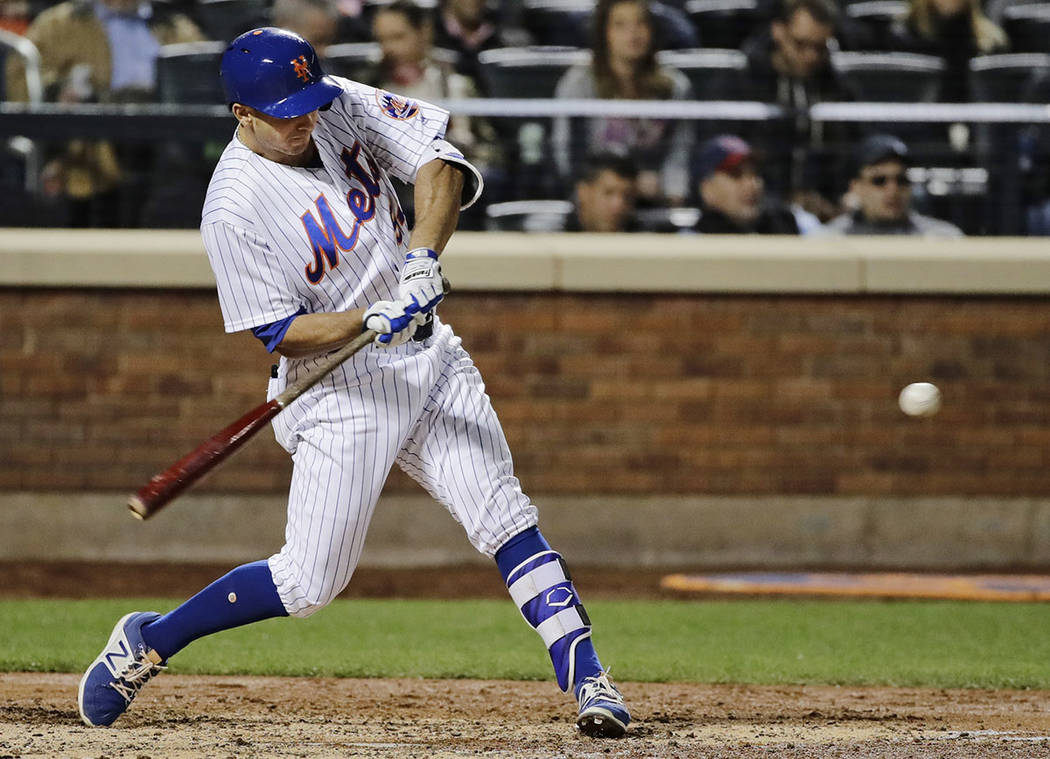 Welcome to the Pacific Coast League, where the batting averages are high and the ERAs are higher.
Or maybe it's the other way around.
The PCL has long been known as a hitter's heaven and a pitcher's worst nightmare.
So how are people supposed to evaluate statistics coming from the PCL?
Well, the answer is: It's tough.
Pitching
Frank Viola, the 51s pitching coach, doesn't mince words.
"You can throw a pitcher's statistics out the window here in Vegas," Viola said.
The air is thin, and the ball flies. The ball is harder to grip, too. And breaking balls — curveballs in particular — don't break the way they should. It's especially noticeable in parks at higher elevations in Las Vegas, Reno, Albuquerque, El Paso and Colorado Springs.
The thing he puts the most stock in is how many first-pitch strikes a pitcher throws.
He also puts stock into walks versus innings pitched, though even walk rates can be skewed if pitchers are afraid to attack the strike zone out of fear that a mistake will be hammered 400 feet.
"As much baseball as I've been around my whole career, I could tell you verbatim which guys are going to make it and which guys aren't going to make it just throwing the numbers out, just watching their work ethic and how they do their side work and how they do in a game situation," Viola said.
Of course, most people don't possess the type of pitching knowledge Viola does and instead turn to statistics.
"I don't think you can totally throw it out," reliever Ben Rowen said.
Rowen has pitched for multiple teams in the PCL and International League.
He entered Monday with a 5.79 ERA in 37 1/3 innings pitched, a high among his Triple-A statistics.
While he was quick to say there were "quite a few things" going on this year for him, he did note that some of the numbers were not typical when matched against his career numbers.
Just look at the stats of the guys going to the All-Star Game each year, which pits the two leagues against each other, Rowen said.
"If you just look at the numbers, they're going to be different," Rowen said. "You're going to see guys in the PCL hitting maybe .360 versus you're probably not going to see that in the IL. All the ERAs for the pitchers in the PCL are going to be a little bit higher. I definitely think there's a factor in there. Now, how much do you factor it in? That's a good question. I'm not too sure."
Coming into Monday, PCL team ERAs ranged from 3.79 to 5.67. Just two teams have a sub-4.00 ERA and neither (Nashville and Memphis) are out west.
In the IL, eight of 14 are below 4.00, with five teams lower than the PCL leader.
"If you have a 5.00 ERA here and you did the stuff that I was talking about earlier, getting ahead strike one, I could probably take a run and a half off easy for the International League," Viola said. "I don't have anything to base it on, just knowing that it's a little easier pitching in those scenarios than it is out here."
Hitting
Players with high offensive outputs in the PCL have long had their performances discredited.
Sure, hitting coach Jack Voigt said, there are "some cheapies." But that happens everywhere.
"You still need eyes on these guys to see what's going on," Voigt said. "It's unfortunate and sometimes I think unfair that when people look at our players here over the last couple years in Las Vegas, that everyone thinks 'Oh, they should all hit .330 because it's the PCL, it's Las Vegas."
Last year, two 51s, T.J. Rivera and Brandon Nimmo, led the league in hitting at .353 and .352, respectively.
"If you go back and look at the sabermetric numbers we have, T.J. and Brandon, their exit velocities were very good, their hits per ball-in-plays were very good," Voigt said. "There's correlations there. That's what some of these things take out of the equation of the PCL."
In the minor leagues, the wealth of statistics and information is a little less readily available to the general public than it might be in the majors.
"You can't just look at statistics to tell if a guy is swinging the bat well or not," Voigt said.
Last year, Jio Mier, now a 51s infielder, hit .219 with three home runs and 18 RBIs in 76 games in Buffalo, an IL team.
Coming into Monday, the Las Vegas infielder had only played in 10 games for the 51s, making the statistics impossible to compare, though he had nearly matched his home run total for last season in that short period of time with two.
"In the International League, being there for the first time last year, to me it kind of felt like, I'm not going to say true baseball for a hitter, but for a hitter, it's almost like if you hit a home run, it's going to be a true home run," Mier said.
Heading into Monday, the top six Triple-A teams by batting average were in the PCL.
Three PCL teams had hit more than 100 home runs, while no IL teams had.
Slugging percentage, too, Voigt said, tends to be higher than normal.
And, Voigt said it's not uncommon that a minor league free agent pitcher might ask his agent to find him a job in the International League while a hitter might ask the opposite, further skewing the numbers.
"They still need to get good pitches to hit, they still need to square it up and be consistent, but it does bother me at some times that the guys that do put in their work and they play solid and everything else gets looked down on, because they might have had a pretty good year," Voigt said.
Contact Betsy Helfand at bhelfand@reviewjournal.com. Follow @BetsyHelfand on Twitter.
Top Triple-A teams by batting average
1. Reno, PCL, .297
2. Fresno, PCL, .291
3. Albuquerque, PCL, .290
4. Salt Lake, PCL, .288
5. Colorado Springs, PCL .286
6. Scranton/Wilkes Barre, IL, .276
Top Triple-A teams by ERA
1. Rochester, IL, 3.43
2. Durham, IL, 3.52
3. Indianapolis, IL, 3.60
4. Scranton/Wilkes Barre, IL, 3.62
5. Lehigh Valley, IL, 3.74
6. Nashville, PCL, 3.79