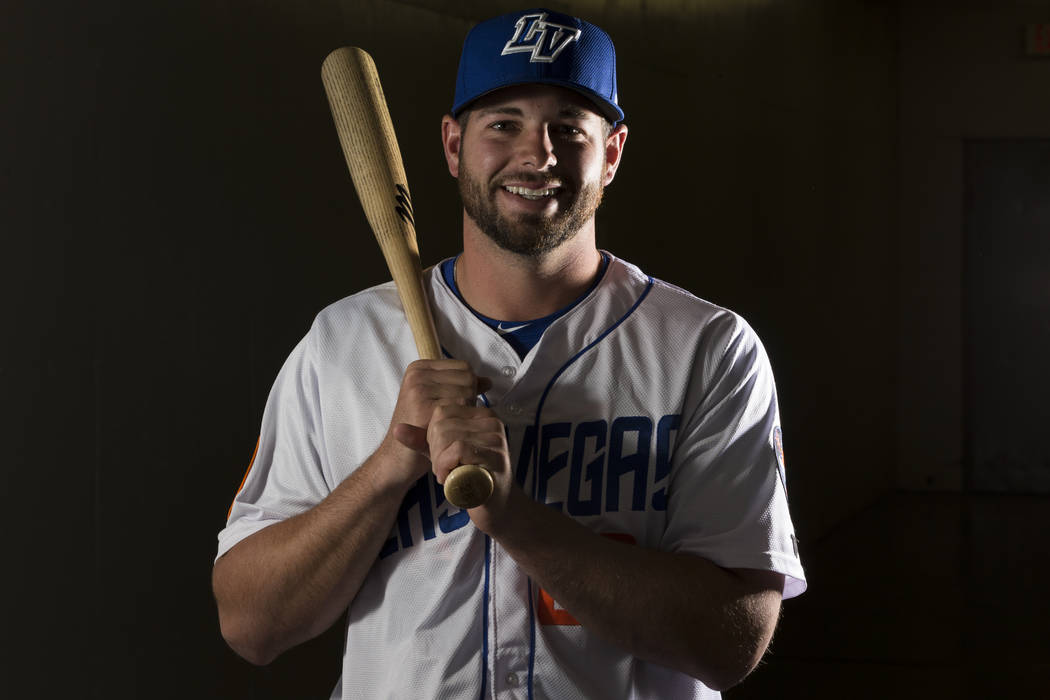 The 51s' longest road trip of the season started at the beginning of June.
It took them through Reno, Salt Lake and Tacoma to play three of the best teams in the Pacific Coast League.
Officially, it was just 11 games, but it felt like a month, catcher Kevin Plawecki said.
So Tuesday, after using an off day to recharge, the 51s returned to Cashman Field where Plawecki belted a pair of home runs to lead Las Vegas to a 13-2 victory over the Sacramento River Cats.
Las Vegas (26-39) used five home runs, got hits from all eight position players and Wilfredo Boscan recorded a quality start as the 51s won the first game of the four-game set.
Plawecki added a double in the eighth inning, capping off a five-RBI night.
"I played golf this morning. My dad's in town so maybe I need to get back on the course again tomorrow," Plawecki joked. "(I) just saw some good pitches to hit and was able to put some good swings on it and good things happened."
Plawecki hit home runs in the third and fifth innings. Desmond Jennings added one in the second, Amed Rosario one in the third and Matt Reynolds capped the power surge with one in the sixth.
"He got good pitches to hit and he was aggressive," manager Pedro Lopez said of Plawecki. "He got good pitches to hit and not only him, but I thought that everybody else did. All the guys they went out there and they were staying in the middle of the field and they did some damage."
The 51s did a majority of that damage off Sacramento (24-39) starter Tyler Beede, who is the San Francisco Giants' top prospect.
Beede had given up seven home runs heading into Tuesday.
"He's obviously got good stuff but we were able to capitalize on some of his mistakes up in the zone," Plawecki said.
The 51s tacked on five runs in the eighth inning, thanks in part to a couple of errors by third baseman Ryder Jones.
All the offense was more than enough for Boscan, who has pitched well as of late.
"He was aggressive in the strike zone. He mixed his pitches well. It's a guy that's been around and he's got a pretty good feel for what he's doing out there," Lopez said. "The one thing I liked was he was able to work ahead and put hitters away."
Boscan gave up two runs on three hits in seven innings in winning his third straight game.
"His fastball had a lot of movement on it tonight," Plawecki said. "I think that that was throwing them off a little bit along with his breaking ball and (his) change up was just keeping them off balance. They were taking some swings on his fastball that were in the zone and were kind of running out of the zone so they weren't able to necessarily get good contact. He had all of his pitches working tonight,which was good."
Boscan's outing was part of a complete win for the 51s, who are happy to be home again, even if it is only for four games.
"I thought that Boscan did a good job, threw the ball well and we also swung the bats well and took advantage of some of their errors," Lopez said.
Up next
Who: Sacramento River Cats at Las Vegas 51s
When: 7:05 p.m. today
Where: Cashman Field
Starters: Chris Stratton (1-4, 6.35 ERA) vs. Ricky Knapp (2-7, 5.94 ERA)
Next five
Thursday: Sacramento at Las Vegas, 7:05 p.m.
Friday: Sacramento at Las Vegas, 7:05 p.m.
Saturday: Las Vegas at Reno, 7:05 p.m.
Sunday: Las Vegas at Reno, 1:05 p.m.
Monday: Las Vegas at Reno, 7:05 p.m.
Update
The New York Mets put Asdrubal Cabrera on the disabled list with a sprained thumb and recalled T.J. Rivera, who had been sent down just days before. Donovan Hand was assigned to Las Vegas from Double-A Binghamton to fill the roster spot of Sean Gilmartin who was designated for assignment and subsequently claimed off waivers by the St. Louis Cardinals. Outfielder Jayce Boyd and pitcher Beck Wheeler were both put on the disabled list; Boyd retroactive to June 12 and Wheeler retroactive to June 10.
More 51s: Follow all of our Las Vegas 51s coverage online at reviewjournal.com/51s and @RJ_Sports on Twitter.
Contact Betsy Helfand at bhelfand@reviewjournal.com. Follow @BetsyHelfand on Twitter.