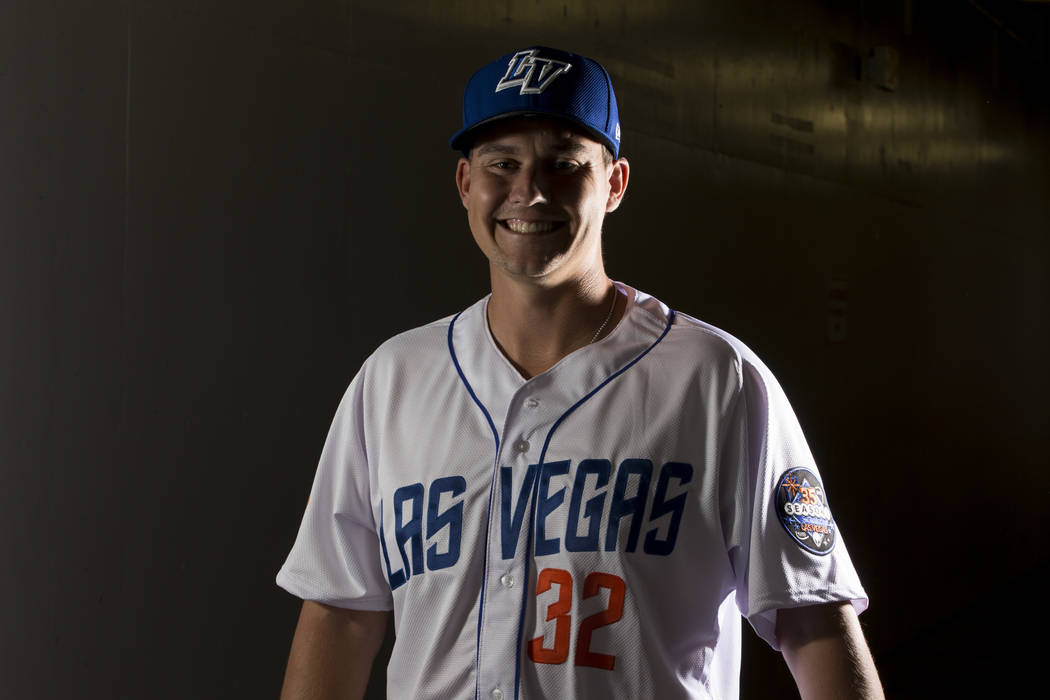 When the Fresno Grizzlies came to town in April for the Las Vegas home opener, the 51s greeted them with a night they would have liked to forget, beating them 21-6.
Monday, the red-hot Grizzlies returned the favor.
Fresno had won 18 of their past 21 games heading into the series opener — make that 19 of 22 after Monday's 22-8 shellacking of the 51s (36-59).
"It was definitely the reverse effect. It definitely was a long day and a lot of runs scored," Fresno left fielder Jon Kemmer said. "It was almost exactly — they scored 21 runs the first time they played us here — and the tides turn sometimes."
Kemmer said over the course of that 21-game stretch, the team has been hitting well and capitalizing with runners in scoring position.
On Monday, the Grizzlies (54-41) went 10-for-14 with runners in scoring position.
The game was close until Fresno put up a seven-spot off starter Ricky Knapp in the fifth to make the score 12-3.
Knapp has struggled this year to avoid the "big inning" in outings this season, but he had never had one like Monday's. To add insult to injury, Knapp was forced to stay in the game as the 51s' bullpen was shorthanded. Luis Mateo was sent down to Double-A and Chasen Bradford had yet to arrive from the big-league club New York Mets.
Manager Pedro Lopez spoke with him shortly after his outing to apologize.
"I hate to leave a guy out there to give up 12 runs. That's unfair for a player," Lopez said. "We're short in the bullpen. We we're trying to get the max out of him and it just ended up being that way."
Knapp, after throwing a perfect first inning, gave up three runs in the second, one in the third and one in the fourth before the Fresno uprising.
His final line: 12 runs, 13 hits in 4 2/3 innings, which included four home runs.
Reliever Beck Wheeler followed Knapp and gave up five runs in the sixth inning — all unearned.
Wheeler served up back-to-back home runs — the first a grand slam to Kemmer and then Reid Brignac's second of the night.
Kemmer and Brignac — Fresno's eighth and ninth hitters — drove in a combined 11 runs. Kemmer led the way, going 4-for-6 with six RBIs and three runs scored.
"When you see everyone else hitting, you kind of feel like you've got to contribute a little bit as well so it was just fun being part of this game tonight," Kemmer said.
The 51s turned to two position players to cover the last three innings. Catcher Jeff Glenn surrendered four runs in 1 1/3 innings pitched while infielder Jio Mier gave up one run in his 1 2/3 innings.
"It's one of those games that you never want to be part of but just unfortunately that's the situation that we're in right now and (we've) just got to deal with it," Lopez said.
Up next
Who: Fresno Grizzlies at Las Vegas 51s
When: 7:05 p.m. today
Where: Cashman Field
Starters: Kyle Smith (2-0, 6.64 ERA) vs. Mitch Atkins (2-2, 7.45 ERA)
Next five
Wednesday: Fresno at Las Vegas, 7:05 p.m.
Thursday: Fresno at Las Vegas, 7:05 p.m.
Friday: Las Vegas at Memphis, 5:05 p.m. PDT
Saturday: Las Vegas at Memphis, 4:35 p.m. PDT
Sunday: Las Vegas at Memphis, 12:05 p.m. PDT
Update
Right-handed reliever Luis Mateo was transferred back to Double-A Binghamton. Mateo was 0-0 with a 6.35 ERA in 5 2/3 innings with the 51s this seaso
Contact Betsy Helfand at bhelfand@reviewjournal.com. Follow @BetsyHelfand on Twitter.