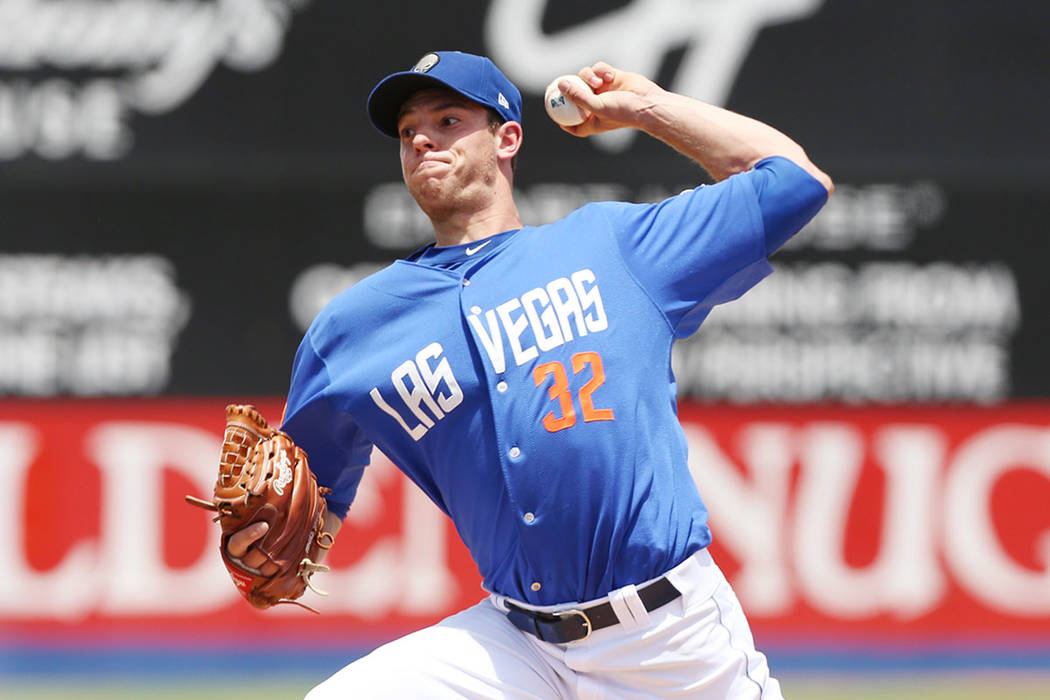 Steven Matz will don the 51s uniform this week once again, making a rehab start for Las Vegas on Tuesday in Round Rock, Texas.
Matz, a left-hander who pitched for the 51s in 2015, has been sidelined this season while dealing with discomfort in his throwing elbow.
He made one appearance with Class-A Advanced St. Lucie, Florida, on May 18 and tossed three innings, giving up one run. Matz threw 53 pitches in that game.
Manager Pedro Lopez said they expect him to throw 70-80 pitches Tuesday.
Per reporters in New York, Matz and Seth Lugo, who is making a rehab appearance on Tuesday in St. Lucie, are both likely to see two more starts before joining the Mets.
With Matz sliding into the rotation, everybody will shift back a day, with Josh Smoker now scheduled to start Wednesday.
Matz posted a 3.40 ERA with the Mets in 22 starts last season spanning 132 1/3 innings pitched.
Beavan sent to Double-A
Lopez also said the 51s had sent pitcher Blake Beavan to Double-A.
Beavan, who was signed earlier this month from the Mexican League, was 0-2 with a 9.00 ERA in three appearances — two starts — for the 51s.
Wilfredo Boscan, Tyler Pill, Sean Gilmartin, Ricky Knapp and Smoker, a reliever recently sent down from the majors to work on his offspeed pitches, currently comprise the rotation, leaving Beavan the odd man out. With Boscan coming off the disabled list recently, Beavan's last outing for the 51s was from the bullpen.
d'Arnaud on rehab
Mets catcher Travis d'Arnaud, on the disabled list since May 5 (retroactive to May 3) with a bruised right wrist, joined the 51s on rehab this weekend.
On Saturday, he flew out to left field as a pinch hitter.
Sunday, he played nine innings and was 3-for-5 with an RBI and run scored.
Lopez said he would be there Monday. Also, Kristie Ackert of the New York Daily News reported that the Mets planned to keep d'Arnaud in Triple-A to catch Matz on Tuesday.
Coming up at Cashman
The 51s will spend most of this week on the road as they conclude their series in New Orleans on Monday and then head to Round Rock for four games.
They'll be back home Saturday, when they El Paso. It's also a promotional night, with the first 2,500 fans receiving 1991 Las Vegas Stars throwback jerseys.
Contact Betsy Helfand at bhelfand@reviewjournal.com. Follow @BetsyHelfand on Twitter.