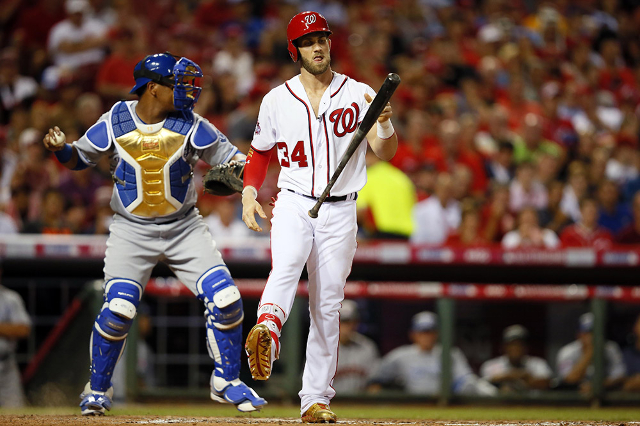 CINCINNATI — Los Angeles Angels center fielder Mike Trout and Cincinnati Reds third baseman Todd Frazier agreed to share a charter flight back to their native New Jersey if both participated in this year's All-Star Game.
"He called me a month ago and said if we were both here, we'd fly back together," Trout said. "It will be a fun flight."
They will have some hardware in tow.
Trout homered leading off the game, and Minnesota Twins second baseman Brian Dozier added a solo shot in the eighth inning, lifting the American League to a 6-3 victory over the National League in the 86th All-Star Game on Tuesday night at Great American Ball Park.
Trout, who went 1-for-3 with a walk and scored two runs, was selected the Most Valuable Player for the second year in a row, the first player ever to accomplish that feat.
"It's humbling and an honor to win MVP," Trout said. "It's a special moment for me and my family. I just come out and play hard for nine innings every day."
Frazier thrilled the home fans by winning the Home Run Derby on Monday night. He grounded out in each of his three at-bats in the All-Star Game.
"He had a great All-Star Game," Frazier said of Trout. "He was a deserving MVP."
The AL won its third consecutive All-Star Game to earn home-field advantage in this year's World Series. The AL owns 14 victories in the past 18 Midsummer Classics.
Texas Rangers first baseman Prince Fielder delivered a go-ahead single in the fifth, and the AL led 3-1 after five innings.
"I know how tough of an out Prince Fielder is," said AL manager Ned Yost of the Kansas City Royals. "I felt good about him doing what he did. Our plan went perfectly. The players executed."
Pittsburgh Pirates center fielder Andrew McCutchen hit a solo homer off Tampa Bay Rays right-hander Chris Archer to cut the deficit to 3-2 in the sixth.
Baltimore Orioles third baseman Manny Machado doubled off the right-center-field wall to drive home the AL's fourth run in the seventh. Later in the inning, Fielder's sacrifice fly off Milwaukee Brewers right-hander Francisco Rodriguez made the score 5-2.
Dozier's homer increased the lead to four runs.
In the ninth, Milwaukee Brewers outfielder Ryan Braun tripled and scored on a sacrifice fly from San Francisco Giants shortstop Brandon Crawford before Minnesota Twins lefty Glen Perkins got the final outs.
Just four home runs were hit in the previous six All-Star Games. That trend was expected to change at Great American Ball Park, where more homers have been hit than at any other ballpark since its opening in 2003.
That notion held true when Trout crushed a line-drive homer, barely clearing the wall inside the right field foul pole.
Trout's homer came on a 1-2 pitch from Los Angeles Dodgers right-hander Zack Greinke.
"He's just special," Yost said of Trout. "You don't look at him as 23 years old. You look at him as one of the best players on the planet."
It was just the sixth leadoff homer in All-Star history and the first since Bo Jackson hit one in 1989.
With the homer, Trout has singled, doubled, tripled and homered in an All-Star Game, the ninth player to do so. Fielder became the 10th with his single four innings later.
Trout joined Willie Mays, Steve Garvey, Gary Carter and Cal Ripken Jr. as the only two-time All-Star Game MVPs.
Greinke finished his two-inning stint by retiring six straight, four via strikeout.
The NL tied the score 1-1 when St. Louis Cardinals shortstop Jhonny Peralta drove home Arizona Diamondbacks first baseman Paul Goldschmidt with a two-out bloop hit to right in the second off AL starter Dallas Keuchel of the Houston Astros.
"Yeah, I faced him before, but he's a different pitcher. He's got a good changeup," Peralta said of Keuchel. "It was an especially good moment for me. There are a lot of good players. It was good to play with those guys."
The AL took the lead against Dodgers ace Clayton Kershaw in the fifth when Fielder delivered a pinch-hit RBI single and Royals outfielder Lorenzo Cain followed with an RBI double to left, making the score 3-1.
Kershaw, the losing pitcher, allowed two runs and three hits in his lone inning.
"It was fun, except for giving up the runs," Kershaw said. "I wasn't really throwing the ball where I wanted to."
Keuchel allowed an unearned run and two hits in his two innings.
"I was afraid I'd be too amped up," Keuchel said. "It was the most amped up I've ever been. It was just the atmosphere (due to the presence of) the greatest players ever, Pete Rose, Hank Aaron, Willie Mays. I (thought) I was about to throw up.
"I was able to settle down and throw strikes. I got a lot of weak contact."
Cincinnati closer Aroldis Chapman struck out three straight batters in the ninth in his home ballpark.
Detroit Tigers left-hander David Price threw a scoreless fourth inning to earn the win.
"Trout's homer got them going," said NL manager Bruce Bochy of the Giants. "Trout's a tremendous player. The young players like Trout and (Washington Nationals outfielder Bryce) Harper are great faces for our game."
NOTES: The ceremonial first pitch was thrown by Sandy Koufax to Johnny Bench. … Bench, Koufax, Willie Mays and Hank Aaron were named as baseball's greatest living players prior to Tuesday's game. … There were 33 first-time All-Stars this year, tied for third most in history. … This is the fifth All-Star Game held in Cincinnati, and first since 1988, when it was held at Riverfront Stadium. … It was quite a 24 hours for Reds 3B Todd Frazier, who hit 15 homers in the final round to claim his first Home Run Derby title, then spent the night without power at his home following a storm. … The National League used the home clubhouse, and St. Louis Cardinals C Yadier Molina was assigned to the locker of Reds 2B Brandon Phillips. Molina and Phillips were at the center of a brawl between the two rivals in 2010 but since have made amends. "It's kind of funny. I don't mind," Molina said.