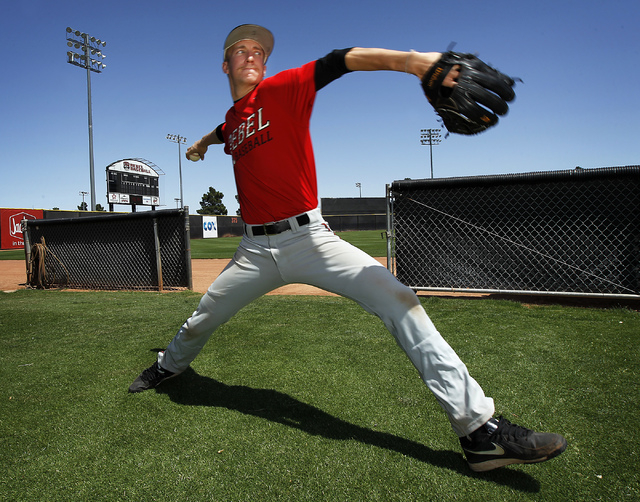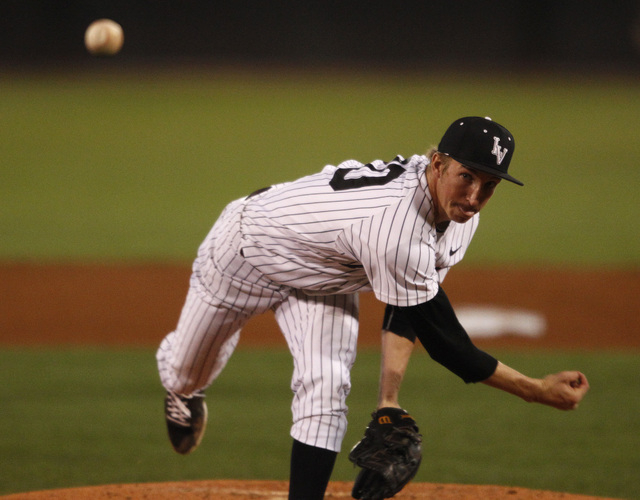 UNLV ace Erick Fedde, projected to be a first-round draft pick, will undergo Tommy John elbow surgery and miss the rest of the season, dealing the Rebels a setback in their hopes of making a deep postseason run.
Fedde, a junior right-hander who is on the Golden Spikes Award watch list, is 8-2 with a 1.76 ERA. The Rebels will miss his ability to mix four pitches, including a fastball that routinely hit a miles-per-hour speed in the mid-90s.
"It's tough," Fedde said Saturday from San Diego, hours before UNLV lost to San Diego State 7-3. "I'm so close to (my teammates). We're about to make a postseason run. I feel like I let the guys down, but we'll do all right."
UNLV has a deep pitching staff and should be able to absorb such a loss better than most teams. Junior right-hander John Richy took Fedde's spot in the rotation Friday and delivered a four-hit, eight-inning gem in a 6-1 victory over the Aztecs. Richy is 9-3 with a 2.82 ERA.
Sophomore right-handers Bryan Bonnell (5-5, 2.63) and Kenny Oakley (3-5, 3.15) move up to the No. 2 and 3 spots.
Now there is even more pressure on those starters to make up for Fedde's absence and help UNLV make its first NCAA regional since 2005. The Rebels (30-19, 17-9 Mountain West) are tied with New Mexico (34-17-1, 17-9) for first place in the conference. UNLV also ranked 29th in the Ratings Percentage Index standings.
"At the end of the day, we have to believe that we aren't a one-horse show, and I believe we're not," Rebels coach Tim Chambers said. "We've got to keep moving forward. You can't look back."
As for Fedde's future, Chambers said he "absolutely, 100 percent" expects him to go in the first round of the draft, which begins June 5, because of the high success rate of Tommy John surgery.
East Carolina right-hander Jeff Hoffman also will undergo the procedure. He was projected to be a top-five pick and now reportedly could still go in the top 15.
Seventeen major league pitchers have had the operation since spring training.
"Most organizations draft power pitches … knowing that at some point they're going to have it," Chambers said.
Fedde, who went to Las Vegas High School, will have the procedure soon in Los Angeles or at one of Dr. James Andrews' famed Alabama facilities.
Chambers said Fedde has had elbow trouble since at least last summer when he pitched for Team USA against Cuba, but the pain didn't become an issue until last week when Fedde didn't pitch in the three-game trip to James Madison and Clemson.
But Fedde had every intention of pitching against San Diego State, only to have Chambers order him to get an MRI.
"When he told me the symptoms, I knew what it was," Chambers said. "If the pinky finger's ringing, there's damage in the ulnar (collateral ligament). There's just no question about it. Kids are stubborn, and they're thinking in their heads their dreams are gone, but in reality, if healed, they can come back better than ever."
Chambers said Fedde was emotional when he found out his season was over.
"It was real tough at first," Fedde said. "My teammates have been real supportive, and it's really made it a lot easier."
Contact reporter Mark Anderson at manderson@reviewjournal.com or 702-387-2914. Follow him on Twitter: @markanderson65.
Rebels' bats turn chilly in road loss to Aztecs
UNLV didn't get a hit in the final seven innings, losing a three-run lead and falling to host San Diego State 7-3 on Saturday.
The Rebels (30-19, 17-9 Mountain West) scored three runs and collected all five of their hits during the second inning before Aztecs pitchers Mark Seyler (8-4) and Michael Cederoth shut them down. Cederoth picked up his 18th save.
San Diego State (34-17, 14-12) scored three runs in the third to tie the game, then took the lead for good in the fifth on Ty France's solo home run with one out. France finished 2-for-4 with three RBIs.
The Aztecs added three runs in the eighth.
Bryan Bonnell (5-5) took the loss, giving up seven hits and four runs in 6 2/3 innings.
The Rebels, however, will go for the series victory when the teams meet at 1 p.m. today.