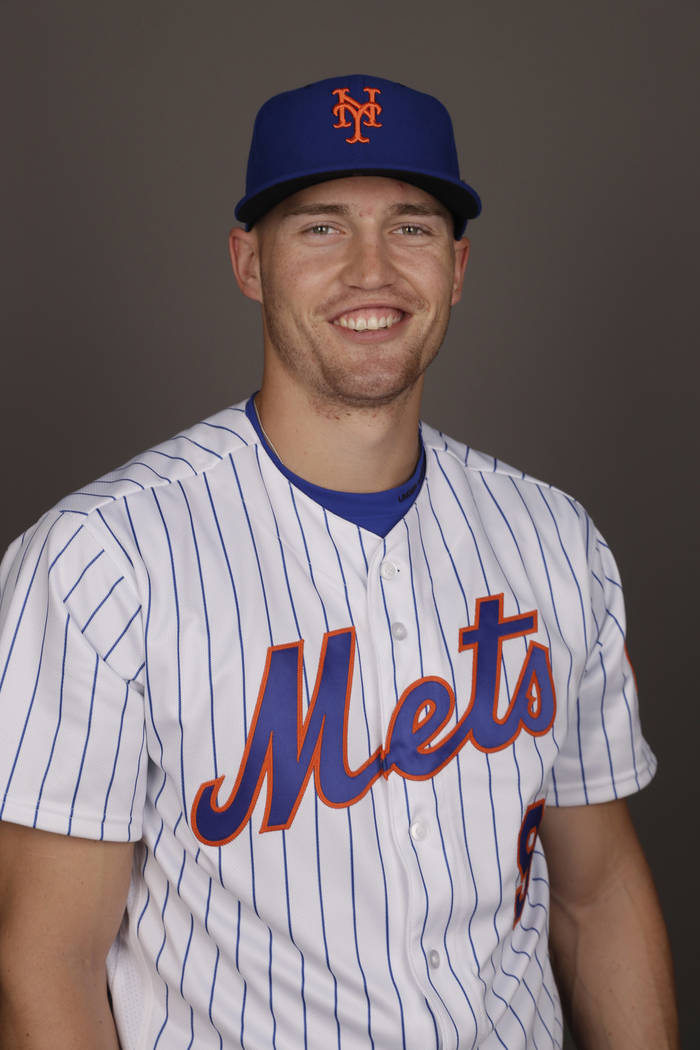 Two familiar faces were back at Cashman Field on Tuesday continuing their major league rehab assignments.
Brandon Nimmo was atop the 51s' lineup and playing center field, and Wilmer Flores was hitting second and playing third base.
Flores, whom the Mets placed on the disabled list April 21 with a right knee infection, probably will have the shorter stay of the two.
After playing two games with Class-A Advanced St. Lucie and one extended spring training game, Flores said he was ready to go and didn't need any more rehab games.
The plan is for him to get some more, though. Las Vegas manager Pedro Lopez said Flores would play third base Tuesday, DH on Wednesday and play first on Thursday, though he said that could change.
Before starting his rehab assignment, Flores spent five days in a hospital and had his knee drained.
"I had to take antibiotics in my vein," he said. "They just drained it every day. A lot of stuff was coming out of it. It's something that could have gotten worse."
Flores said the infection started out looking like a mosquito bite but then got bigger. He's not sure what caused it.
"The doctor said it might have been a hair, maybe," Flores said.
He still has a bandage over the infected area, but said the knee wasn't bothering him.
"It feels great," Flores said. "My swing feels great. I've just got to get in shape again and try to get out of here as soon as possible."
Nimmo's stay is likely to take longer — and there's a possibility he could be optioned to Triple A once his rehab concludes.
For now, he said he feels good.
"I feel healthy at least, and so now it's just getting the at-bats, and that's what I'm here to do and trying to get back to feeling like I did after spring or I guess before the World Baseball Classic," Nimmo said. "It's just going to take a little bit of time, but other than that, I'm healthy and I'm happy about that."
Nimmo initially suffered a hamstring strain during the World Baseball Classic and aggravated it shortly after testing it out.
As he made his way back from the original injury, he suffered another one — this one to his left hand during batting practice.
"I hit a changeup off the end of the bat, which was not abnormal, but when I did, I just got this sharp ice pick sensation," Nimmo said. "I was like, 'It's just a stinger, it'll go away,' and it just wasn't going away, and my hand was like shaking and I was like, 'All right, guess it's not just a stinger.'"
Nimmo took about a week off before trying to hit again. The pain hadn't gone away. He took another week or so, and then after testing it again, he went to New York and got two opinions.
Both doctors said the hand was structurally OK, but one said it could have been a muscle issue, the other an irritated and bruised nerve, so he returned to Florida and padded it up.
Now, the stringing pain is gone, but occasionally he'll feel a throb in his hand that's more achy.
"This is pain that I can tolerate playing," Nimmo said. "Before, it wasn't."
He's now almost back to 100 percent and focusing on getting his swing and timing back.
"It's been a process, for sure, but I'm feeling good now, and now it's just trying to remain that way for the rest of the year and just take care of the body and hopefully it's all in the past," Nimmo said.
Contact Betsy Helfand at bhelfand@reviewjournal.com. Follow @BetsyHelfand on Twitter.