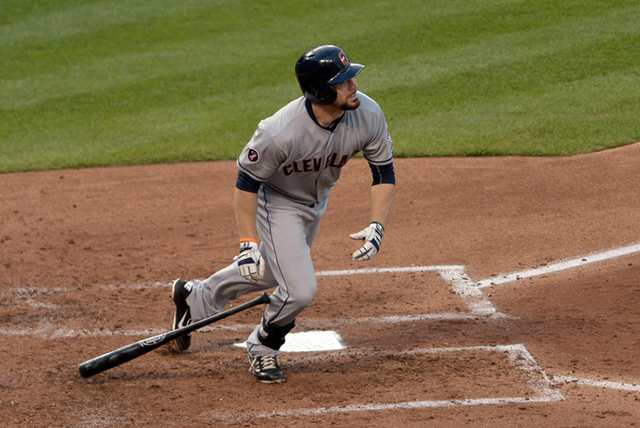 Apple is going to bail out Brandon Moss and pay the "ransom" demanded by the Indians' bullpen for the safe return of the Cleveland outfielder's 100th career home run ball.
When Moss hit his milestone homer in Kansas City recently, the ball landed in the visitors bullpen at Kauffman Stadium, where Indians relievers scribbled an itemized list of demands on a sheet of paper they sent to Moss that included four iPads, three Apple watches, three MacBook Airs and more.
The ransom note, which the Indians posted on Twitter, was signed at the bottom, "You get the ball when we get these items!"
Apple CEO Tim Cook said Monday that his company will pick up the tab for Moss, according to ESPN.com.
"Brandon would have had to raid an Apple Store to get that ball back," Cook said, according to Bloomberg.com. "That didn't seem quite right to us. And, so, what we're gonna do, is we're gonna pay the ransom."
An Indians spokesman said an Apple representative went to Cleveland to retrieve the ball, which Cook held up at Apple's Worldwide Developers' Conference in San Francisco on Monday as the bullpen's note was shown on a screen behind him.
"I saw they caught the ball, but they said, 'No, no, no,' " Moss said, according to Cleveland.com. "Then I see the list and I said, 'I think I can do none of this. This is like $10 grand worth of stuff. I would have rather a fan caught the ball.' "
Cook agreed to all of the players' demands but one: former 51s pitcher Marc Rzepczynski's risque request for a "50 gallon drum of lube" was digitally removed from the ransom note before it appeared on a screen behind Cook.
If Moss wants to do the right thing and further grease the, um, palms of his bullpen, a 55-gallon drum of lube is on sale on Amazon for more than half off the list price of $2,500.
But he better hurry. There are only two left in stock.