51s beat Salt Lake again for sixth straight win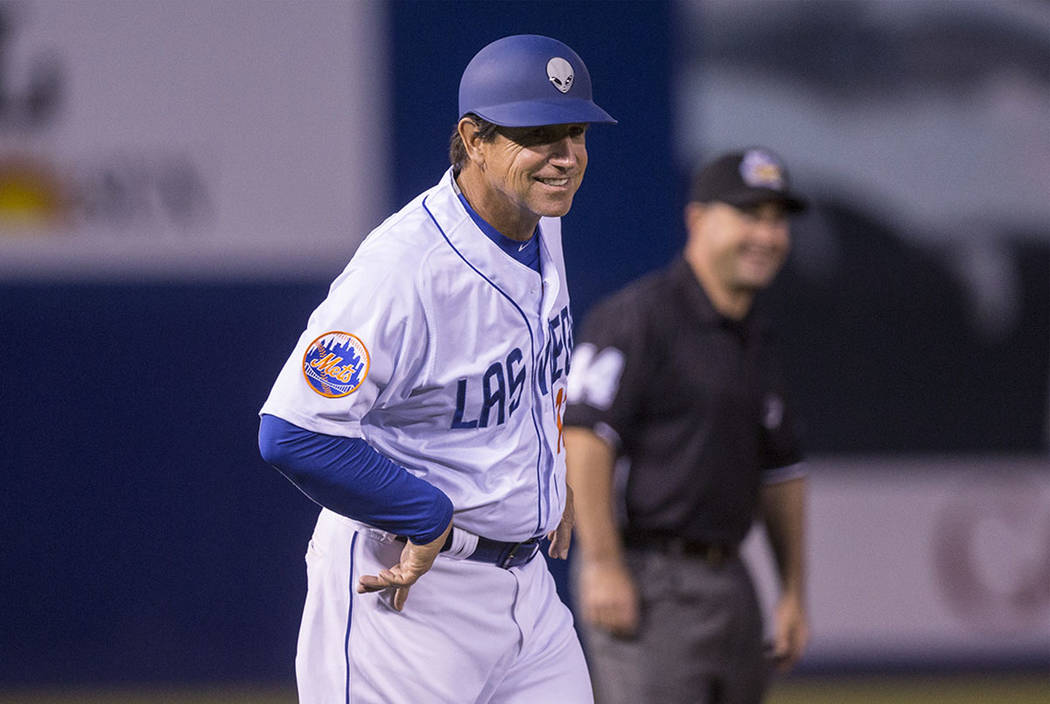 Manager Tony DeFrancesco sat in his office Sunday following the 51s' win scribbling out the current playoff picture in purple ink on scratch paper.
It might seem early to be talking about the playoffs — the 51s are still under .500 and they haven't even reached the All-Star break — but that hasn't stopped DeFrancesco, who frequently mentions his team getting back in the race.
The 51s moved another step closer, beating Salt Lake 7-2 on Sunday night to move five games behind Salt Lake and El Paso, who are now tied for first.
It marked their sixth straight win — a season-high — and 11th in their last 13 as they continue to play their best baseball of the season.
"As a team, I think there's a lot of confidence right now," DeFrancesco said. "I think they're ready to make a move and hopefully we can finish the homestand these next two games with some wins against Salt Lake."
Starter P.J. Conlon set the tone for the 51s (39-44), tossing his third straight quality start.
"I think just what I've been doing the last couple starts — just attacking guys early and just changing speeds and just trying to get soft contact as much as I can," Conlon said. "I was just filling up the zone well tonight and I think that's what I've been doing the last couple starts."
Conlon went seven innings for the second time this season, giving up just two runs on solo home runs to Taylor Ward and Rymer Liriano in the first and fourth innings respectively.
"When he started throwing 40, 50 percent offspeed, he's really able to maximize his fastball and has been locating it pretty good," DeFrancesco said. "He got a lot of easy outs today, a couple quick innings. He's in the zone. He's throwing more strikes right now. He's pitching with confidence and hopefully he can continue to do that."
His offense, meanwhile, battled back in the third inning for three runs.
Peter Alonso's double tied the game before the very next batter, Jeff McNeil, gave the 51s a permanent lead with a two-run single.
After Conlon allowed the home run to Liriano in the fourth inning to make it 3-2, the 51s responded with four runs in the bottom of the frame.
Las Vegas scored on RBI hits from Colton Plaia, Matt den Dekker and Zach Borenstein (double) along with a run-scoring Alonso groundout to break the game open.
"Even if we go down early or we're down late, no one's really panicking," Conlon said. "Everyone's just kind of staying even keel and just going up there and putting good at-bats and stringing them together and getting timely hits when we need them. We're getting big innings and outs from guys coming out of the 'pen and our starters have been going pretty deep. I think it's just all kind of jelling right now at a really good time."
In three games against Salt Lake (44-39), the 51s have now outscored the Bees, the Pacific Coast League's top offense, 30-4.
"Everyone's up in spirits. Everyone's having a good time," Conlon said. "It's a lot more fun coming to the field every day when you're winning and so we're having a great time right now."
More 51s: Follow Las Vegas 51s coverage at reviewjournal.com/51s and @RJ_Sports on Twitter.
Contact Betsy Helfand at bhelfand@reviewjournal.com. Follow @BetsyHelfand on Twitter.