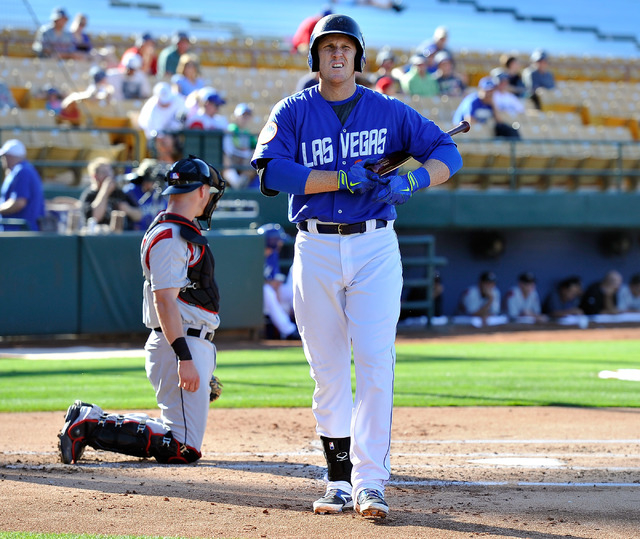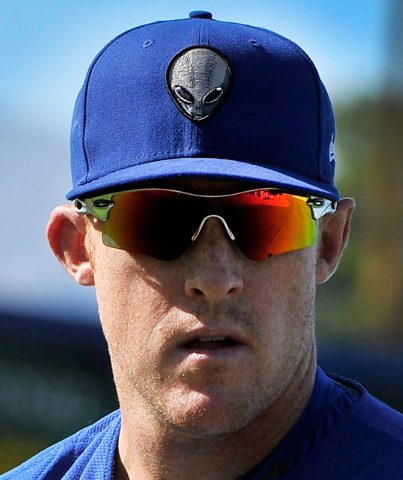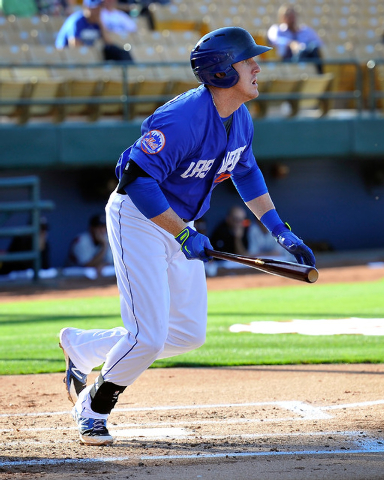 One of the most colorful characters in the 51s clubhouse, it's fitting that first baseman Allan Dykstra will represent Las Vegas in Wednesday's Triple-A All-Star Game in Durham, N.C. — the city that served as the backdrop for the classic baseball film "Bull Durham."
The Bulls left the ballpark used in the 1988 movie for 10,000-seat Durham Bulls Athletic Park in 1995 and became the Tampa Bay Rays' Triple-A affiliate in the International League in 1998.
The old park is located about a mile from the new park, at which Durham officials brought over the sign of the snorting bull made famous in the film that promises a steak dinner to anyone who hits it.
Dykstra will be one of six participants in Monday's Home Run Derby who can help fans win steaks and more if they belt a ball off the bull — with one fan winning $15,000 if the bull is hit a combined 15 times during the competition.
"I think it's a cool thing," Dykstra said. "It's a day to do what I like to do and have fun and make some people happy by hitting the ball pretty far."
Batting .282 with 12 home runs and a team-leading 59 RBIs in his first Triple-A season, the 27-year-old Dykstra has certainly made 51s fans happy this year.
"He's been huge," Las Vegas manager Wally Backman said. "When we started the season 31-11, he was driving in runs every day. He's been very valuable.
"Dike's a guy with a lot of power and a very good eye at the plate. He's an on-base machine."
Dykstra, no relation to former Mets star Lenny Dykstra, is second in the Pacific Coast League in walks (61) and on-base percentage (.429).
A 2008 first-round draft pick of his hometown San Diego Padres who was traded to New York for pitcher Eddie Kunz in 2011, Dykstra enjoyed a breakout year last season for Double-A Binghamton.
He hit .274 with career highs in homers (21) and RBIs (82) and led the Eastern League in walks (102) and OBP (.436) en route to earning EL Most Valuable Player honors and being named the Mets' co-minor league player of the year with 51s catcher Kevin Plawecki.
"I'm proud of myself for making the All-Star team last year for the first time and making it again this season. It shows all the work I've been doing has paid off," he said. "I struggled my first couple of years. I was more mentally kind of in a funk. Sometimes it takes people longer to get out of it than others."
The 6-foot-5-inch Dykstra has dealt with adversity of a physical nature since he was 14, when he was diagnosed with avascular necrosis in his hip — the same bone disease that ended Bo Jackson's career.
"The doctor told me, 'You definitely won't be the same athlete you were,' and that running and moving around was going to be an issue," Dykstra said. "I've always kind of dealt with adversity and overcome it."
Dykstra, who doesn't have much cartilage in his hip joint and still does physical therapy to strengthen the area and maintain his flexibility, said the disease always has driven him.
"It definitely is a little bit of a chip. When you hurt like that, you definitely want to prove people wrong," he said. "When the doctor tells you, 'I don't know how you play baseball,' it's a little bit of motivation to go out there and play at the highest levels of the game."
With his limited mobility hindering his defense at first base, Dykstra's best chance at reaching the majors might be as a designated hitter, which he will play Wednesday for the PCL.
The seventh-year pro will be a free agent next year.
"I would bet that an American League team would sign him," Backman said. "If he does what he's doing this year, he will get an opportunity."
While Dykstra heads to Durham, Plawecki and 51s pitcher Noah Syndergaard will represent the Mets in the Futures Game, which will take place at 2 p.m. (MLB (314)) at Target Field in Minneapolis.
Syndergaard, New York's top prospect who has been slowed this season by shoulder and forearm strains, is 7-4 with a 5.31 ERA and has 82 strikeouts in 79 2/3 innings.
"It's all about consistency for him," Backman said. "If he can put a few good ones together, you never know. He could be gone."
After their sizzling start, the 51s endured a 5-17 stretch during which eight players were called up by the Mets. Las Vegas has since steadied the ship, going 20-14 to finish the first half 56-42, one game back of the PCL-leading Sacramento River Cats.
"We've had some ups and downs. We were real good, then we lost a lot of guys to the big leagues," Backman said. "At one point, there were 12 different guys in the big leagues that started here. That was tough. Then everyone kind of jelled together again, and we started playing better again. That's life in Triple-A."
With Mets pitching prospects Rafael Montero and Cory Mazzoni slated to join the 51s for the second half, Backman expects his squad to finish the season strong for the second straight year.
Las Vegas, which compiled the PCL's second-best mark last season at 81-63 to clinch its first playoff berth since 2002, leads the El Paso Chihuahuas by 9½ games in the Pacific Southern Division.
"Our starting pitching is going to get better and someone will have to go to the bullpen, so that will improve, too," Backman said. "If everybody stays healthy in the big leagues, we should have a strong finish again."
■ NOTE — Backman was ejected for the third time this season in the third inning of Saturday night's 6-5 loss to Albuquerque for arguing a play at the plate.
Contact reporter Todd Dewey at tdewey@reviewjournal.com or 702-383-0354. Follow him on Twitter: @tdewey33.