Angels top M's, clinch AL West
September 17, 2014 - 10:56 pm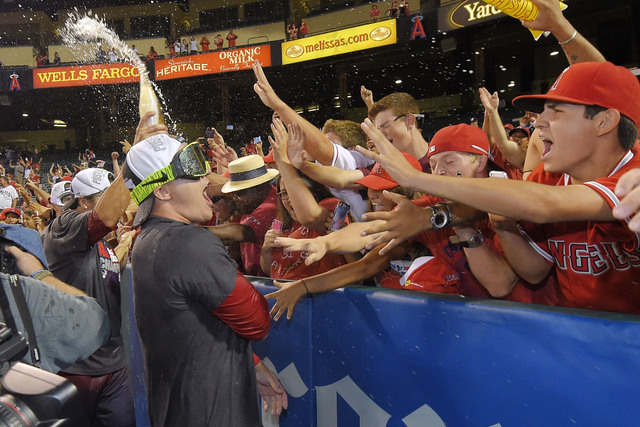 ANAHEIM, Calif. — C.J. Wilson pitched seven dominant innings of one-hit ball, C.J. Cron hit a three-run homer, and the Los Angeles Angels clinched the American League West title with a 5-0 victory over the Seattle Mariners, followed by an Oakland loss to Texas later Wednesday night.
The major league-leading Angels (95-57) claimed their first AL West title since 2009 when the A's lost a 1-0 lead in the top of the ninth inning and fell to the Rangers 6-1.
Howie Kendrick sparked the Angels' five-run rally in the seventh by scoring from first base when Chris Denorfia misplayed David Freese's single to right for an error.
Los Angeles' surge broke up a pitchers' duel between Wilson and Seattle rookie James Paxton, who traded zeros until the seventh.
The Angels have won 12 of 14.
Wilson (13-9) earned his third straight victory in intimidating fashion, striking out seven and allowing just four baserunners in a major improvement from recent starts. He escaped his only jam in the seventh, stranding two runners.
Paxton (6-3) yielded four hits and had eight strikeouts for the Mariners, who have lost six of eight. Seattle managed just one hit while dropping two games behind Kansas City for the second AL wild card.
Paxton kept the Mariners in contention until his teammates made two errors and reliever Danny Farquhar flopped in the seventh inning.
After Kendrick's one-out single, Denorfia thought about diving to catch Freese's drive, but instead pulled up and allowed it to roll past him to the right-field wall. Austin Jackson then double-clutched the ball while retrieving it, and Kendrick scored easily.
Farquhar relieved Paxton with two outs and two runners on, but Cron mashed his 11th homer into the fake rock pile behind center field. Kole Calhoun followed with an RBI double as the Angels batted around.
Mike Trout struck out four times to tie Baltimore's Chris Davis for the AL lead with 173.