Boscan suffers early injury as 51s fall to Salt Lake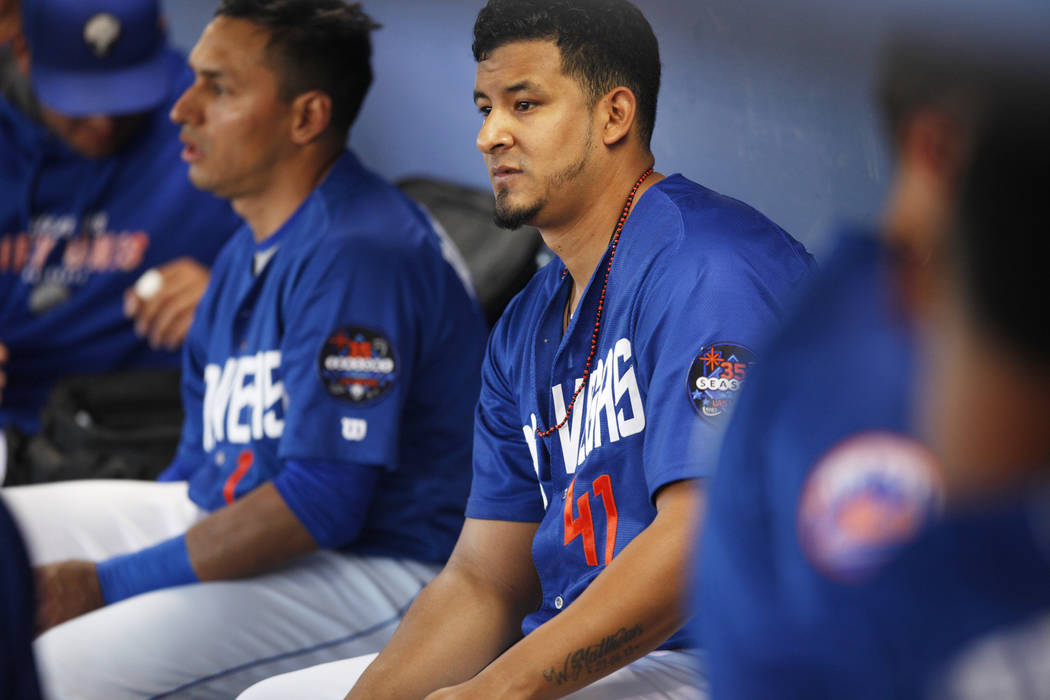 For the third time in six games, the 51s were forced into a bullpen game.
The first two — both in Reno — were a result of call-ups by the New York Mets.
This time around, though, it was an injury that sent them into a bullpen game, one the 51s lost 7-1 on Friday night to Salt Lake at Cashman Field.
The fourth batter of the game, Jefry Marte, hit a ball right back at 51s starte Wilfredo Boscan, which struck him in the left shin.
Boscan fell to the ground and had to be carried off the field, unable to put weight on the leg.
That hit ended Boscan's night and gave the Bees (41-33) a lead in the game that they would never relinquish.
Manager Pedro Lopez said Boscan was day-to-day but he thought he would be good for his next start.
"He's just a little sore. He's going to be a little sore tomorrow, probably the day after," Lopez said. "I think it could have been worse."
Reliever Logan Taylor, who started both of the previous bullpen games this week, was immediately thrust into action.
"It's definitely the first time I've been in the first inning of a game three times in six games," Taylor said. "It's just how it's going right now for us unfortunately."
Taylor said he had a weird feeling during Marte's at-bat. Boscan had already given up a pair of hits in the inning and Taylor decided he would go get the items he needed to be prepared to pitch — something he usually does in the third or fourth inning — if Marte had gotten on.
"I don't like when I feel not prepared and he got hit on the shin with a line drive the next pitch after I thought that," Taylor said. "It was not a great feeling but (I) got out there, got through that inning on one pitch, and threw the next one semi-clean. Then just a couple missed spots that led to some weakly-hit balls that just ended up being hits."
Taylor threw 39 pitches in two innings of relief, giving up two runs — one earned — in the third.
Kyle Regnault followed him, getting the 51s (28-46) through 2 1/3 innings. He allowed one run in his outing, the first run he has given up in Triple-A this season.
After that, Beck Wheeler gave up two runs in two innings and Alberto Baldonado gave up one run in his two innings.
Meanwhile, opposing starter Troy Scribner kept the 51s mostly quiet during his six innings.
Scribner gave up one run on four hits and struck out six while picking up the win.
"He just kept flipping that curveball down and away, down and away and we kept trying to pull," Lopez said. "He had pretty good command of all pitches tonight and we couldn't get anything going."
Las Vegas scored its only run of the game in the fourth inning on Matt Reynolds' second home run of the season.
"I don't know what else to say other than we're not playing well," Lopez said.
On top of Friday being another loss, the effects will linger into Saturday's game as the 51s will only have three pitchers available in the bullpen.
"We're definitely feeling it right now. Leaving Reno we had 10 relievers flying back with us and then by the time the off day had been said and done and we got back yesterday, we only had seven," Taylor said. "We were kind of hoping our starters this time through would pick us up a little bit. It's just unfortunate that he gets hit in the shin with a line drive there. Nothing that really anyone can change or do differently."
Up next
Who: Salt Lake Bees at Las Vegas 51s
When: 7:05 p.m. today
Where: Cashman Field
Starters: TBD vs. Ricky Knapp (2-9, 6.44 ERA)
Next five
Sunday: Salt Lake at Las Vegas, 12:05 p.m.
Monday: Las Vegas at Tacoma, 6:05 p.m.
Tuesday: Las Vegas at Tacoma, 6:05 p.m.
Wednesday: Las Vegas at Tacoma, 7:05 p.m.
Thursday: Las Vegas at Tacoma, 7:05 p.m.
Update
Mets infielder Asdrubal Cabrera was activated from the disabled list on Friday and second baseman Gavin Cecchini was sent back to Las Vegas. In his brief call up, Cecchini hit his first major-league home run off Clayton Kershaw.
Contact Betsy Helfand at bhelfand@reviewjournal.com. Follow @BetsyHelfand on Twitter.