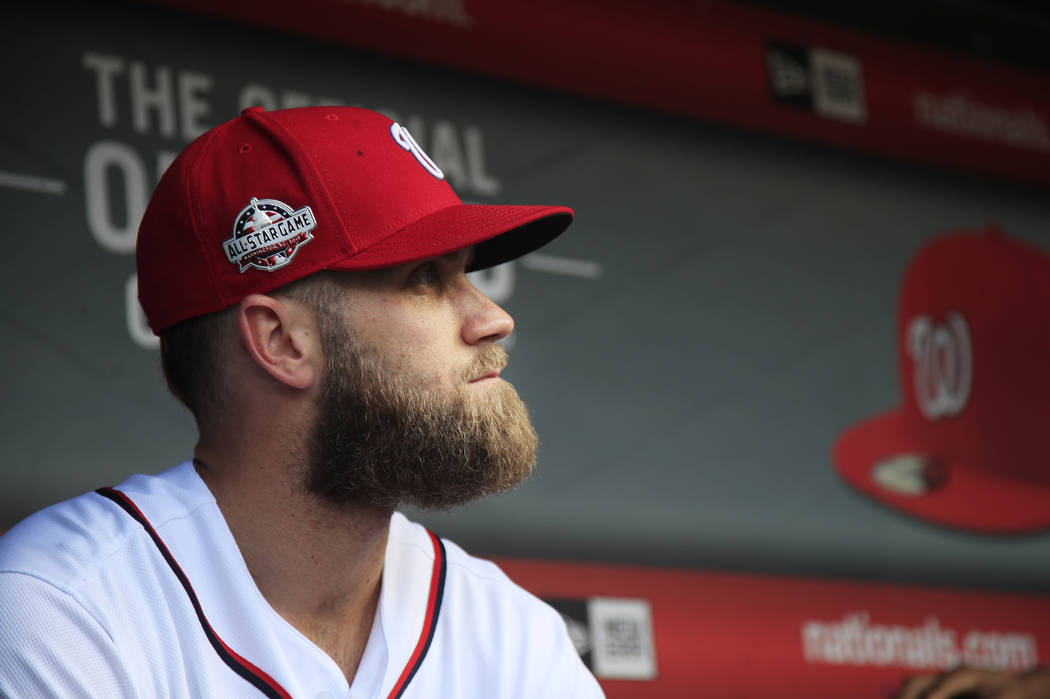 — 1992: Born Oct. 16 in Las Vegas.
— 2009: Hit 502-foot home run at Tropicana Field in Florida during Power Showcase event to gain national notice. Earned GED at Las Vegas High School, enrolled at College of Southern Nevada, making him eligible for 2010 major league draft.
— 2010: Batted .443 with 31 home runs and 98 RBIs in 66 games at CSN, leading the Coyotes to the Junior College World Series. Drafted first overall by the Washington Nationals. Signed five-year contract worth $9.9 million, including $6.5 million signing bonus.
— 2011: Began minor league career at Class A Hagerstown, Maryland. Hit .480 with seven home runs, 10 doubles and 23 RBIs in his first 20 games after wearing contact lenses before being promoted to Double-A Harrisburg, Pennsylvania.
— 2012: Called up to the Nationals on April 27 after starting the season in Triple A. Collected his first major league hit (a double off the Dodgers' Chad Billingsley) the next day. Became the first teenager (19 years old) to steal home plate since 1964 vs. Phillies on May 6. After hitting 438-foot home run in Toronto on June 12, told reporter "that's a clown question, bro" when asked about taking advantage of Canadian drinking laws to have celebratory beer. Played in All-Star Game, named National League Rookie of the Year.
— 2013: Hit two home runs against Miami on Opening Day. Played in second All-Star Game. Hit 39th career homer Aug. 6, passing Ken Griffey Jr. for most home runs by a player younger than 21.
— 2014: Batted .273 with 13 home runs and 32 RBIs in 100 games during injury-riddled season.
— 2015: Unanimously named NL MVP after batting .330 with 42 home runs and 99 RBIs. Became the youngest player (23) to hit at least 40 home runs and walk 120 times in a season since Babe Ruth.
— 2016: Hit first grand slam — and 100th home run of his career — April 14 against the Braves. Walked an MLB record-tying six times May 8 against the Cubs. Walked 13 times in the four-game series, setting an MLB record.
— 2017: Charged the mound May 29 after being hit by a pitch by the Giants' Hunter Strickland, off whom he had hit two home runs in the 2014 NL Division Series. Served three-game suspension. Was leading NL vote-getter in All-Star Game. Batted .319 with 27 HRs and 87 RBIs in 111 games.
— 2018: Slumped to .249 but recovered from slow start to hit 34 home runs and drive in career-high 100 runs. Led NL with 130 walks.
— 2019: Agreed to baseball record 13-year, $330 million contract with the Phillies.