Carlyle not too big for the big leagues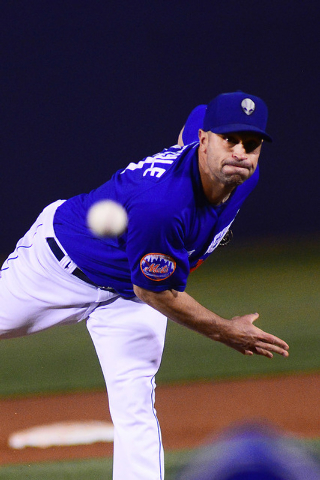 One of only 72 pitchers in baseball history to record an immaculate inning — nine pitches, nine strikes, three outs — 51s right-hander Buddy Carlyle has had his share of memorable moments in a 19-year career.
Getting his first victory in the big leagues in six years this season for the Mets just might top the list.
"This year was a lot harder than probably any other year," said Carlyle, 36. "I almost retired this offseason. It was hard to find anybody to sign with this winter. I wasn't sure if I was even going to make a minor league team, so to get a chance back in the big leagues was pretty cool."
Making his first appearance in the majors since 2011, Carlyle tossed three scoreless innings May 31 against the Philadelphia Phillies to claim his first big league win since 2008 in New York's 5-4, 14-inning victory.
"If I didn't feel like I could still pitch in the big leagues, I'd retire," Carlyle said Friday before the 51s' 5-4 comeback win over the Nashville Sounds before a crowd of 6,636 at Cashman Field.
Since getting drafted in the second round by the Cincinnati Reds in 1996, Carlyle has played for 24 teams — one in Korea, two in Japan, five in the majors and 16 in the minors.
He has played parts of four seasons for Las Vegas — for which he has appeared in more games (95) than any other team — and has suited up for three of the franchise's four big league affiliates (San Diego Padres, 1999, 2000; Los Angeles Dodgers, 2005; and New York Mets, 2014).
"Everybody knows it's an incredibly tough place to pitch," Carlyle said of hitter-friendly Cashman Field. "I remember after 2005, I was like, 'If I ever have to sign and come back to Vegas — nothing to do with the city, but as far as pitching here — I'll retire.'
"Nine years later, you find yourself back in the same place. It's kind of funny."
Carlyle has thrived for the 51s, allowing four earned runs in 25 1/3 innings for a team-leading and career-low 1.42 ERA.
"The fact that Buddy can locate his fastball is what makes him so successful," Las Vegas manager Wally Backman said. "He's a competitor. He still wants to pitch in the big leagues, and I don't blame him. He's proved he can pitch there."
Despite throwing 4 1/3 scoreless innings in two games for the Mets, Carlyle was designated for assignment by New York and, after clearing waivers, rejoined the 51s.
"It's happened so many times. I understand the situations. I understand the numbers," Carlyle said. "You just go up there and try to perform when you get the opportunity and hopefully you get another chance."
The Omaha, Neb., native said the key to his longevity is throwing strikes.
"Especially coming out of the pen," he said. "If you don't throw strikes, you're not going to stick around."
After getting his first major league win for the Padres in 1999, Carlyle waited eight years before notching his second, firing seven innings of one-hit ball in 2007 for the Atlanta Braves.
A month later, Carlyle etched his name into baseball history when he struck out the side on nine pitches against the Padres — fanning Khalil Greene, Russell Branyan and Jose Cruz, Jr.
Carlyle didn't realize at the time that he had accomplished a feat rarer than a no-hitter, but now appreciates the fact he's in a select group that includes Lefty Grove, Nolan Ryan, Sandy Koufax and Randy Johnson — the only four pitchers to twice record an immaculate inning.
"It's kind of cool in hindsight to have something like that that hasn't been done a whole lot," Carlyle said. "Especially when you put my name with the people that have done it. It's kind of funny because of the history and what those guys have done compared to what I've done."
It's been quite the baseball journey for Carlyle, who long has been described as a journeyman but loathes the term — which is defined as an athlete who is experienced and good but not excellent.
"I really don't like that word. I've had that label since I got back with the Dodgers in 2005. It's nine years later," he said. "People think that when you get back up there (to the big leagues), you've been struggling your whole career to try to get back up there. But I feel like I've been very competitive everywhere I've pitched. So it's not like you're given this crazy opportunity where you shouldn't be there.
"You feel like you should be there, and if you don't feel like you should be there, you shouldn't be playing anymore."
When it comes to his health, Carlyle, who is 12-12 with a 5.48 ERA in 114 games in the majors — and 91-59 with a 3.61 ERA in the minors — deals with adversity every day. After losing 30 pounds during the 2009 season with the Braves, he was diagnosed with Type 1 diabetes.
Carlyle injects himself with insulin four or five times a day and checks his blood sugar six or seven times a day.
"Not a lot of guys have it that are in the big leagues, so it's nice to get up there and show that it's possible," he said.
■ NOTES — The 51s (44-31) rallied with four runs in the ninth inning to defeat the Sounds (38-38). Brandon Allen drew a bases-loaded walk from Nashville reliever Brent Leach to force home the tying run. Then with Matt den Dekker at the plate, Leach threw wildly to first base on a pickoff attempt, allowing Josh Satin to trot home with the winning run. … Travis d'Arnaud went 3-for-4 to boost his average to .458 (22-for-48).
Contact reporter Todd Dewey at tdewey@reviewjournal.com or 702-383-0354. Follow him on Twitter: @tdewey33.