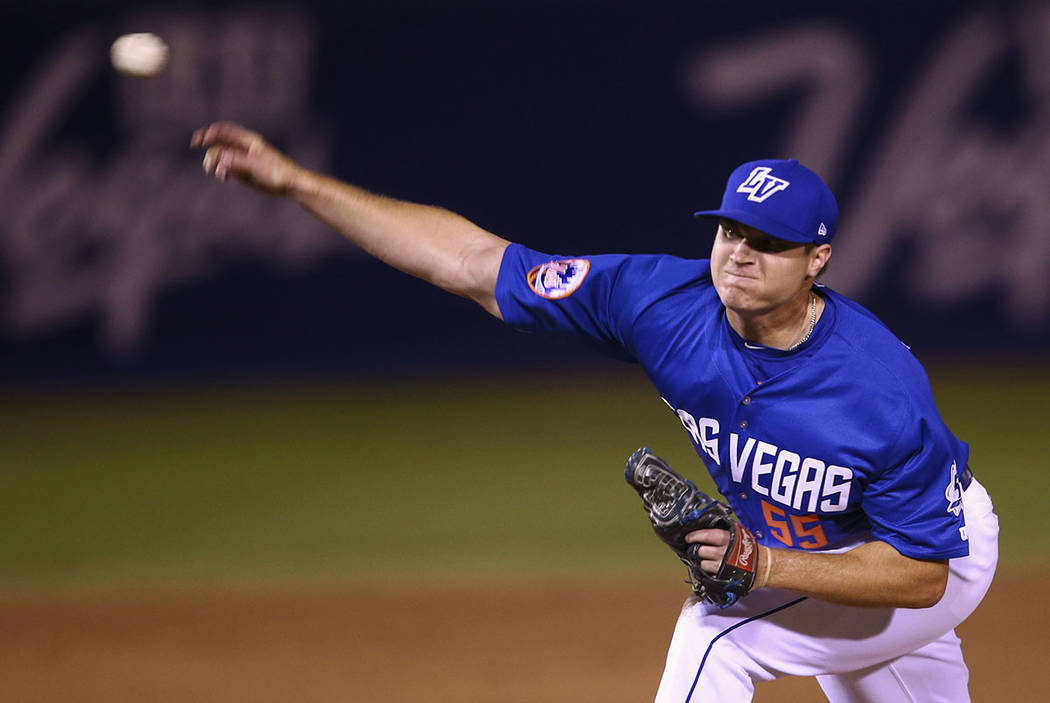 Baseball players, as noted frequently, are creatures of habit.
For months, they show up to the park at the same time and go through the same routine, day after day, night after night.
But for Corey Oswalt, it's been hard to get into any kind of routine this year. Oswalt has been up and down between Triple-A and the big leagues three different times in less than two months.
With the Mets, he's a reliever, though not one that has seen consistent work. With the 51s, he's a starter.
And in his last start, after not pitching from May 5 until May 18, Oswalt struggled.
But Wednesday, after getting settled in, Oswalt threw six strong innings in the 51s' 4-3 win over Sacramento in the third game of the series at Raley Field.
He gave up just three hits and allowed two runs — one earned — while striking out six and picking up the win.
"For a younger pitcher like him to be put in that situation, there was no routine at all for him. I think he's made some adjustments now to understand that when he does go up, he's going to be a long guy out of the bullpen," manager Tony DeFrancesco said. "Today was a chance for him to get a routine, do his sides the right way, do his conditioning and get his work in. He pitched well today. I think that's the guy that they're looking for."
Oswalt got offensive backing from a Cody Asche home run in the first inning, a Kevin Plawecki two-run blast in the third and a Ty Kelly RBI single in the sixth.
Plawecki, playing his first rehab game with the 51s (20-27) after breaking his hand, caught five innings behind the plate and finished 1-for-3.
"That's a big layoff, 4-6 weeks and that was his first real at-bats today," DeFrancesco said. "It was good to see, he hit a nice breaking ball up in the zone but you can tell that it's going to take a few more than one game to get him ready to hit some major league pitching."
Fellow rehabber Hansel Robles (sprained knee) made the game interesting in the eighth inning, giving up a run on two hits to begin the inning to cut the lead to one.
The River Cats (22-25) had runners on second and third with no outs and eventually the bases loaded with one out but Robles limited the damage from there.
He got Steven Duggar and Austin Slater to strike out before a Hunter Pence ground out ended the threat.
"He went in there. He hasn't pitched in a while, too," DeFrancesco said. "He fell behind, laid a couple fastballs in there and then once he realized that he got himself in trouble, he really turned it up a notch so it was also good to see him quicken up his delivery, some of the things that they were talking about when he came down that he needed to do to compete up at the major leagues."
From there, Tim Peterson took over and turned in a 1-2-3 ninth inning, picking up his second save in as many nights as the 51s won their third straight game.
"Peterson, I can't say enough about how he's pitching to finish the game," DeFrancesco said.
More 51s: Follow Las Vegas 51s coverage at reviewjournal.com/51s and @RJ_Sports on Twitter.
Contact Betsy Helfand at bhelfand@reviewjournal.com. Follow @BetsyHelfand on Twitter.