Dodgers fashionable again
August 14, 2013 - 10:52 pm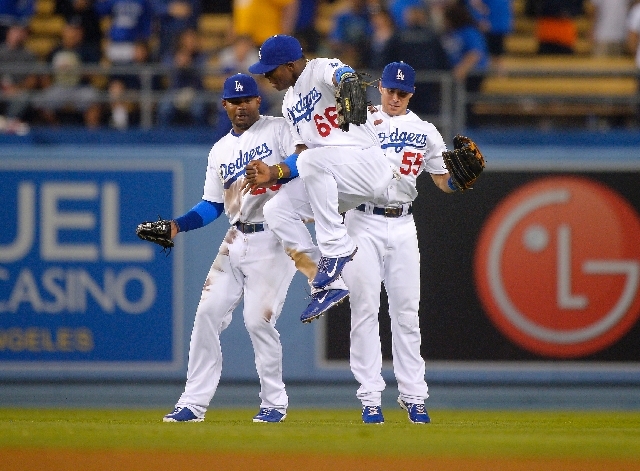 The beautiful people are back, and actor Danny DeVito dropped by the other night, too. Dodger Stadium always was a place to be seen, but now they come because there is something to see:
A rookie who, one minute, does something spectacular and the next, something spectacularly stupid. A pitcher flirting with numbers not seen in Chavez Ravine since another lefty named Koufax toiled on the mound for the Los Angeles Dodgers a half century ago. A spot in the record books, right next to the 1951 New York Giants.
It's suddenly a good time to be a Dodgers fan unless you have somewhere to be after the game. Fans, who for years left in the seventh inning to beat Southern California traffic, are staying to the end of the game, lest they miss Yasiel Puig running the bases or running into a wall.
"It's funny, but it does seem like it," manager Don Mattingly said. "I notice it because by the time I get out of here there's still traffic and it takes me a while. I guess it's a good thing, though."
It's a good time to be a Dodger, too.
"The Dodgers are having a lot of fun right now," utilityman Nick Punto said.
They should be. The Dodgers are on a 40-8 run that has transformed them from listless losers into the team Vegas oddsmakers have made the favorite to win the World Series. Not since the Giants rallied to win the pennant over the Brooklyn Dodgers in 1951 has a team been this good for this long.
That they've done it mostly without injured star center fielder Matt Kemp is a testament to the depth that a $215 million Opening Day payroll can provide. Lately they've also been doing it without hot-hitting shortstop Hanley Ramirez, injured while crashing into the stands chasing a fly ball.
It's a far cry from where they were on June 22, when the Dodgers were 30-42 and media speculation suggested Mattingly wouldn't last another week. Then Puig turned into a phenom instead of just a curiosity and a pitching staff built for the playoffs started pitching like it was the playoffs.
"I can't say I saw this coming because this is historical stuff," Mattingly said Wednesday. "But I knew we had a good club if we could get healthy and start playing the way we were capable of playing. But this just kind of came out of the blue."
It also came at just the right time for the new Dodgers owners, who spent $2 billion to buy the team and immediately went on a spending spree to make them contenders. They also spent money fixing up Dodger Stadium in the offseason, but it's been the team, not the improvements at the 51-year-old picturesque park, that have the Dodgers leading the majors in attendance at 45,000 a game.
They come to watch Puig, and he rarely disappoints. It's hardly a coincidence that the current run started about the time Puig was called up from the minors and injected sass into a moribund squad. The Cuban is batting .368 and plays right field with such abandon that he looks like he should be playing defense on a football team instead.
They also come to see Clayton Kershaw pitch. The former Cy Young winner is only 11-7 for some bizarre baseball reason, but his ERA of 1.88 is not only the best by far in the majors but the best by a Dodgers pitcher since Sandy Koufax posted the same number in 1963. He's the best pitcher in baseball, and the 25-year-old soon will be rewarded with the biggest contract any pitcher ever has signed.
They might not come to watch Skip Schumaker, Punto or Jerry Hairston Jr., but the Dodgers have utility players who know their roles and seem to produce whenever needed. All Punto has done in his past four starts, while filling in for Ramirez at short, is hit .429 with six RBIs.
"These guys have all played on championship teams, and they are guys who understand the battle and how to be prepared during a game," Mattingly said. "I don't have to let these guys know they might be pinch hitting. They know the situation and are prepared for it."
The way the Dodgers were put together seemed almost haphazard at the time, with the team loading up on huge salaries in a trade that brought Adrian Gonzalez and others from Boston and Ramirez from Miami. They then outbid everyone to get Puig for $42 million, signed South Korean pitcher Hyun-jin Ryu for $36 million and, for good measure, gave Zack Greinke a $147 million deal.
Now Ryu and Puig might battle it out for rookie of the year, Greinke is pitching solidly, and Gonzalez is a run-producing machine. The bullpen is filled with former closers, and current closer Kenley Jansen has been dominant, including a stretch from July 23 to Aug. 8 when he put down 27 consecutive batters over a 10-game stretch.
And Mattingly? He's gone from being on the hot seat to being a new star in a town filled with them.
"It's a lot more fun than it was a month or so ago, that's for sure," Mattingly said.
If only he could say the same thing about getting out of the parking lot at Dodger Stadium.
Tim Dahlberg is a Las Vegas-based national sports columnist for The Associated Press. Write to him at tdahlberg@ap.org or http://twitter.com/timdahlberg.