Drew Gagnon, Patrick Kivlehan lead 51s over Salt Lake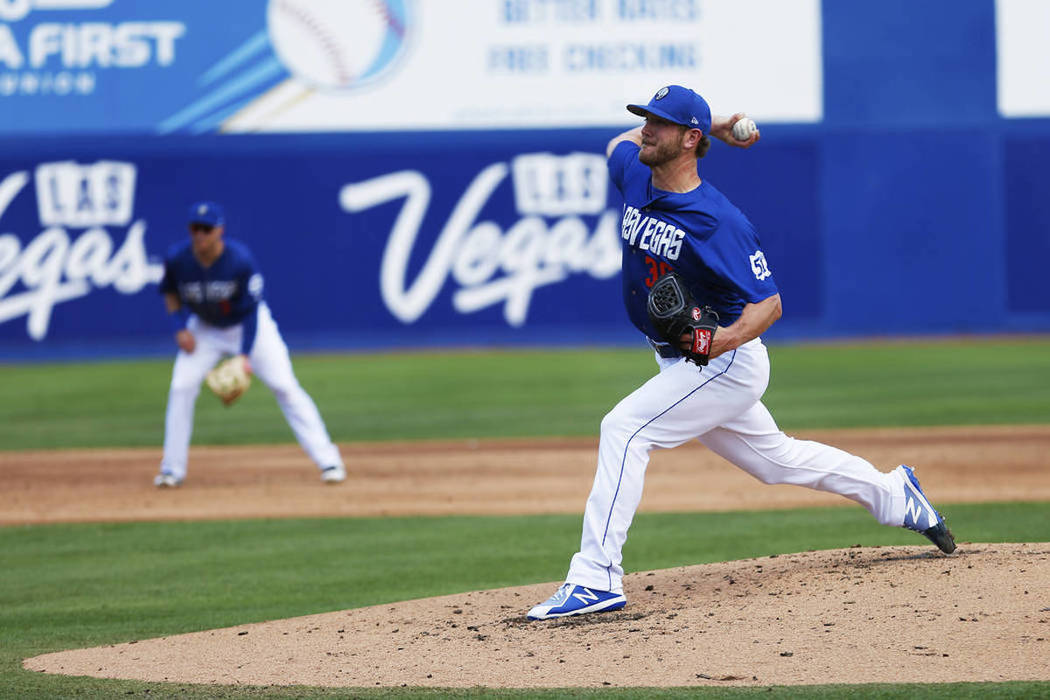 Whether for a lack of run support or a lead slipping away after he departed, Drew Gagnon has spent the whole season searching for his first win.
Friday, he finally got it, turning in one of the best performances from a 51s pitcher all season and getting plenty of backing from his offense.
Las Vegas beat Salt Lake 8-0 on Friday night at Cashman Field on the strength of Gagnon's outing, two home runs from Patrick Kivlehan and a three-run blast from Jeff McNeil.
Gagnon started his night by striking out the first three batters of the game and didn't look back, allowing just four hits in seven innings to the division-leading Bees.
"The ability to throw any pitch at any given time helps a lot as a starter and as a pitcher just to begin with," Gagnon said. "I had three going for me. Cutter was kind of hit or miss so we didn't use that much but we showed it. But the ability to throw the changeup, curveball and fastball for strikes in almost any given count … that's what kept them on their toes."
Gagnon struck out 10 Bees (44-37) and was able to work through the little trouble he got himself into. It marked his third straight outing that lasted seven innings and his fourth consecutive quality start.
And this time, it came with his first win.
"I think Drew was just a bad-luck pitcher," manager Tony DeFrancesco said. "Early in the year, he looked like he was in control, make one mistake, hang a breaking ball, lay a pitch over the middle of the plate but right now, he's been our most consistent pitcher and it was good to see him get his first win."
McNeil's three-run blast, his second home run in as many nights, gave the 51s (37-44) a lead in the third inning and Kivlehan helped them pile on.
The red-hot Kivlehan hit a grand slam in the fifth inning and added a solo home run in the seventh.
"I had struck out the last series with the bases loaded, no outs in Tacoma and I wasn't as aggressive that at-bat so I wanted to take an aggressive approach this time around and not do the same thing," Kivlehan said. "So I swung at the first pitch. I was a little late on the heater and then he threw me a curveball in the dirt that was easy to layoff and I just didn't want to be late on the fastball.He threw it and I connected on it."
Since June 16, Kivlehan has raised his batting average from .233 to .294.
"I'm in a little bit of a groove right now and kind of going with it. The guys are supporting me and we're winning so that also helps," Kivlehan said. "We're ahead of games, we're not trying to come back from behind so it's a little better playing from in front."
The win was the 51s' fourth straight and ninth in their last 11 games as they continue to play some of the best baseball they've played all season.
"I think they've got a good feeling in the locker room right now," DeFrancesco said. "They've got some momentum. I know the break's coming but hopefully we can finish strong the next nine days and get back in the race."
More 51s: Follow all of our Las Vegas 51s coverage online at reviewjournal.com/51s and @RJ_Sports on Twitter.
Contact Betsy Helfand at bhelfand@reviewjournal.com. Follow @BetsyHelfand on Twitter.