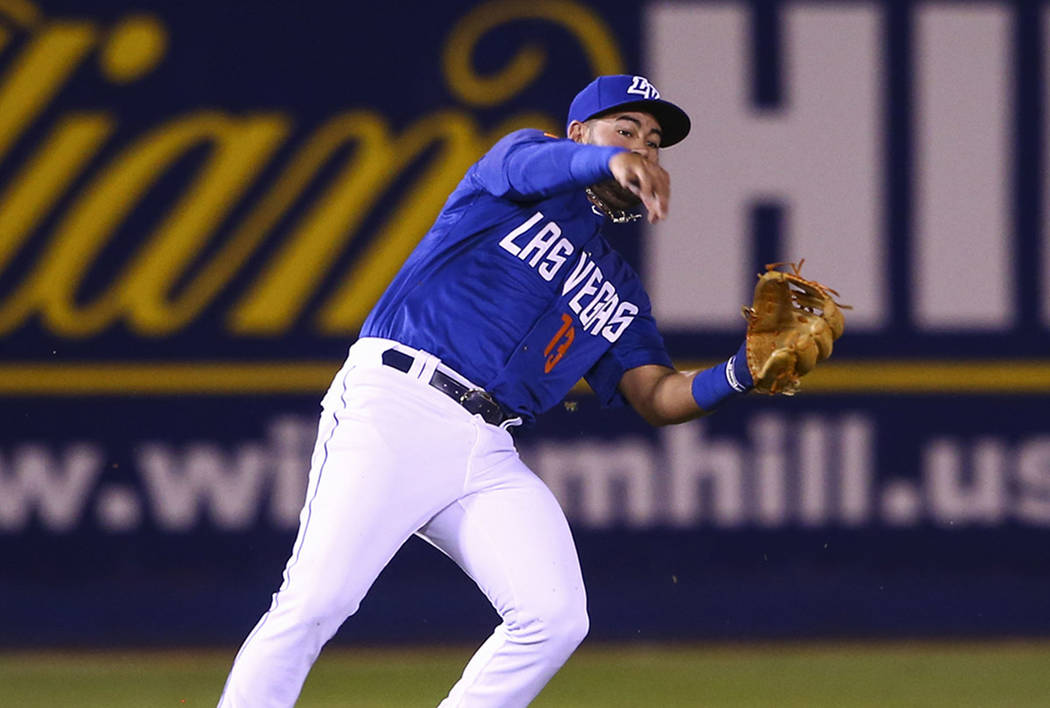 It was a night to forget Saturday in El Paso for the 51s.
The ugly kind of loss — the kind that looked like it was going to be a win before defensive mistakes got in the way.
With a day game Sunday, the 51s won't have too much time to dwell on the 11-7 loss to El Paso on Saturday night at Southwest University Park in which they squandered a seven-run lead and allowed 11 unanswered runs to score.
"Tomorrow we'll have a little talk just about focusing for the whole game," manager Tony DeFrancesco said. "When you're up seven, you need to add on and the only way they get back in the game is mistakes so it'll be a good lesson for tomorrow."
For the fifth straight night, Las Vegas (3-7) struck in the first inning, scoring three runs in the frame thanks to RBI singles from Zach Borenstein and Luis Guillorme.
They tacked on four more runs in the next inning, with Dominic Smith and Borenstein each driving in two runs as they jumped on El Paso (6-4) starter Kyle Lloyd, who shut them down for seven innings earlier in the week.
And yet, a lead that large wasn't safe.
"(Lloyd) threw about 70 percent splitfinger fastballs and we told the guys before, we had a meeting on it, 'Let's see the ball up, let's stay off that pitch, wait for a good pitch to hit,' and they came out firing, ran the bases well," DeFrancesco said. "It was one of the best two innings I've seen all year so far and we thought we were going to roll through the game and unfortunately that's how this league is. You really have to stay focused all the way through."
The Chihuahuas came charging back in the next two innings, capitalizing on Las Vegas mistakes.
After Las Vegas starter P.J. Conlon allowed one run in the third, Smith missed a pop up that would have ended the inning. Instead, Diego Goris scored and two more runners scored when the next batter, Nick Schulz, doubled.
Three more runs scored in the next inning off Conlon to tie the game up. The 51s made two errors in the inning — one from Colton Plaia, the other from Smith on a throw to second.
"It's just one of those things. You look up, you're back pedaling," DeFrancesco said of the pop up. "There was probably some wind up top and then it kind of got misplayed leading to (three) runs that inning and the next inning another double-play ball we didn't execute the throw to second and it just kind of went sour from there."
The Chihuahuas took their first lead of the game in the fifth inning on a Goris RBI single and added three more runs off Matt Purke in the sixth.
That was enough run support for the El Paso bullpen, which Las Vegas did little against.
Jonathan Aro threw three scoreless innings, giving up one hit and striking out five to keep the 51s in check during the middle innings and pick up the win.
"We had a seven-run lead after two innings. Two defensive lapses cost us seven runs. They got back in the game," DeFrancesco said. "Offensively we got shut down after that. You can't make (those) kind of mistakes in this league. You've got to be able to catch popups and execute double plays and we didn't get it done."
More 51s: Follow all of our Las Vegas 51s coverage online at reviewjournal.com/51s and @RJ_Sports on Twitter.
Contact Betsy Helfand at bhelfand@reviewjournal.com. Follow @BetsyHelfand on Twitter.