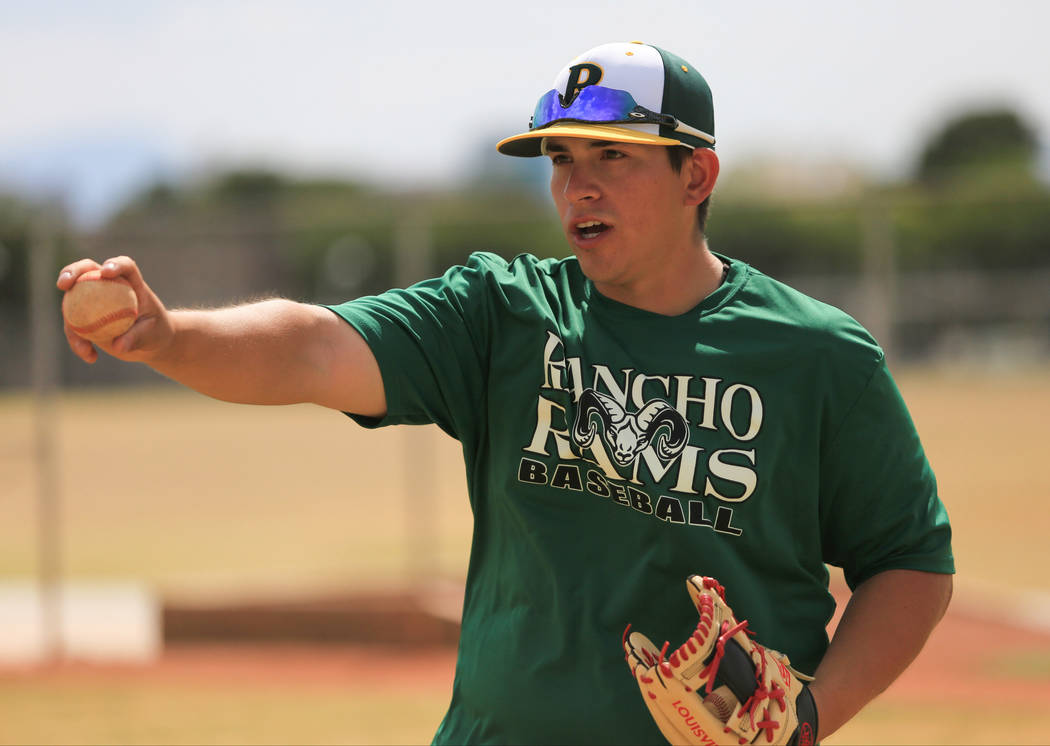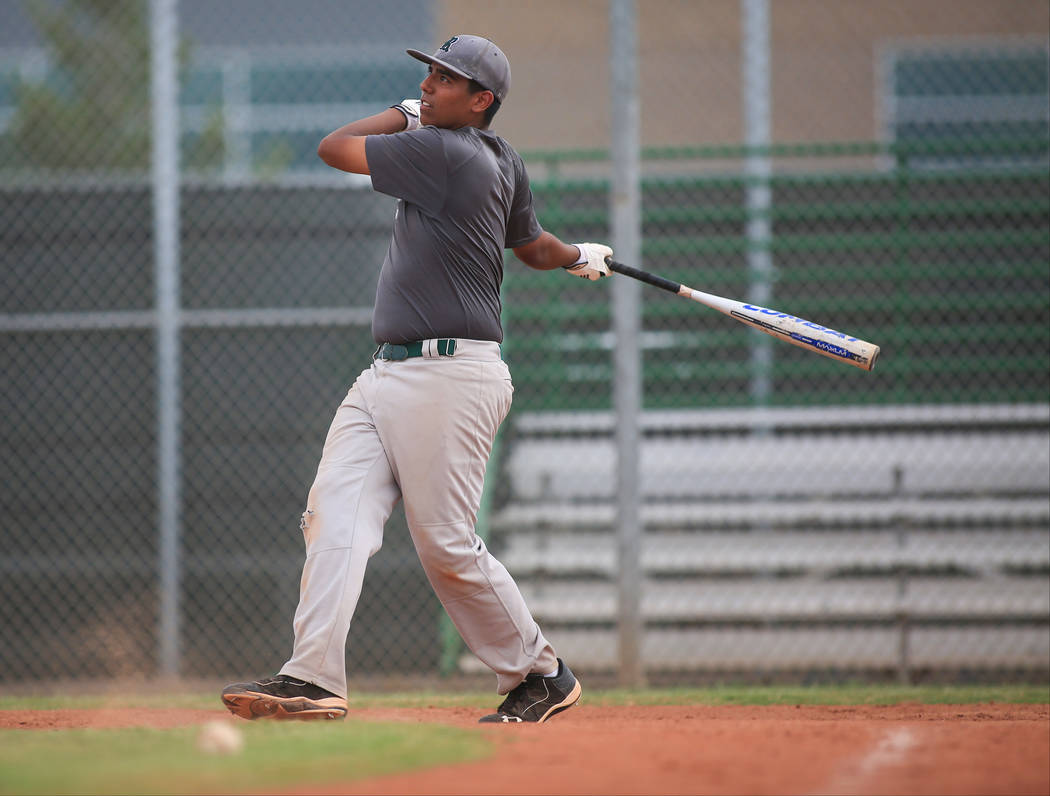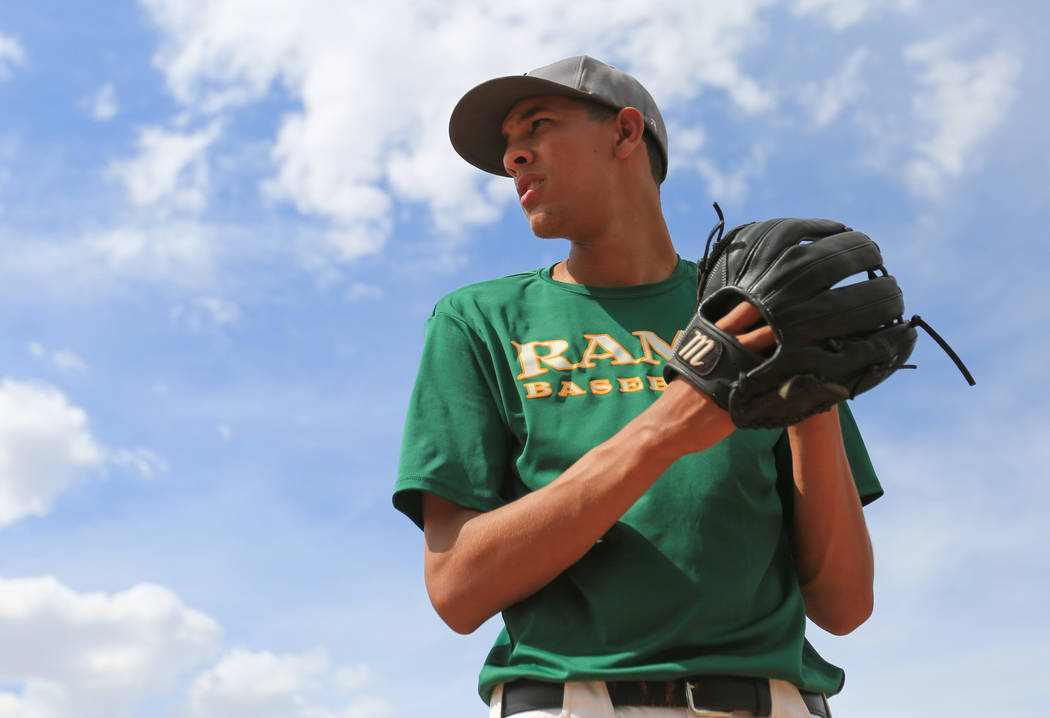 At first glance, it's easy to mistake Rancho baseball coach Manny Llamas for one of the team's players.
That's because the first-year head coach isn't far removed from his high school playing days. Llamas, 24, graduated from Rancho in 2011 and has the Rams poised to make a strong postseason run as they begin the Class 4A Sunrise Region tournament Tuesday.
"I love the new staff," said senior pitcher Michael Shy. "They're a younger group, of course, so we can relate to them a little bit more because they're just out of high school. So we understand (them) and they understand us, so it really helps."
The Rams (20-6) host Foothill (15-14) in the opening round of the tournament at 4 p.m. Tuesday. The Sunset and 3A Southern Region tournaments also begin Tuesday at host sites.
"It's great," Llamas said. "I know when I played, it was a fun time in the playoffs. We had a successful time at Rancho when I was playing. Now that I'm here, I'm hopefully bringing that same tradition from the old Rancho to the new Rancho. It's been exciting so far, so I can't complain."
Shy has emerged as the team's ace this season, posting a 6-0 record with a 1.03 ERA. The 6-foot-8-inch lefty is an imposing force on the mound, and he has made huge strides in his senior season after posting a 4.32 ERA as a junior.
"I think it's just been maturing," Shy said. "And with the new coaching staff, they've really helped me with mechanics and stuff like that that just took me to the next level."
Jimmy Gamboa (2-1, 2.63 ERA), Layton Walls (3-3, 3.15 ERA) and Carlos Hernandez (1-1, 2.77 ERA) have also had solid seasons, and give the Rams the pitching depth necessary to get through the double-elimination tournament.
"I think our pitching will be there," Shy said. "I feel the main thing is just in those key situations where we need those runs to actually get those runs."
Gamboa, who leads the team with a .436 batting average, said the transition to the new coaching staff wasn't smooth to begin with, but the players now are happy with Llamas at the helm.
"It's been a little rough," Gamboa said. "At the beginning of the year we didn't know what to expect. Coach is young, so we didn't think he'd be up for it, but I think he's been doing a really good job. He's proved himself that he can handle the job."
Rancho won the Sunrise Region in 2010 and 2011 with Llamas on the squad, and the Rams made the state tournament both seasons, finishing second in 2010.
That success is something Llamas and his staff have made sure the players know about.
"We tell them all the time," Llamas said. "We try not to boast ourselves too much, but we try to tell them, 'Hey, when we came out and we played we tried to put a hurting on everyone, no matter what.' "
Gamboa would like to one-up his coach.
"The coaches, they're good role models," Gamboa said. "Hopefully we can be more than runner-ups and actually win the state title."
Contact prep sports editor Damon Seiters at dseiters@reviewjournal.com or 702-380-4587. Follow @DamonSeiters on Twitter.
Recent Region Champions
— Sunrise Region: Basic (2016), Green Valley (2015), Liberty (2014), Coronado (2013)
— Sunset Region: Centennial (2016, 2014), Bishop Gorman (2015), Bonanza (2013)
— Southern Region: Boulder City (2016), Faith Lutheran (2015, 2014, 2013)