Five players to watch as the Las Vegas 51s play the Salt Lake Bees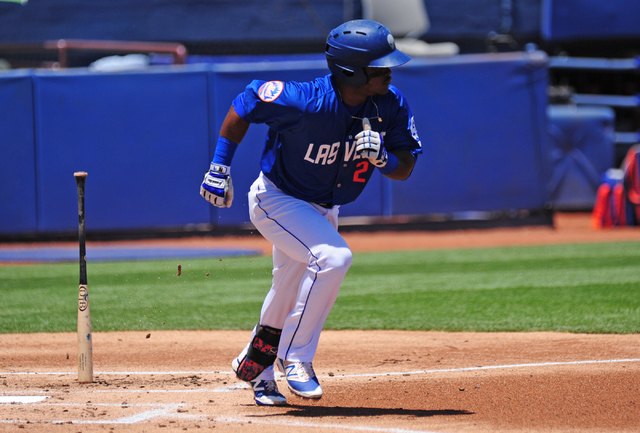 The Las Vegas 51s will kick off a rare three-game series Monday as they host the Salt Lake Bees. Here are five players to watch in the series:
Sean Gilmartin, LHP, Las Vegas
Monday, Sean Gilmartin will make his first start with the 51s since June 19 when he went seven innings and gave up just one run.
Gilmartin got the call up after that but after a scoreless appearance against the Braves on June 23, he gave up seven runs in his next three innings pitched over two games against the Nationals.
At Triple-A, Gilmartin is 8-3 with a 4.48 ERA this season.
Nate Smith, LHP, Salt Lake
Smith will get the ball on Wednesday in the series finale for Salt Lake.
The lefty is 5-3 with a 3.81 ERA on the season and has tossed four consecutive quality starts, including one against the 51s.
Smith went six innings against the 51s on June 20 and gave up three runs — two earned — in a six-inning outing.
He's given up three or fewer runs in 12 of his 15 starts this season.
Dilson Herrera, 2B, Las Vegas
Herrera missed the entire series against Tacoma with what manager Wally Backman described as a "tight hamstring."
Backman said Sunday that Herrera did everything on the field that day and had looked fine.
He'll do full activities again on Monday and the team expects him back either Monday or Tuesday.
Though Herrera had been mired in a 1-for-20 stretch before his hamstring flair up, he has been a spark plug for Las Vegas atop its lineup all season.
Ji-Man Choi, 1B/LF, Salt Lake
Choi went 3-for-4 with a pair of RBIs and a pair of runs in the series finale against Las Vegas on June 20.
Since that day, he's been hitting .432 (19-for-44) with a .500 on-base percentage and has hits in 11 of his past 12 games.
On the season, he's hitting .333 in 40 games since he was sent down by the Angels.
T.J. Rivera, 3B, Las Vegas
The team's All-Star third baseman was back in the lineup against Tacoma after spending a couple weeks on the disabled list with a pulled hamstring.
Sunday, Rivera tied up the game with a single as part of the team's six-run rally that led to a comeback victory.
Rivera, who is hitting .348 on the year, boosts an already-prolific lineup and provides the 51s with a steady hitter, run producer and fielder.
Contact Betsy Helfand at bhelfand@reviewjournal.com. Follow @BetsyHelfand on Twitter.