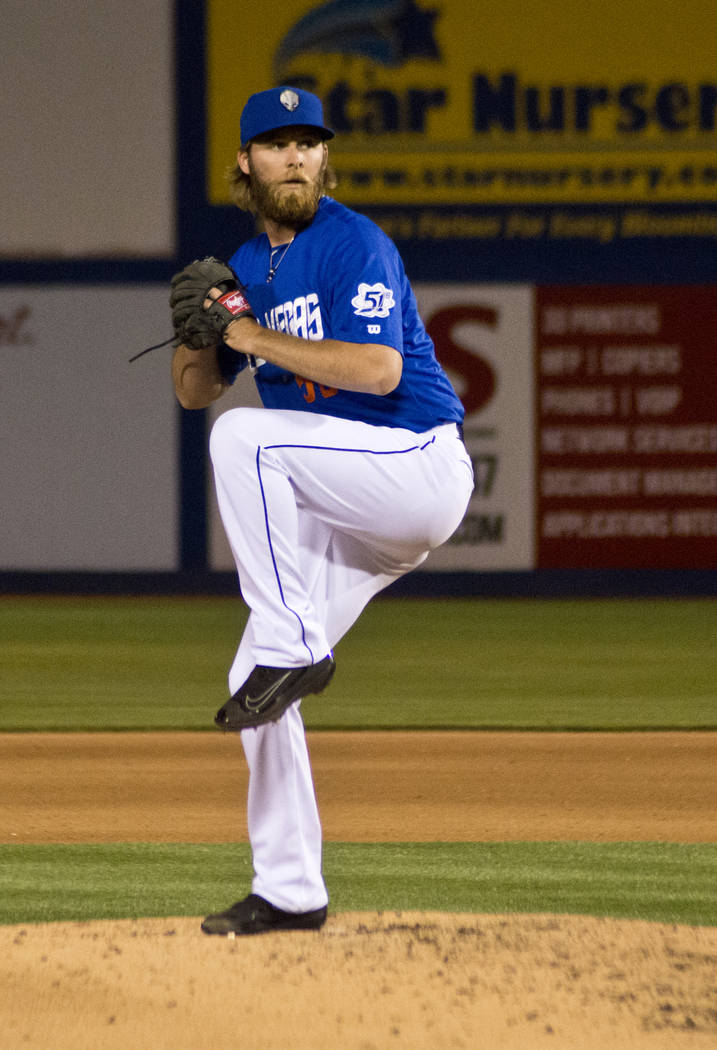 Big League Weekend hasn't just been a homecoming for Bonanza High graduate Kris Bryant.
It's also been a homecoming of sorts for players in both the Cubs' and Indians' organizations who once called Cashman Field home.
Here's a look at those players and what they've been up to since leaving Las Vegas:
Cory Mazzoni, Cubs
Mazzoni, 28, was drafted by the Mets in the second round of the 2011 draft.
He first cracked Triple-A in 2014, appearing in nine games — all starts — for the 51s.
He went 5-1 with a 4.67 ERA in 52 innings pitched while in Las Vegas.
The next year, Mazzoni was traded to the Padres, and he made his debut with San Diego that year.
Mazzoni gave up 20 earned runs in 8 2/3 innings in 2015.
He got his next chance at the big leagues in 2017, giving up 12 earned runs in eight innings.
Following that season, he was claimed off waivers by the Cubs. He was optioned to Triple-A Iowa earlier this month.
In Sunday's game, Mazzoni gave up five runs in just 2/3 innings pitched.
Alberto Baldonado, Cubs
Baldonado signed with the Mets as a teenager out of Panama.
After working his way through the Mets' system, Baldonado, 25, reached Triple-A last year, making him the most recent of the 51s returners.
He appeared in 39 games for the 51s last season, even picking up a pair of saves.
He went 0-4 with a 6.65 ERA in his 43 1/3 innings and became a free agent after last season.
He signed a minor league contract with the Cubs in 2017 and has had a solid spring so far, unscored upon in five outings spanning 6 1/3 innings. He held the Indians scoreless for 1 1/3 innings Sunday, striking out two.
Dario Alvarez, Cubs
Alvarez pitched for the 51s in both 2015 and 2016 with mixed results.
He went 2-1 with a 2.45 ERA in 16 games in 2015 and 0-1 with a 9.98 ERA in 17 games the next year.
Alvarez also has major league appearances with three teams — the Mets in 2014 and 2015, the Braves in 2016 and the Rangers last season.
For his career, he is 6-1 with a 5.06 ERA in 56 games — all relief appearances — in the majors.
He was 2-0 with a 2.76 ERA with a 16.1 ERA in 20 appearances with the Rangers last year and signed with the Cubs this offseason.
He was optioned to Triple-A Iowa earlier this month. Saturday, Alvarez threw a scoreless inning and struck out two.
Carlos Torres, Indians
Torres started his career in the White Sox organization and made his major league debut in 2009.
After stints with the White Sox and Rockies, Torres signed with the Mets after the 2012 season.
He pitched for the 51s in 2013, starting 12 games. He went 6-3 with a 3.89 ERA in 71 2/3 innings.
He pitched for the Mets from 2013-2015, appearing in 73 games and throwing 97 innings while posting a 3.06 ERA in 2014.
After his time with the Mets, Torres pitched for the Brewers the last two seasons.
He posted a 4.21 ERA in 67 appearances out of the bullpen last year and signed a minor league contract with the Indians in February.
Torres threw a scoreless inning Sunday, striking out two.
Contact Betsy Helfand at bhelfand@reviewjournal.com. Follow @BetsyHelfand on Twitter.
Indians strike back, clobber Cubs, 11-4
After being blown out Saturday, the Indians returned the favor Sunday, beating the Cubs 11-4 in the second of two Big League Weekend games at Cashman Field in front of an announced crowd of 10,774 fans.
The Cubs took a 2-1 lead in the second inning on Ryan Court's two-run blast. But Eric Haase put the Indians ahead for good in the next inning, connecting for a grand slam off Rob Zastryzny. Cleveland put up another run in the fourth and five more runs in the fifth.
Third baseman Yandy Diaz had three hits for the Indians while second baseman Drew Maggi had two hits.
Bonanza High graduate Kris Bryant started as the Cubs' designated hitter and went 1-for-2 with a single.