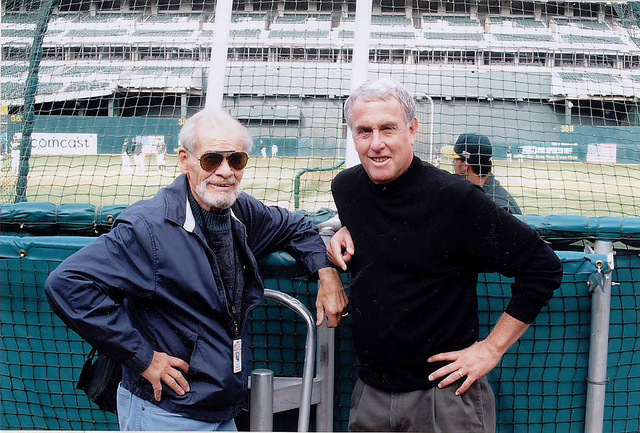 Bill King died in 2005. While his voice has been silenced, his legacy as one of sports' most versatile and professional radio play-by-play announcers remains vibrant.
Ken Korach can be thanked for that. The Henderson resident, former Las Vegas Stars and UNLV basketball and football announcer and current play-by-play man of the Oakland Athletics decided to pay tribute to his former partner through a book, "Holy Toledo — Lessons from Bill King: Renaissance Man of the Mic."
Korach's book covers a lot of ground in its 259 pages. With the help of those with whom King interacted during a brilliant broadcasting career that covered six decades, Korach deftly weaves the stories that made King the eyes and ears of Bay Area sports fans while calling San Francisco and Golden State Warriors basketball, Oakland and Los Angeles Raiders football and, of course, the A's. He also has transcriptions of King's memorable calls woven throughout the book, many punctuated by his signature line of "Holy Toledo!" that he uttered whenever something special occurred.
"The whole thing was a real emotional experience," said Korach, who worked with King on A's broadcasts from 1995 until his death and has been the team's lead play-by-play man since. "I had no idea what to expect. But it was never hard. It was never drudgery. I couldn't wait to write because the subject matter was so fascinating to me."
King was equally adept at all three sports. He could go from the languid flow of a baseball game to the frenetic pace of a basketball game to the high drama of the fourth quarter in a football game without missing a beat.
"Baseball was Bill's first love," Korach said. "He loved the fact there was no clock to worry about. He was able to tell stories and put his personal touch on a broadcast."
But King might be best known for his work with the Raiders, which began in 1966. His calls of some of the crazy finishes in the 1970s and the team's Super Bowl wins after the 1976, 1980 and 1983 seasons are part of football lore, and his voice can be heard in virtually every NFL Films episode involving the Raiders.
He also was a great basketball announcer. When the Warriors moved from Philadelphia to San Francisco in 1962, it was King who was selected to call the games. King's favorite team that he worked with was the 1974-75 Warriors, who won the NBA championship.
"He loved the medium of broadcasting," Korach said. "He never compromised his professionalism."
Well, maybe once.
It was Dec. 6, 1968. The Warriors were in Seattle to play the SuperSonics. King, never a fan of referees (according to Korach, King always had a healthy disdain for authority), had been blasting the officiating that night. And when a foul against Seattle wasn't called, King had had enough. He told his engineer to cut his microphone, he stood up and proceeded to call referee Ed T. Rush a choice expletive, which went over the air through the courtside microphone.
King also had a run-in or two with major league umpires, but it was part of his irascible personality. He was a private man working in a public medium. He refused to own a nice car, preferring beat-up jalopies to get from his Sausalito, Calif., home to Oakland. He was a lover of opera, art and the ballet. He was an accomplished painter and an accomplished sailor who would would take long trips on his boat to the South Pacific.
And while he was a noted gourmand, King would prefer to feast on Cheetos and Diet Coke for breakfast. He would call ballgames in flip-flops and a Speedo bathing suit when the weather allowed.
"He was a quirky individual," said Korach, who devotes a chapter to King's unusual diet and eating habits. "He didn't care what anyone thought. There was almost a madness to him, and I don't mean that in a bad way."
But for Korach, an accomplished broadcaster in his own right, there are lessons he learned from King that he carries to this day.
"He was obsessed with being prepared," Korach said. "I pride myself on being prepared, but I didn't really know what being prepared was until I worked with Bill. He had this huge binder, it must have weighed 6 pounds, where he had his own bio of every single player in the American League.
"But the most important lesson I learned from Bill was that no matter how bad the game is, you always have to maintain your energy."
The book, which is published by Wellstone Books ($18.99), is available at the Barnes &Noble in Henderson as well as on Amazon.com. Korach hopes to have a book signing in Las Vegas in the coming weeks, and he knows how King would react to having a book written about him if he were alive today.
"He'd be pissed," Korach said. "He'd think he wasn't worth all the fuss. But he'd appreciate the effort to tell his life story."
Contact reporter Steve Carp at scarp@reviewjournal.com or 702-387-22913. Follow him on Twitter: @stevecarprj.