Here are 10 reasons to watch this year's World Series
October 24, 2016 - 6:56 pm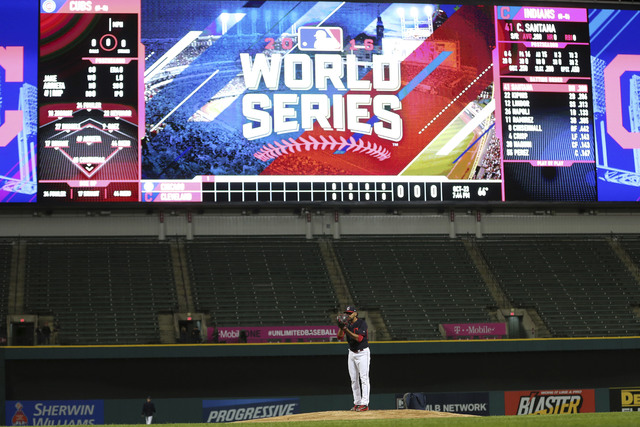 For one fanbase, decades of suffering will end in the next couple weeks.
When the World Series starts Tuesday at Progressive Field, one of the two longest World Series title droughts will be on borrowed time.
The Cleveland Indians haven't won the World Series since 1948, and the Chicago Cubs much longer than that, without a title since 1908 — four years before the Titanic sunk.
With the Indians nurturing a depleted pitching staff, the Cubs enter the World Series as a favorite.
Here are 10 reasons — besides a long drought ending — to tune in to this year's Fall Classic:
1. Cubs third baseman Kris Bryant
How good have the last couple years been to Kris Bryant?
The Las Vegan — a Bonanza High School graduate — was last year's National League Rookie of the Year. This year, he looks primed to win the NL's Most Valuable Player award. And, after reaching the NLCS last year, Bryant will follow that up by playing in his first World Series.
In 10 playoff games this season, Bryant is hitting .333 with five runs and six RBIs.
2. Indians shortstop Francisco Lindor
In June 2014, the young shortstop, then in the minor leagues, tweeted "Last night I dreamed that I was playing shortstop 4 the @Indians in the World Series and we won #cantwait #WinningisEverything #Lindor12BC."
Fast forward and the 22-year-old, one of the best young players in the game, will get his chance to do so. Lindor is a slick-fielding shortstop — tied for third in the league with a 2.71 dWAR — and hit .301 with 99 runs scored, 15 home runs and 78 RBIs in his second season.
In the first two rounds of the playoffs, he's hit .323 (10-for-31) with a pair of home runs.
3. Indians pitcher Andrew Miller
The Indians traded the farm for Miller, dealing four minor leaguers, including their 2013 and 2014 first-rounders, to the Yankees at the trade deadline.
But so far, the super reliever has provided them with exactly what they've needed. Miller has struck out 21 batters in 11 2/3 innings while limiting opponents to a .132 batting average against while not allowing a run.
The left-hander's dominance earned him the ALCS MVP award after 7 2/3 scoreless innings against the Blue Jays.
4. Cubs pitcher Aroldis Chapman
Like Miller with the Indians, the Cubs' flamethrowing closer was the team's big trade deadline acquisition. Both big-name relievers were traded by the Yankees to their respective teams and made an immediate impact.
Chapman went 1-1 with a 1.01 ERA and 16 saves in 28 games, though he's been a little shakier in a couple of his postseason appearances.
Still, the hardthrowing closer provides intrigue. Of the 50 fastest pitches thrown this season, Chapman has thrown 49 of them, topping out at 105.1 mph.
5. Cubs' Kyle Schwarber and Indians' Danny Salazar
Though both have missed the rest of the postseason with injuries, both have a chance to impact the World Series if healthy.
Schwarber, a power-hitting outfielder, tore his ACL and LCL in early April and has been out ever since. But he's been playing in the Arizona Fall League and could return to serve as a pinch hitter or possibly designated hitter. Final World Series rosters did not have to be submitted until Tuesday morning.
Salazar, meanwhile, has been shut down since September with a right forearm strain, but he will be on the Indians' roster and his return would provide a boost to a depleted rotation. The All-Star went 11-6 with a 3.87 ERA and 161 strikeouts in 137 1/3 innings.
6. Cubs manager Joe Maddon and Indians manager Terry Francona
The Fall Classic pits two of the most respected managers against each other.
The Cubs gave Maddon, their unorthodox skipper, a five-year contract worth $25 million before last season. The three-time Manager of the Year winner is in his second World Series, having led Tampa Bay to the 2008 series, a five-game loss to the Phillies.
Meanwhile, Francona could cement his legacy as a Hall of Fame skipper with another World Series title. He led the Red Sox to titles in 2004 — in which they broke their own 86-year drought — and 2007.
7. Cubs infielder Javier Baez
October has served as Baez's national introduction as fans have marveled at his high baseball I.Q.
The 23-year-old has impressed with his instincts. At one point against the Dodgers, he let a ball drop in front of him and turned it into a double play before some around him realized what was going on.
Baez hit .375 in the NL Division Series and followed by hitting .318 with seven hits — including four doubles — and five RBIs in the NLCS, earning him co-MVP honors with ace Jon Lester.
8. Aces
Though Carlos Carrasco will miss the series and Salazar is not 100 percent, the series will feature its fair share of solid starting pitching.
Jake Arrieta won the NL Cy Young last year and Corey Kluber won the AL Cy Young the year before that.
Both Lester and Kyle Hendricks had stellar seasons for the Cubs, with Hendricks leading MLB with a 2.13 ERA.
9. Small-market success
At $83.7 million, the Indians rank 26th in payroll out of 30 teams.
They provide proof that even without a salary cap, it's possible for a small-market team to have success with solid drafts, player development and smart trades. That should provide hope to fans of every team.
10. It's the World Series
It's the last chance to watch competitive baseball until April.
Gear up.
It should be a good one.
Contact Betsy Helfand at bhelfand@reviewjournal.com. Follow @BetsyHelfand on Twitter.
Like Vegas Sports News on Facebook: