Kentucky squad overruns Basic
December 26, 2013 - 11:02 pm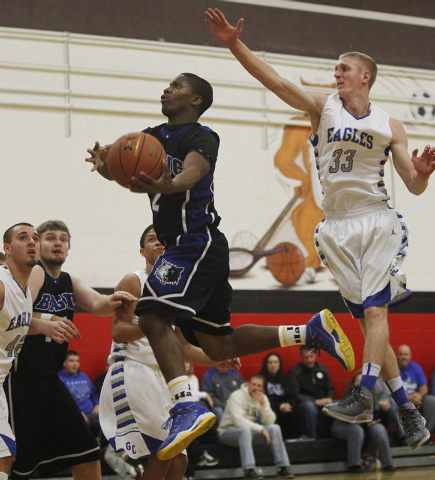 Graves County (Ky.) wasn't the most imposing team when it took the floor in the back gym at Las Vegas High on Thursday. But maybe the radio crew in the corner should have been a clue that the Eagles meant business.
Graves County placed four scorers in double figures and used a 16-1 run in the second half on the way to a 70-37 win over Basic in the Las Vegas Prep Championship.
"We came into this tournament wanting to play the best," Basic coach Leonard Taylor said. "Sometimes you've got to be careful what you ask for."
Jake Williams was 4-for-4 from the field and had 14 first-half points to help the Eagles (9-0) take a 35-23 halftime lead, and things got only worse for Basic.
The Wolves (3-5) turned the ball over on three of their first four second-half possessions, as Graves County went on a 9-0 run to start the half.
And after Chandler Kamai scored five straight points for Basic, the Wolves would miss 15 consecutive field goals as the Eagles stretched their lead to 60-29.
"It's a team, not just individuals," Taylor said of Graves County, which doesn't have a player taller than 6 feet, 6 inches. "They play good team basketball."
Tyler Anderson's 3-pointer with 4:27 to play ended Basic's stretch of 8 minutes, 38 seconds without a field goal, but by then Graves County led 60-32.
The Eagles did an outstanding job of sharing the ball. Five players had at least three assists — more than Basic recorded as a team.
"Just good, fundamental team basketball," Taylor said. "You could tell they've played top competition."
Kamai finished with 12 points to lead Basic, and Antraye Johnson added 10 points and five rebounds.
"I've got two of our top six sitting on the bench for ineligibility," Taylor said. "I have another starter who missed most of the first half because he missed the last practice. Just lack of dedication issues, as far as not doing what it takes in the classroom and letting their teammates down out there."
Peyton Puckett led Graves County with 17 points.
"They were active on the glass, talking on (defense) all five guys talking and doing their part," Taylor said. "I'm curious to see how they do in this tournament."
Taylor said he hopes his team can learn from the way the Eagles played.
"That's a great ballclub for us to play, but we need to have everybody to really show what we're capable of," Taylor said. "If you're playing without two or three of your top five or six against a team like that, you can get exposed. It was a tough night. Hopefully we can bounce back tomorrow."
Contact Nevada Preps editor Damon Seiters at dseiters@reviewjournal.com or 702-380-4587. Follow @DamonSeiters on Twitter.