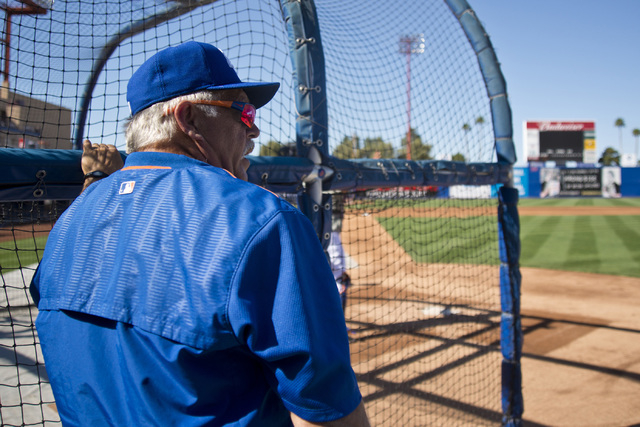 Throughout the first month of the season — April 7 to May 7 — Gabriel Ynoa has been the 51s' most consistent starter.
Ynoa is 3-0 with a 1.91 ERA in his first six starts.
Lefty Sean Gilmartin had a solid first month of the season, too, entering his start Sunday 3-1 with a 2.70 ERA.
But behind them, the staff has had some trouble.
Through the first month, 51s starters had just nine quality starts in 28 games.
Ynoa threw five of them, Gilmartin two and Seth Lugo and Duane Below one each.
"That's not good enough. Big leagues, you want to see 60 percent quality starts. I would be happy if we had 50 percent quality starts here," manager Wally Backman said. "It's put a lot of pressure on our bullpen."
To earn a quality start, a pitcher must complete at least six innings, giving up three or fewer earned runs.
But often, 51s starters haven't made it that far.
"It takes a toll on your bullpen after a while, so I think the biggest need is for our starting pitching to be more consistent (and) get us deeper into the games," Backman said.
Heading into Sunday, two relievers — Josh Smoker and Dario Alvarez — led the Pacific Coast League with 14 appearances apiece.
Jeff Walters was right behind them with 13 and Paul Sewald, Zach Thornton and Chasen Bradford had 12.
"You don't want it to continue like this. I have three, four guys at the rate that they're going, who would have 70 apperances before the end of the year," Backman said. "It's a lot of pitches for a guy coming out of the bullpen over the course of the year if you have to use them the way that I've had to use guys."
Holding leads
Entering Sunday, the 51s were 14-14, two games behind division leaders Albuquerque and Salt Lake.
They've hovered around .500 the whole season, but they've had chances to win a few games that they eventually lost.
Notably, the 51s lost two games earlier on their current road trip after jumping out to a five-run lead Wednesday and a six-run lead Thursday.
"If you look at games where we were ahead by five runs that we've lost, there's three or four games there, and if we were just .500 in the one-run games, we probably have 18, 19, 20 wins, somewhere in there, and we're in first place," Backman said.
Instead, the 51s completed their first month of the season 2-6 in one-run games.
Thursday's game, a one-run loss after losing a six-run lead and watching El Paso walk off on a wild pitch, especially sticks out.
"You always figure that it's going to even itself out over the course of the year, so for me, my disappointment has been that — not being able to, when you get a lead, to hold your lead the way that you should hold it," Backman said.
Huchingson in Florida
Reliever Chase Huchingson is in Port St. Lucie, Florida, as he deals with a sore elbow.
Huchingson, who was placed on the disabled list on April 20, went to New York to have an MRI, which Backman said "didn't reveal a whole lot," before rejoining the team and leaving from El Paso for Florida.
"All I know is we sent him to Florida and they're going to try to rehab him there," Backman said.
Backman said he talks to rehab pitching coordinator Jon Debus once or twice a week.
"We haven't talked in a few days, so I'm sure once Huchingson starts throwing again, he'll call me," Backman said.
Huchingson had a 3.60 ERA in five innings before going on the disabled list.
Betsy Helfand can be reached at bhelfand@reviewjournal.com. Follow on Twitter: @BetsyHelfand