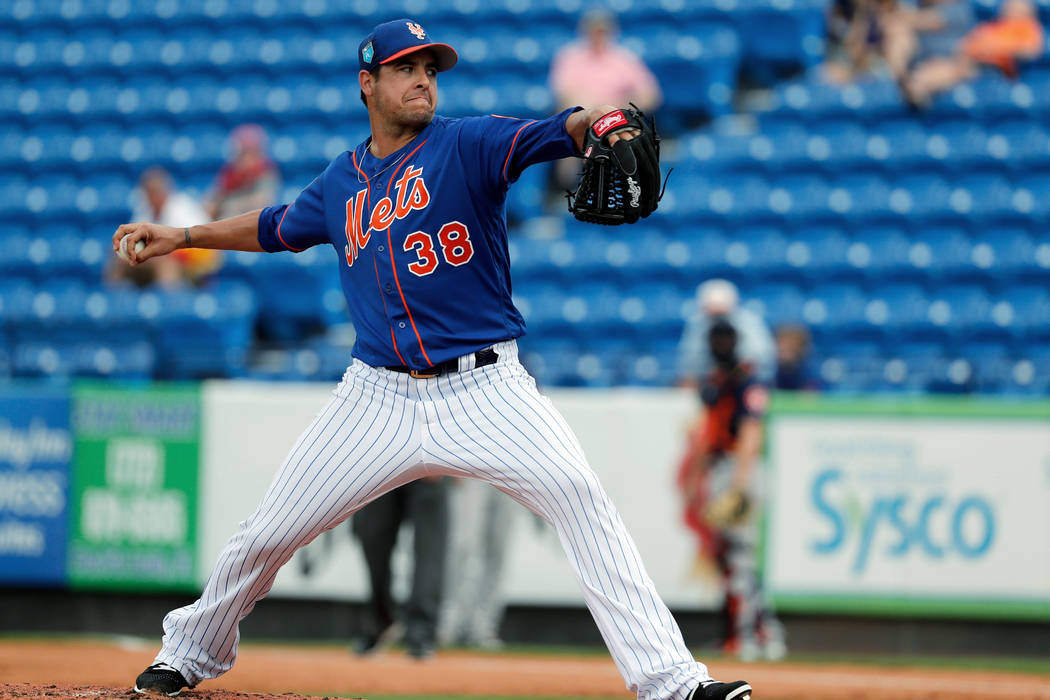 Reliever Anthony Swarzak, who went on the disabled list on April 2 with a left oblique strain, pitched a scoreless inning on a rehab assignment for the 51s on Tuesday.
It was his first time facing hitters since suffering the injury on March 31.
"I felt OK," he said. "There's some work to be done. I felt like this is right where I need to be. It's nice to be able to face hitters at this level because I'm going to get instant feedback on if I'm headed in the right direction or not because these hitters are pretty good so I'm going to try to do everything I can to get myself game ready for the big leagues."
Swarzak gave up a bunt hit in his outing and struck out two.
"I think that I just need to locate better," he said. "You could look at the results today and say 'Oh, you probably located well,' but I know that it needs to better than that if I'm going to get big outs in the big leagues."
Manager Tony DeFrancesco said he would pitch again Friday and Sunday in Reno.
"I don't feel anything at all, no discomfort, nothing out of the ordinary," Swarzak said. "I know I'm going to continue to feel this way and get stronger and get closer to where I know I can be."
Las Vegan Church retires
A day after starting for the 51s for the first time, Las Vegan Andrew Church retired from baseball on Monday.
Church was the Mets second-round pick in 2013. He had just reached Triple-A after starting the season at Double-A Binghamton.
Pitcher Andrew Church, the Mets second-round draft pick in 2013, has retired. Church, a Las Vegan, is a Basic High School grad.

— Betsy Helfand (@betsyhelfand) May 29, 2018
"He signed out of high school. He told me he just didn't have a passion for it," pitching coach Glenn Abbott said. "And I told him, I said, "I admire you for making that decision. If you don't have the fire, you'll never get where you want to go.' He's got a wife and …. baby and he just wants to get on with his life"
Church, who lives in Summerlin with his wife and five-month old, Roman, spent a year at Bishop Gorman, two at Palo Verde and graduated from Basic.
He was 30-30 with a 4.73 ERA in parts of six minor league seasons in the Mets' system. Sunday, he made his first start in his hometown in front of family members at Cashman Field, a stadium at which he grew up attending games.
"I've wanted to do this since I got drafted," he said Sunday. "I'm glad it's finally happened."
Church said he hadn't seen his young son since spring training and seemed excited to be home to be around him more.
"That's the best thing that could have happened," he said. "…. He's grown tremendously since (spring training). Being able to wake up in the morning and hang out with him, just seeing (him), it's amazing."
More 51s: Follow all of our Las Vegas 51s coverage online at reviewjournal.com/51s and @RJ_Sports on Twitter.
Contact Betsy Helfand at bhelfand@reviewjournal.com. Follow @BetsyHelfand on Twitter.