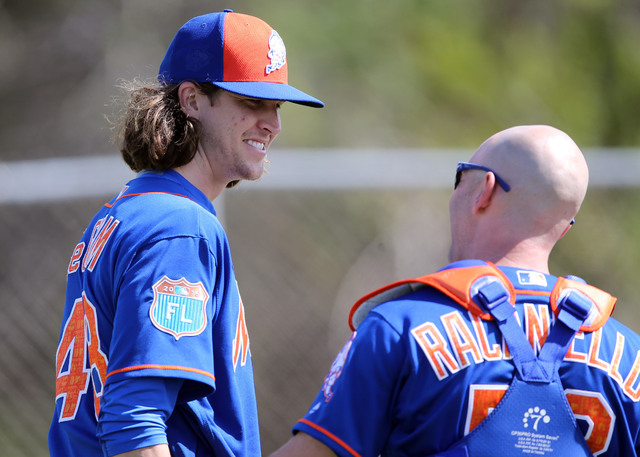 The New York Mets renewed right-hander Jacob deGrom's contract for $607,000 on Friday after the sides could not agree on a new deal for the 2016 season.
The 2014 National League Rookie of the Year declined to sign the contract in a protest over his assigned salary — just $99,500 above the major league minimum.
Because deGrom has not achieved enough major league service time to be arbitration-eligible, Mets officials could assign him any salary they chose above the MLB minimum of $507,500.
The 27-year-old deGrom, who helped the Mets reach the World Series for the first time since 2000, was the only one of the team's 25 pre-arbitration players who could not agree to terms on a new deal.
"That's the business side of the game," deGrom said Friday at spring training in Port St. Lucie, Fla. "That's why I hired my agents. I feel like I have some of the best in the business, and it's a business decision that we decided to make. We have great respect for the Mets and the system they have, and I feel like we have a great relationship with them. As I've said before, I love playing here and I want to be in this uniform for a long time. It was just a decision based on the business side of the game.
"I don't think there was really a value that they put on it. It was just kind of a decision that was made between me and my agents. We didn't sit down and say, 'Hey, here's a certain number that we need to agree on.'"
In his first full major league season last year, deGrom made the National League All-Star team and went 14-8 with a 2.54 ERA and 205 strikeouts over 191 innings in 30 starts. He was 3-1 with a 2.88 ERA in four postseason starts.
"We, as is the case with most if not all of the clubs, have a fairly straightforward approach to determining salaries," Mets general manager Sandy Alderson said Friday. "Yes, it is based on a formula, predicated on performance. And we're really talking about marginal differences in salaries. This is the first renewal we've had since I've been here, so the process has worked well. And we respect Jacob's right to take a renewal if that's what he feels and is best in his interest and we'll move on from there."
DeGrom said he is interested in discussing a long-term deal with the Mets.
"I don't think this will affect that in any way," deGrom said. "We're still open to discussions for long-term things, but nothing is in the works now and I don't think this will have any effect on that."
His agent, Brodie Van Wagenen of CAA Baseball, said in a statement: "We respect the Mets' right to determine a pre-arbitration player's salary and their effort to be consistent with their players. But given Jacob's standing as one of the top pitchers in Major League Baseball and his 2015 performance, his worth cannot be properly valued by a formula. Like the Mets, he is simply exercising his rights under the CBA. This will not affect Jacob's relationship with the Mets. Both parties are focused on preparing for the season and getting the Mets back to the World Series."