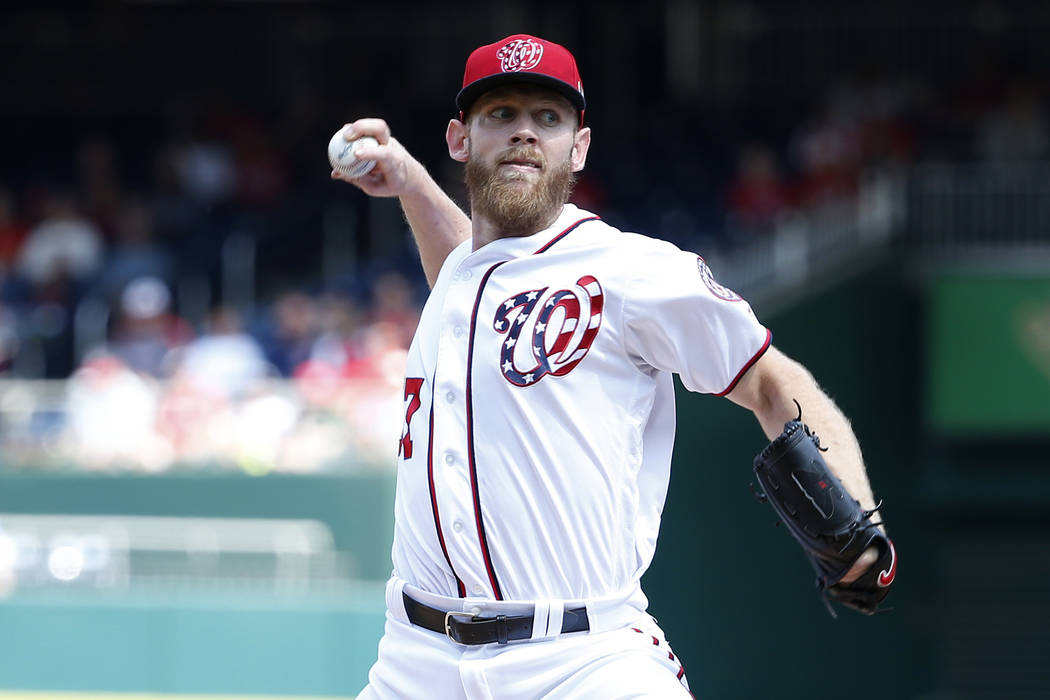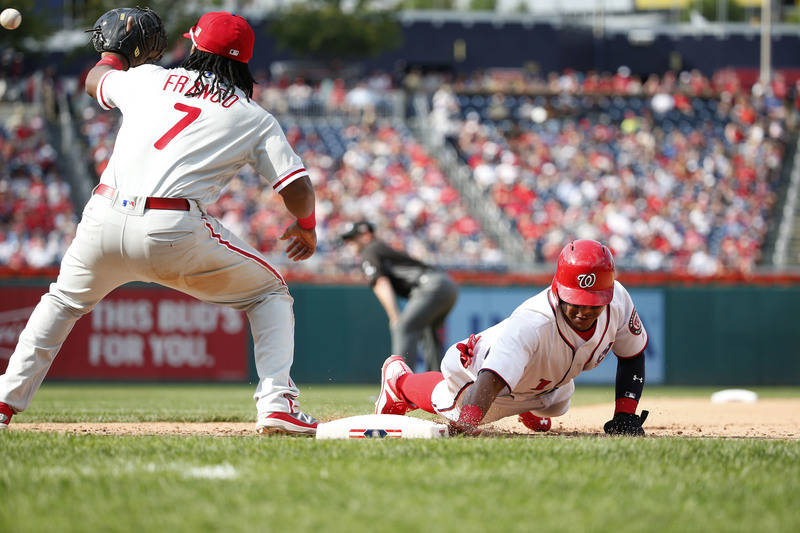 WASHINGTON — Nationals manager Dusty Baker decided to give some of his veteran everyday players the day off Sunday, including first baseman Ryan Zimmerman, second baseman Daniel Murphy, third baseman Anthony Rendon and center fielder Michael A. Taylor.
The Nationals fielded a starting lineup that included six players that spent part of this season in the minor leagues.
But the presence of veteran pitcher Stephen Strasburg was more than enough as Washington defeated the last-place Philadelphia Phillies 3-2 and clinched the National League East title for the second year in a row after second-place Miami dropped a 10-8 decision to Atlanta later on Sunday.
"I thought they had a lot of fun," Washington shortstop Trea Turner said of the young players. "They were not scared (and) we got the win."
Strasburg allowed just two hits in eight scoreless innings and Turner had a triple and home run.
Strasburg threw his second career shutout and complete game in his previous start at home, against the Marlins on Aug. 30. He came close to doing that again Sunday.
Strasburg (13-4) has not allowed a run in his last 34 innings, setting a Montreal/Washington franchise record. The right-hander from San Diego struck out 10 and walked one while throwing 108 pitches, with 76 strikes.
"We were 5-6 on the road trip. I will take that any day," said Pete Mackanin, the Phillies manager. "Strasburg was real good. We have young guys who have never seen him before which added to his success, not that he needed that."
Former Phillie Ryan Madson pitched the ninth to get his first save with the Nationals despite allowing a two-run single by Nick Williams to make it 3-2.
Turner led off the sixth with a triple and scored on a double to left by Adrian Sanchez for a 1-0 lead. Victor Robles had his first major league hit, a double, to drive in Sanchez later in the inning for a 2-0 margin against Phillies starter Ben Lively.
"That is just baseball," Lively said. "Two bad pitches and that was the ballgame. I thought our game plan was on point."
Turner hit a solo homer in the eighth to give the Nationals a 3-0 lead. It was the ninth homer of the year for Turner. Sanchez also singled in the eighth for his second hit.
Lively (3-6) gave up three runs on six hits with seven strikeouts and one walk in eight innings despite throwing a complete game.
"We are just right there. It just takes one big hit," Lively said of one-run losses. "It is always nice to pitch against guys like (Strasburg). You make sure you are on your A game."
The Nationals won three of four games in the series.
"We played these guys tough. Williams had 15 RBIs on the road trip. (Lively) was outstanding. He made a couple of bad pitches. The home run to Turner, he hung a slider. He pitched very well. It is our first complete game of the year. I was happy with Lively's performance. We played hard for nine innings," Mackanin said.
Strasburg did not allow a hit until a single to left in the fifth by Maikel Franco, who also had the Phillies' second hit with a single in the seventh. But Strasburg got Aaron Altherr to ground into a sparkling double play started by Sanchez at third base.
The Nationals (88-55) have won five of six while the Phillies (54-89) have lost seven of their last 10 games.
"A lot of good things happened on this trip," Mackanin said.
NOTES: Washington LHP Gio Gonzalez (14-6, 2.50 ERA) will start at home Tuesday against Atlanta RHP Julio Teheran (10-11, 4.77). … Phillies RHP Nick Pivetta (5-10, 6.49) will start Tuesday against Marlins LHP Dillon Peters (0-1, 2.25) in Philadelphia. … Nationals 1B Ryan Zimmerman, CF Michael A. Taylor, 2B Daniel Murphy, 3B Anthony Rendon and C Matt Wieters were not in the starting lineup. … Phillies manager Pete Mackanin was drafted in the fourth round by the Washington Senators in 1969.