Nationals cruise, but Harper injures thumb
April 25, 2014 - 11:07 pm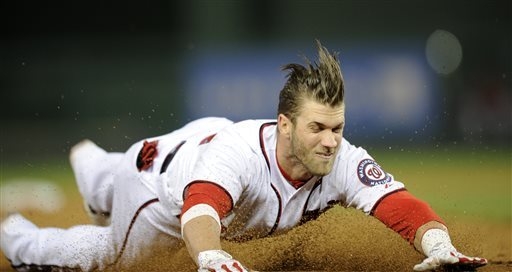 WASHINGTON — The Washington Nationals' game Friday night provided a good example of the way things have gone for them during the early part of the season.
On a night when they pounded out 17 hits and posted their most lopsided win, there was still cause for concern.
Bryce Harper drove in a career-high four runs but left early with a jammed left thumb, and Stephen Strasburg pitched seven scoreless innings as the Nationals defeated the San Diego Padres 11-1.
"It feels all right. You know, pretty swollen right now, pretty tight," Harper said.
Harper drove in a run with an infield single in the first and had a bases-loaded triple in the third. Following his headfirst dive into third base on the triple, Harper flexed his left wrist.
"I slid into the bag, and I caught it a little bit," he said of his thumb. "Went into the dugout, swung a couple in the cage, felt fine. Went out to the outfield, it swelled up a little bit. So (up 6-0) I thought we were in a good spot, and (manager) Matt (Williams) did too, so I got in and got some treatment on it."
He was replaced in left field by Nate McLouth to start the fifth inning. Williams said X-rays were negative and Harper would be re-evaluated today.
Strasburg (2-2) allowed seven hits and walked two but struck out 11. He turned in his second straight effective start, lowering his ERA from 5.33 to 4.24.
"I'm just trying to make quality pitches and not necessarily be overaggressive, but throwing the heater down the middle and challenge them," Strasburg said.
Anthony Rendon had a career-high four hits for Washington.
San Diego's Robbie Erlin (1-3) allowed eight runs and 13 hits over 5 1/3 innings. He struck out three and walked two.
"It starts with the fastball, because that's the pitch you are going to throw most often as a starting pitcher. If you're not locating, you're going to be in trouble," San Diego manager Bud Black said. "That's what happened tonight."
Everth Cabrera had three hits for the Padres.
With runners on first and second and two outs in the first, Ian Desmond lined Erlin's first pitch to right-center for a double, scoring Rendon. Harper followed with an infield single up the middle to make it 2-0.
In the third, with one out and the bases loaded, Harper drilled a 3-2 pitch off the wall in right.
Three runners scored and Harper, under increased scrutiny since his benching last Saturday for not running out a grounder, never hesitated and got in ahead of the relay.
"I saw the ball hit and it kind of died off that fence, so I was felt like I was chugging it out of the box a little bit, thinking three of course," he said.
He scored on Jose Lobaton's single.
Pitching against his hometown team, Strasburg allowed at least one baserunner in six of his seven innings, but the Padres couldn't get a timely hit.