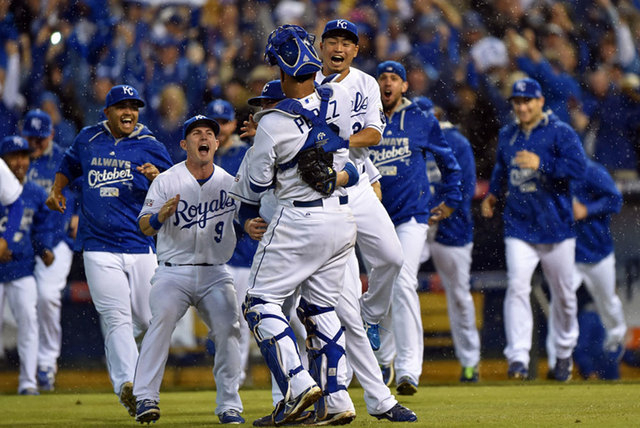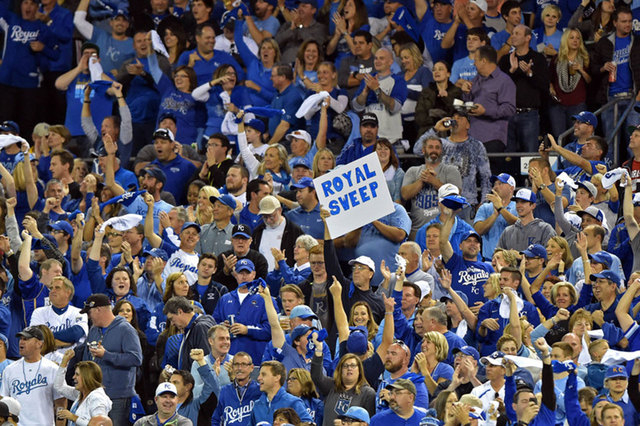 KANSAS CITY, Mo. — Alex Gordon drove in three runs with a first inning double, and James Shields pitched six strong innings as the Kansas City Royals thrashed the Los Angeles Angels 8-3 Sunday night to complete a sweep of the best-of-three American League Division Series.
The Royals will play the Orioles in the American League Championship Series, which begins Friday in Baltimore. The Orioles swept Detroit in the other ALDS. The Royals finished a game behind the Tigers in the AL Central and qualified as a wild card, Kansas City's first playoff appearance since 1985.
The Angels topped the majors with 98 victories and 773 runs, but they scored only six runs in dropping three straight to the Royals.
Shields (1-0) limited the Angles to six hits and two runs, on two solo homers, while striking out six and walking two. The right-hander threw 65 strikes in 105 pitches.
The Royals' offense included first baseman Eric Hosmer and third baseman Mike Moustakas homering and right fielder Nori Aoki going 3-for-3 with a walk, an RBI and two runs.
Shortstop Erick Aybar collected half of the Angels' eight hits with three singles and a double. Center fielder Mike Trout and first baseman Albert Pujols homered for Los Angeles.
The Royals' three-headed bullpen monster — right-handers Kelvin Herrera, Wade Davis and Greg Holland — held the Angels to one run and two hits the final three innings.
Trout homered on Shields' fourth pitch, putting the Angels up 1-0. It was Los Angeles' first lead of the series, but it was short-lived.
The Royals loaded the bases in the bottom of the first as Aoki and center fielder Lorenzo Cain singled and designated hitter Billy Butler walked on four pitches. Gordon, Kansas City's left fielder, knocked in all three runners with a double off the fence in left-center on a 2-2 pitch from C.J. Wilson (0-1).
With the Angels facing elimination, manager Mike Scioscia wasted no time in yanking Wilson, who threw 23 pitches, 13 strikes, to six batters. Wilson was charged with three runs on three hits and a walk. It was the shortest non-injury playoff start since St. Louis Cardinals left-hander Rick Ankiel exited after retiring just two Mets in the 2000 National League Championship Series after 33 pitches.
Wilson entered the game 4-0 record and six saves in 17 career games against the Royals. He had a 5.26 ERA and a 1-6 record in 11 postseason games.
Hosmer hit a two-run homer off left-hander Hector Santiago in the third to increase the lead to 5-1. Hosmer picked on a 2-0 pitch and parked it over the left field fence.
The Angels cut the lead to 5-2 in the fourth on Pujols' 19th career postseason home run.
After Pujols homered, Shields yielded a double to Aybar and hit third baseman David Freese with a pitch before wiggling out of more trouble. He retired left fielder Josh Hamilton on a fielder's choice grounder and struck out designated hitter C.J. Cron to end the inning.
The Royals scored two runs in the bottom of the inning on Moustakas' home run off Mike Morin and center fielder Lorenzo Cain's sacrifice fly.
Cain made two spectacular diving catches robbing Pujols and second baseman Howie Kendrick of hits with right fielder Kole Calhoun and Trout on base to end the fifth. Shields tipped his cap to Cain as he walked off the mound, and the Kauffman Stadium sell-out crowd of 40,657 gave Cain a standing ovation.
NOTES: Angels LF Josh Hamilton finished 0-for-13 in the series. He went 0-for-4 with a sacrifice fly Sunday. … Royals RHP Kelvin Herrera, who exited the game Thursday with right forearm tightness and didn't pitch Friday, threw a scoreless seventh inning Sunday. … Kansas City C Salvador Perez, who was hit in the head by Hamilton's bat on the back swing Friday, was in the lineup Sunday. "I think everything is gone," said Perez, who went 0-for-4. … LHP Brandon Finnegan, who picked up the victory Friday, is the youngest Royals pitcher to log a playoff win at 21 years, 172 days.