Senior guard Beynon has been trailblazer of Canyon Springs' success
January 30, 2014 - 12:08 am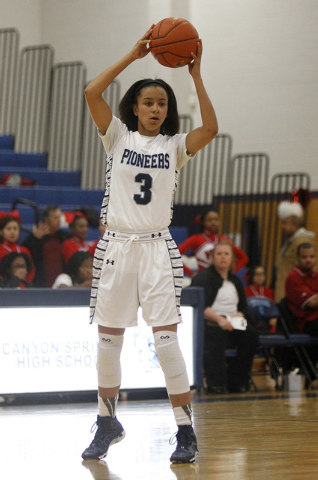 Just minutes after a narrow win against Valley on Tuesday, Canyon Springs girls basketball coach Dorothy Kendrick and star guard Cherise Beynon smiled and embraced before heading into the locker room.
In about a month, Kendrick will miss not only the hugs and the understanding, but everything Beynon has brought to the Pioneers in the last four seasons.
A 5-foot-10-inch senior guard, Beynon has been the heart and soul of the Pioneers and a huge reason why the team has gone from an afterthought to the team to beat in the Northeast League.
She'll take her skill to New Mexico next season, after committing earlier this month to join the Lobos.
"I'm proud of what she has contributed to this program and that she has allowed us to be the family that she has grown to love and take care of for four years," Kendrick said. "She's been a big part of the change. She's skillful, creative, determined and just a great leader."
Before Beynon arrived at Canyon Springs, the Pioneers had just started to turn around their program, improving from 7-18 in 2008-09 to 19-12 in 2009-10.
A starter as a freshman, Beynon made an immediate splash and hasn't stopped. Neither have the wins for Canyon Springs.
Since Beynon's arrival, the Pioneers are 73-19 overall and 42-1 in the Northeast League. They're atop the league again this season with a 5-0 mark.
"We needed that spark," said Kendrick, who was an assistant coach with the Pioneers during Beynon's freshman year. "She's that spark plug that just gets everything going. I watched her play in middle school, and I could see it then."
What it is, though, isn't just one thing. And it's made Beynon one of the toughest players in the Sunrise Region to defend.
She's not the flashiest player, but does everything well — scoring, passing, rebounding and defending.
"You work with what you have, and when you work hard, hard work beats talent," Beynon said.
Beynon averages just more than 14 points per game, but could score 30. Instead, she's more likely to draw defenders toward her and make a pinpoint pass to an open teammate for an easy basket.
"She builds other players' confidence," Kendrick said. "She distributes the ball and makes her teammates feel more confident in their game."
As a junior, Beynon averaged 15.5 points, 8.6 rebounds and 8.2 assists per game and earned second-team all-state honors.
"Everybody wants me to score, but I think other teams get so focused on shutting me down, that I'm able to distribute the ball," Beynon said. "What has improved the most in my game has probably been my leadership. I try to be more focused."
That leadership has allowed her to be more like a second coach on the floor.
"She's my voice when I'm unable to deliver that message," Kendrick said. "Sometimes they look at me like I'm talking gibberish and they don't understand. She's able to relate to her teammates what I'm trying to say.
"She gives them that encouragement, but she'll get on them when they're not doing what they're supposed to be doing."
When Beynon joins the Lobos, she'll be the first Canyon Springs girl to play Division I basketball.
"They're not doing too great right now, but maybe I'll have the chance to help change their program like we did here," Beynon said. "I took my visit there, and I just loved the program, the girls, the atmosphere."
Kendrick thinks Beynon will have no trouble adjusting to the college game.
"We still haven't seen all she can do," Kendrick said. "She's going to do well. I see great things for her. I just wish I could keep her longer."
Contact reporter Bartt Davis at bdavis@reviewjournal.com or (702) 387-5230.