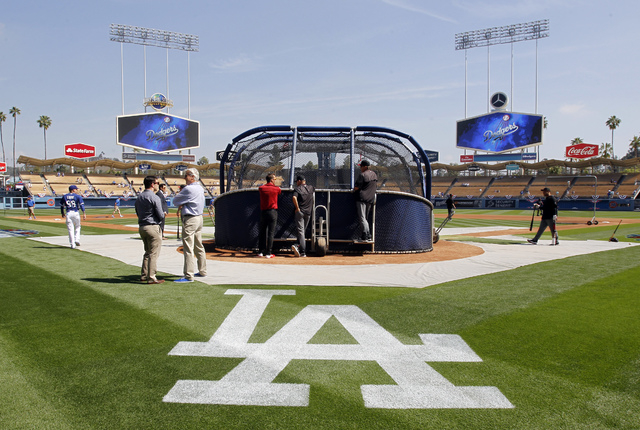 Bruce Arnold understands the frustration Las Vegans endure when it comes to watching Major League Baseball on television.
Thanks to the harsh television restrictions the MLB divvies up across the country, no one has it worse than Las Vegas and Iowa.
Arnold, 59, resides in Des Moines, Iowa, and has a second home in Las Vegas.
Six pro baseball franchises claim Iowa as their "home" territory: Chicago Cubs, Chicago White Sox, Kansas City Royals, Milwaukee Brewers, Minnesota Twins, St. Louis Cardinals. Making it virtually impossible for people in Iowa to watch those six teams on television. Nearly half of the 15 games the MLB shows on a daily basis.
"It's hit or miss whenever those teams are on TV," Arnold said. "Even bars don't know what team will be on any given night."
Like Iowa, six MLB teams claim Las Vegas as their television territory: Arizona Diamondbacks, Los Angeles Angels, Los Angeles Dodgers, Oakland A's, San Diego Padres, San Francisco Giants.
These territories were created decades ago to prevent out-of-area teams from promoting in different areas of the country, according to Matt Bourne, the vice president for business communications for MLB. This prevented teams with rich history like the New York Yankees from prying fans away from the Baltimore Orioles or the Miami Marlins.
This ancient rule has now forced baseball fans in areas without an MLB franchise to watch out-of-market teams — the opposite reason why the territories were created.
Iowa's blackout restrictions haven't affected Arnold too much since he's a Giants fan. Arnold has the option of either paying for the MLB Extra Innings television package or subscribe to MLB.TV for the online service to get access to the Giants games, unless they're playing one of the six Iowa market teams.
Arnold plans on moving to Las Vegas with his wife, Kim, when he retires in five years. He won't get his Giants in Vegas.
"Oh, my Lord," said Arnold after being told about Las Vegas being claimed by the Giants. "I didn't think about it. That's going to be a problem."
Las Vegas baseball fans could fork over $200 for MLB's "Extra Innings" or pay $109.99 for the online service with MLB.TV to watch nearly 100 games per week. But buyers in Las Vegas beware.
You won't get access to the six teams claiming Las Vegas as a territory. This also affects fans from out-of-market teams living in Las Vegas. For example, a New York Mets fan won't get access to the Mets when they play the Giants later this month or the Dodgers next month.
Unless you're a T-Mobile customer and took advantage of the free MLB.TV subscription special last week, it's not worth the hassle to purchase the baseball packages living in Las Vegas or Iowa.
There are ways to get around the MLB blackout restrictions if you're willing to pay more.
DirecTV's regional sports networks in Las Vegas allow customers to watch the Angels (Fox Sports West) and the Diamondbacks (Fox Sports Arizona). To watch the Giants, Padres and Athletics on their respective regional sports networks, it's required to have the the sports package, which could cost up to $12.99 a month. There are similar offers with Dish TV.
There are less options with Cox Communications cable company. Cox televises the Angels on Fox Sports West, the Diamondbacks on Fox Prime Ticket and the Padres on Cox-96, but doesn't offer the CSN Bay Area and CSN California channels, where the Giants and A's are televised.
There aren't many options for Dodgers fans in Sin City. With Time Warner holding the exclusive Dodgers channel hostage, the Dodgers will only be aired for nationally televised games or whenever they play the Angels, Diamondbacks or Padres, for those who have Cox.
For millennials who do all their binge watching online, the best case scenario is to watch the archive games on MLB.TV. For those who prefer live games, maybe it's time to root for an out-of-market team to avoid the frustration.
There might be light at the end of the tunnel. A new feature on MLB.TV called "Follow Your Team" will allow you to watch in-market games if you subscribe to your local regional sports network; however, only the road broadcast will be available. That costs an extra $10.
MLB.TV hasn't announced when this option will be available. According to an MLB.TV customer service employee, the feature could come later this month.
Contact Gilbert Manzano at gmanzano@reviewjournal.com or 702-383-0492. Follow him on Twitter:@gmanzano24
FANS THROWN A CURVEBALL
How to watch the six Major League Baseball teams that have claimed Las Vegas in their television territory:
u25B6 Arizona Diamondbacks: Fox Sports Arizona (satellite providers only), Fox Prime Ticket (Cox cable only)
u25B6 Los Angeles Angels: Fox Sports West (Cox cable, satellite providers)
u25B6 Los Angeles Dodgers: Only through national telecasts (Time Warner has no carriage deal with Cox, DirecTV or Dish)
u25B6 Oakland Athletics: Comcast Sports Net California (satellite providers only)
u25B6 San Diego Padres: Cox-96 (Cox cable only), Fox Sports San Diego (satellite providers)
u25B6 San Francisco Giants: Comcast Sports Net Bay Area (satelitte providers only)