5 likely Cinderellas that could ruin (or save) your bracket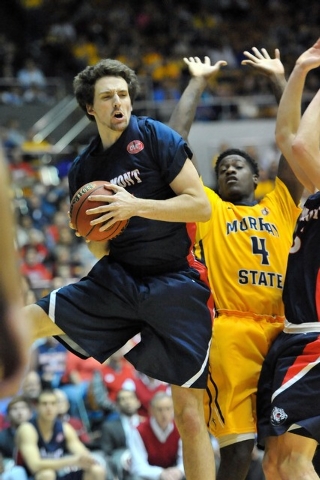 It takes more than one upset to be a Cinderella in the NCAA Tournament.
Penn in 1979, the last Ivy League school to crash the Final Four, was a No. 9 seed in a 40-team tournament field. Some guy named Magic Johnson burst that bubble.
Others of historical significance, like North Carolina State's well-documented run to the title in 1983 as a six seed, fit the description.
Here are five teams in the 2015 NCAA Tournament field with a chance to don the slipper.
1. Albany
It's almost impossible not to like Will Brown's squad. The 14th-year head coach is still incredibly underappreciated, even though he's taken the Great Danes to the NCAA Tournament five times in his tenure, but this could be the year they finally win a game and really open some eyes. Senior guard Peter Hooley has already provided one of the best moments of March, hitting a game-winning 3-pointer to beat Stony Brook in the America East championship game just a few weeks after his mother passed away from colon cancer.
The Sun Belt champions are led by the father-son duo of head coach Ron Hunter and his son R.J., a junior wing and the teams' leading scorer at 19.8 points per game. The duo is a little hobbled entering the tournament, but not in a way that should slow down the team. Ron managed to tear his Achilles tendon during the team's conference championship celebration Sunday, but will put off surgery until after March Madness ends. The Panthers are making their first NCAA Tournament appearance since 2001, when they were in the Atlantic Sun conference.
3. Buffalo
The Hurley magic continues at the University at Buffalo, where Bobby Hurley — the son of legendary New Jersey high school coach and Naismith Hall of Famer Bob Hurley — has led the Bulls to their first NCAA Tournament appearance in just his second year as a head coach. They're on an eight-game winning streak entering the tournament, and this is the same team that actually led Kentucky at the half back in November. Junior forward Justin Moss (17.9 ppg, 9.2 rpg) leads the Bulls' attack.
This is just the second dance for the Eagles in their 32 years of Division I basketball, having previously made it back in 2004 as a No. 15 seed with a 17-13 record before losing to Oklahoma State in the first round. Head coach Jim Hayford has already led EWU to its best season ever, with a 26-8 record and 13-seed in the NCAA Tournament with a matchup against perennial NCAA disappointment Georgetown. This could be a time for the nation's leading scorer, Tyler Harvey (22.9 ppg), to become a truly national name.
5. Belmont
The move from the Atlantic Sun to Ohio Valley Conference three years ago hasn't slowed this mid-major power. The 2015 trip makes it seven NCAA tournaments in the last 10 years under Rick Byrd, who has taken the program from one in the NAIA back in 1986 to a postseason regular. They've never made it past the Round of 64, however, and face another tough draw in the first round in ACC champions Virginia. But Lehigh and Mercer have shown that ACC squads (namely, Duke) can be upset in the 2-15 matchup of late, and Byrd will have his team ready to play.
RELATED:
Get to know these 5 potential bracket busters