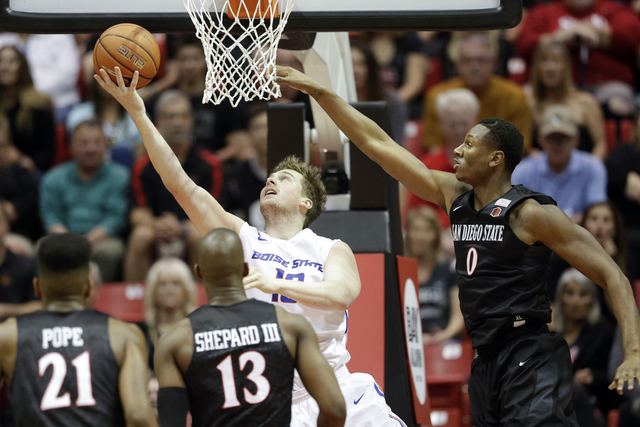 Gone are four starters, including All-Mountain West first-teamer James Webb III, from last season's 20-victory team.
But if Boise State basketball coach Leon Rice has proven anything, it's he can churn out 20-win seasons, and maybe that's why the conference media forecast a fifth-place finish for the Broncos even with all the personnel losses.
The Broncos went 20-12 last season (11-7 in the Mountain West) for their fifth 20-win season in Rice's six years. He is the first Boise State coach to pull that off since the program went to Division I in 1970.
Now he has to merge the one returning starter, 6-foot-8-inch senior forward Nick Duncan, with four other lettermen who are back, three players who redshirted and five newcomers. Duncan comes off a season in which he averaged 11.6 points and 4.2 rebounds.
Rice called the chemistry "unbelievable" despite the roster upheaval.
"It's one of the best groups I've ever been around," he said. "Our teams are kind of known for the way we move the ball, and this team does it better than any team we've had. Part of that, too, is the way they score is different from the way some of the previous teams have scored. They don't bounce it as much, and so the ball moves better. I think that's what our identity will be."
Rice, though, said it hasn't been easy to get to this point.
Replacing Webb and his averages of 15.8 points and 9.1 rebounds alone would be difficult.
"It's been a task," Rice said. "It's like I took over a new program. It's like I started over and got the Boise job again. It's been good because that gets you energized and a new challenge. It's been busy."
Contact Mark Anderson at manderson@reviewjournal.com or 702-387-2914. Follow on @markanderson65 on Twitter.
Boise State
Predicted finish in MW: Fifth
Last season: 20-12, 11-7 MW
Coach: Leon Rice, seventh season (122-75)
Returning starters/lettermen: 1/5
Top returning scorer: Forward Nick Duncan (11.6)
Top returning rebounder: Forward Nick Duncan (4.2)
Notable nonconference games: at Oregon, Nov. 28; Southern Methodist, Nov. 30; at Evansville, Dec. 3