Boman 'glue' making Cougars jell
February 24, 2016 - 9:59 pm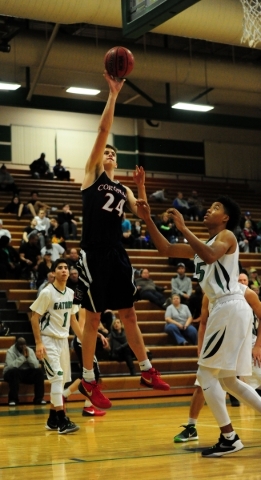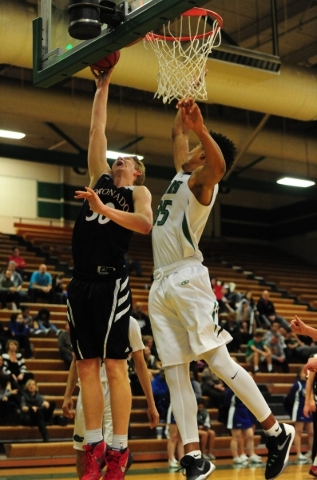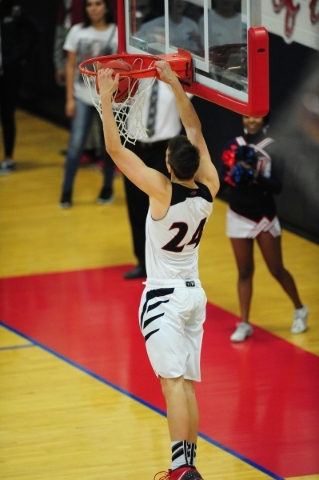 Jeff Kaufman's eyes settle on the player who epitomizes what is special about his team this season, and it's not one of the boys sprinting up and down the floor in practice.
Instead, Coronado's basketball coach looks at senior Travis Boman, who is on the sideline in street clothes, his left foot heavily wrapped and his knee propped on the scooter that helps him move around the court since he had season-ending surgery. Though he hasn't played since Jan. 7 because of a torn ligament in his toe, Boman hasn't missed a practice or team event.
"That's the sign of an outstanding kid, and it's a testament to the other kids that he wants to be around them and be a part of the program," Kaufman said. "We lost him on the court, but we didn't lose him in the locker room. And that's half the battle. These are kids. When you have kids that act like men, you can do pretty good."
The Cougars (21-4) won their first Sunrise Region title last week and will play in the state tournament for the first time when they meet Northern Region champ Carson (24-4) in the Division I semifinals at 8 p.m. today at UNR's Lawlor Events Center.
"It's actually really humbling," junior guard Byrce Savoy said of being on the school's first state tournament team. "I feel really excited for it. I'm really happy for my team, and I'm really glad that we made history here at Coronado."
Sunset Region champion Bishop Gorman (23-7) plays Reno (20-7) in the other semifinal at 4:40 p.m. today. The Division I title game is scheduled for 8:10 p.m. Friday.
"It's a great group of kids that want to win, and they're not afraid to win," Kaufman said. "Last year we had a really good team, but they were afraid to win. They didn't know how. This team, they want to win, and they're not afraid to do it. That's what makes them special. They get along really well."
Senior forward Jake DesJardins pointed to that chemistry as a key to the team's run this season.
"We all just have fun playing together," he said. "When we're on the court, it's like we're a big brotherhood that just wants to do what we can and get out there and play and win."
Boman, a 6-foot-5-inch, 220-pound forward, wasn't the team's leading scorer or rebounder. But he was a physical player and offered experience on a team with just three seniors on its roster. The Cougars were 10-3 when Boman went down, and Kaufman wasn't sure how the team would react. Coronado lost the first game without him but reeled off 11 consecutive victories since.
"When we lost him, I was a little concerned," Kaufman said. "He's a great rebounder, he's an enforcer and he's the glue. He keeps everybody together. We're not getting his rebounds, but we're certainly getting his glue. That's what teams are all about."
Even without Boman, the Cougars have plenty of firepower inside with the 6-8 DesJardins and 6-6 junior Kennedy Koeher. DesJardins, the Southeast League's co-Most Valuable Player, averages 21.1 points and 9.4 rebounds. Koehler averages 17.7 points and 14.0 rebounds.
But Kaufman is looking for strong play from junior guards Savoy, Nick Davis and Trey Hurlburt at state.
"It's going to be about the guard play," Kaufman said. "We already know that. You know what Kennedy and Jake are going to do. They're going to do what they've been doing all season long. You're not going to stop them from doing that. It's up to our guards. If our guards play well, and when our guards play well, we roll."
Koehler agreed. He knows solid play from the guards can make things easier for him to work inside.
"The guards, every time they do something, that gets us open, and vice versa," Koehler said. "For them to be able to produce really opens up the team and shows everybody on the team that they can do it, as well."
And the Cougars aren't quite ready for their special run to be over.
"We hope to get a ring," Davis said. "We won our region, but it's not enough. Coach said everybody wants to be the best in the state, so that's what we're going for."
Contact prep sports editor Damon Seiters at 702-380-4587 or dseiters@reviewjournal.com. Follow him on Twitter: @DamonSeiters
Complete coverage of high school sports.