Feet in November, but eye on March for Illinois star
November 27, 2014 - 11:08 pm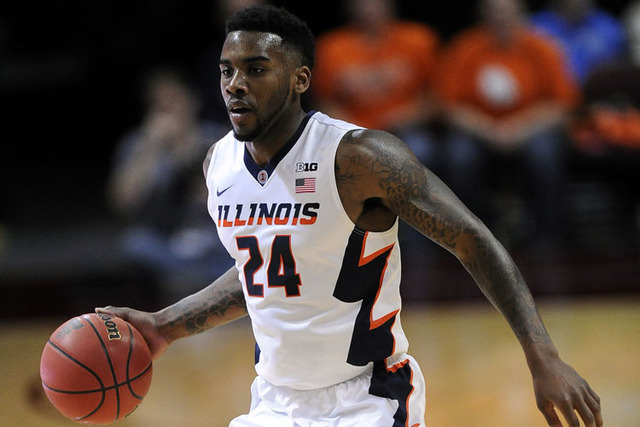 Rayvonte Rice has been one of the most dynamic players on the floor in almost every game since he came to Illinois in 2010.
The 6-foot-4-inch wing just hasn't had the opportunity to show it on college basketball's biggest stage.
Rice hopes that changes in his senior year playing for his hometown Illini, a team that might have enough talent to make that elusive NCAA Tournament dream a reality for its leader.
That certainly appeared to be the case Thursday when Illinois cruised to a 88-62 win over Indiana State in the Las Vegas Invitational at Orleans Arena.
Rice, in his second season at Illinois after playing his first two seasons at Drake, as usual filled the stat sheet, with 21 points, seven rebounds and five steals.
He made 6 of 12 shots from the field, including 2 of 4 from the 3-point-line, to continue his torrid shooting start. He's now hitting 62 percent of his field-goal attempts and 65 percent on 3s.
Illinois coach John Groce talked over the summer about how he wanted to see Rice score more efficiently this season. His star player was around a 43 percent shooter — 28 percent on 3s — in his first three college seasons.
"I'm just taking better shots, and my teammates have put me in great position to make those shots," Rice said.
Groce said Rice's willingness to do what he's asked is a major reason Illinois is 5-0 and looking like an NCAA Tournament team.
"First of all, you have to be coachable and willing to sacrifice, which he has proven. He'll tell you this is the most talented team he's been on," Groce said. "We need him to be efficient and try to play the game the right way. We've got multiple scorers, and he hasn't fought us one bit. He's a senior, and he wants our team to be special. He just wants to win. I'm very proud of his maturation as a player."
Rice's abilities always have been evident. He averaged 14.0 points and 5.0 rebounds as a freshman at Drake and improved to 17.0 and 6.0 as a sophomore.
The Champaign, Ill., native decided to transfer back to his hometown school when Groce was hired to replace Bruce Weber.
Indiana State coach Greg Lansing saw plenty of Rice in the Missouri Valley Conference, but took note of the improvements after getting another close look Thursday.
"He was an awfully talented player when he was at Drake, but we'd play off him and want him to take 3s. He's really worked hard, and you can't do that anymore," Lansing said. "He shoots at a high clip. He's very, very tough off the bounce either way. He's like a linebacker playing guard.
"He's a really good tough competitor. I really admire the way he plays."
Though he shies away from looking too far ahead, Rice obviously hopes the season culminates in a trip to the NCAA Tournament. He played in the Collegeinsider.com Tournament after his sophomore season at Drake. Illinois made the NCAAs in his redshirt season two years ago and played in the National Invitation Tournament last season.
This is his last chance.
"We all want to play in the tournament, but the way you get there is to just take one game at a time and compete the best you can every single night," Rice said. "We want to play hard and compete every game and just see where that leads us."
Groce was more forthright.
"I don't want to speak for him, but, yeah, it's important," the coach said. "It's the one thing he hasn't done. Those (seniors) talk about that a lot."
Rice doesn't believe an NCAA Tournament appearance will define his career, though.
"I just want to be remembered as a competitor," he said. "I think what we all want to be known as is a player who gave everything they could every night and have no regrets."
The Illini will be back in action at 7:30 p.m. today at Orleans Arena in the championship game against Baylor, a 71-47 winner over Memphis in Thursday's late game. Indiana State will play Memphis at 5 p.m.
Also Thursday, Stephen F. Austin defeated Prairie View 73-61. The Lumberjacks will play Austin Peay, a 79-58 winner over Brown, at 2 p.m. Brown plays Prairie View A&M at 11:30 a.m.
Contact reporter Adam Hill at ahill@reviewjournal.com or 702-224-5509. Follow him on Twitter: @adamhilllvrj