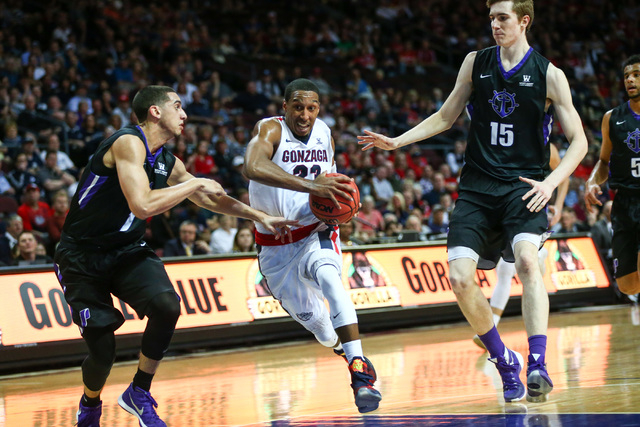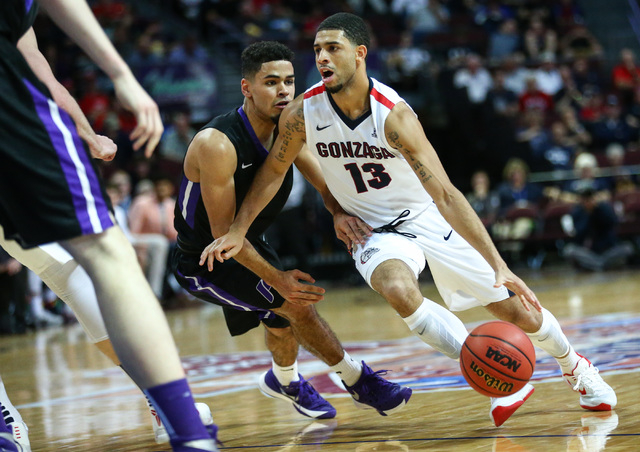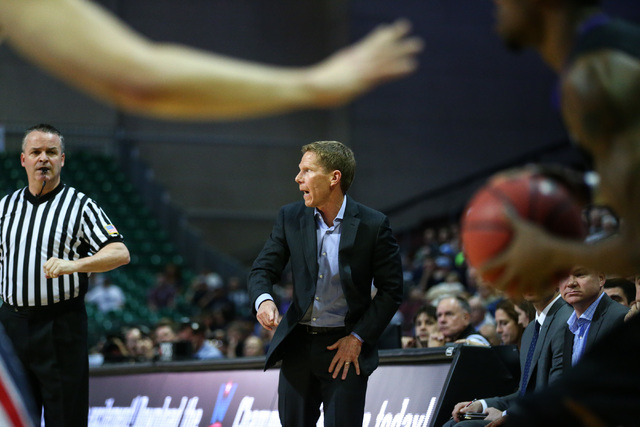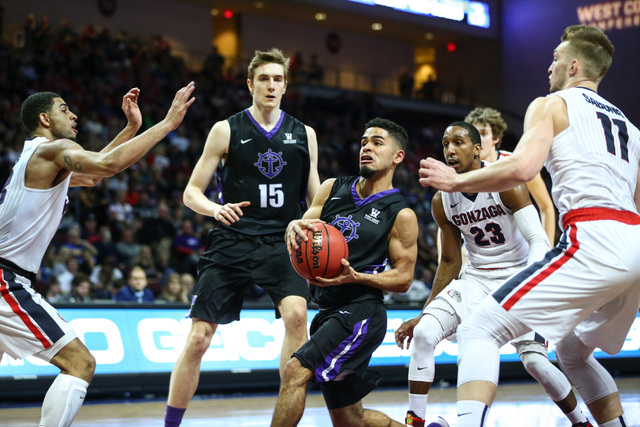 It would have been easy for Gonzaga to look past Portland on Saturday and ahead to a semifinal matchup against Brigham Young on Monday in the West Coast Conference basketball tournament semifinals.
But coach Mark Few wasn't about to let that happen. The second-seeded Bulldogs built a 46-32 halftime lead and rolled to a 92-67 victory at Orleans Arena to keep their 8:30 p.m. date with the No. 3 Cougars, who advanced with a 72-60 win over Santa Clara.
"It's always good to get through that first night," Few said. "Our guys did a good job responding to the intensity and desperation of Portland. Now we can focus on BYU, and they're a tough out. You've got to beat them because they don't beat themselves."
Gonzaga (24-7) defeated BYU (23-9) 71-68 on Feb. 27 in Provo, Utah, and the Bulldogs expect a close game again Monday.
"We have to forget about the game in Provo and concentrate on this game," said Gonzaga sophomore forward Domantas Sabonis, who scored 24 points against Portland. "This is tournament play, and if you lose, you're out. So that win doesn't mean much right now."
Eric McClellan, who led Gonzaga with 26 points against Portland, said: "It's a new season. We're playing for an NCAA Tournament bid. You have to be ready, and that's going to be our mentality. What happened a week ago doesn't matter now. We're just focusing on the present."
Few said both teams know each other well.
"They play with a lot of freedom and confidence offensively," Few said. "We were pretty resilient when we beat them in Provo, and I think we have to bring that same mindset against them."
In the other semifinal, Saint Mary's will meet fourth-seeded Pepperdine at 6 p.m. The Waves handed the Gaels two of their four losses this season.
"We're pretty motivated already," Gaels forward Dane Pineau said. "But we're excited to play Pepperdine again."
Saint Mary's (26-4) can't afford another slow start like the one it had Saturday in a 60-48 win over Loyola Marymount. The Waves (18-12) are much better than the Lions.
"It's a good matchup, and it should be a great game," Saint Mary's coach Randy Bennett said. "Obviously, we'll have to play a little better than we did before against them. But I liked the way we defended in the second half (against Loyola Marymount). Hopefully that will carry over."
Contact reporter Steve Carp at scarp@reviewjournal.com or 702-387-2913. Follow him on Twitter: @stevecarprj.