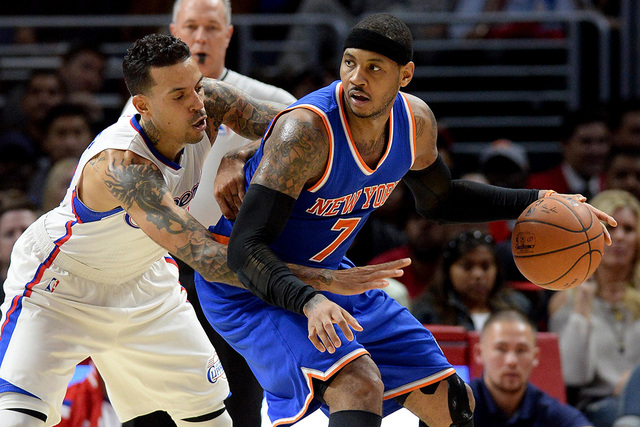 New York Knicks forward Carmelo Anthony, who missed his second straight game due to knee soreness, could sit out all week and miss the next four games.
Anthony, who is averaging 23.9 points per game, has tried to play through pain for much of the season.
"We're kind of looking at this next week or so being a heavy stretch, and probably will be best for him not to go," coach Derek Fisher said Sunday after the Knicks' 95-82 loss to the Milwaukee Bucks that extended their losing streak to 11 games. "I just think from day to day it's hard for a player I'm just going to sit for 'X' amount of time. I think he could over the next couple days decide he's feeling better and wants to be out there with his teammates, I think he should be open to do so."
There is no clear timetable for Anthony's return.
Fisher said he expects Anthony to travel with the team to Memphis (Monday) and Washington (Wednesday) on its upcoming road trip, but it is unclear if he will suit up for either game. The Knicks host Houston on Thursday and Charlotte on Saturday. The Knicks would then be off until Jan. 15 with a road game at Milwaukee.
Despite the Knicks' 5-31 record, Fisher said the team is not ready to shut down Anthony for an extended period. Anthony recently called surgery a "last resort."
"From the conversations I've been a part of, I think everybody is smart enough to realize, calendar-wise, timing-wise, that there may come a point that that's the decision that needs to be made," Fisher said. "But (we realize) that we can't force Carmelo to that point just yet."
After Sunday's loss, Fisher discussed the toll that all of the defeats have taken on the locker room.
"Losing isn't enjoyable, in any way, shape or form," Fisher said. "So from an emotional standpoint, you have to just continue to manage what you can control and continue to keep your mind focused on positive things. I'm trying to make sure that I'm being the right type of leader for these guys.
"We're going through a lot right now as a group, so it's my job to hold it down for them as they struggle. So if I have to take the brunt of whatever it is, then I'll take it. That's my job."