Maka Ellis battles back after car accident to lead Sierra Vista
January 10, 2018 - 8:33 pm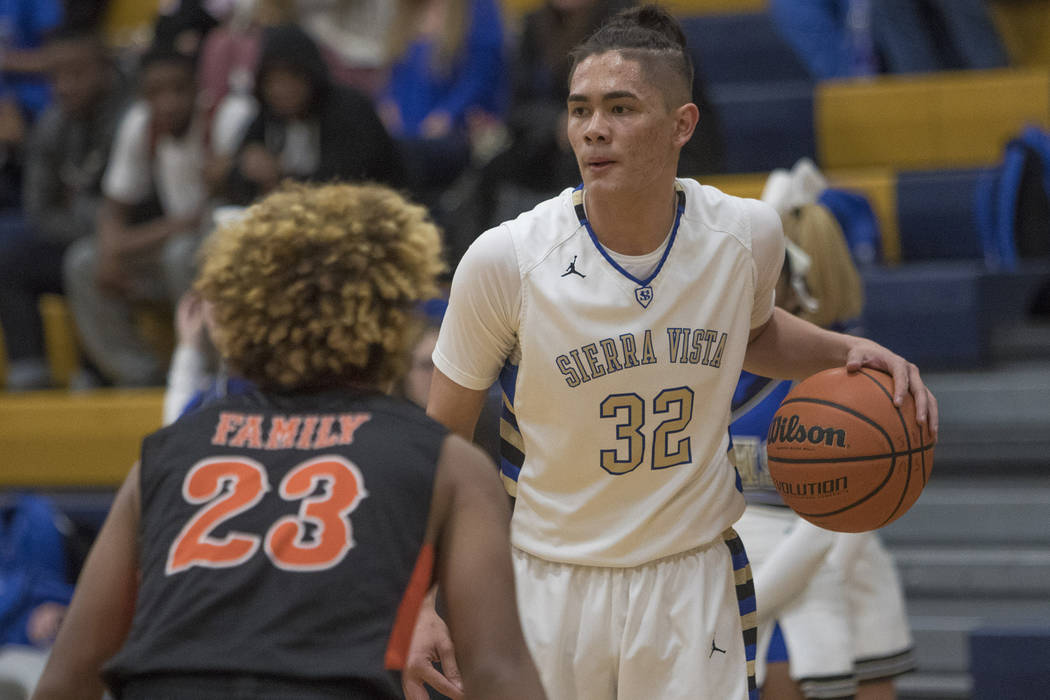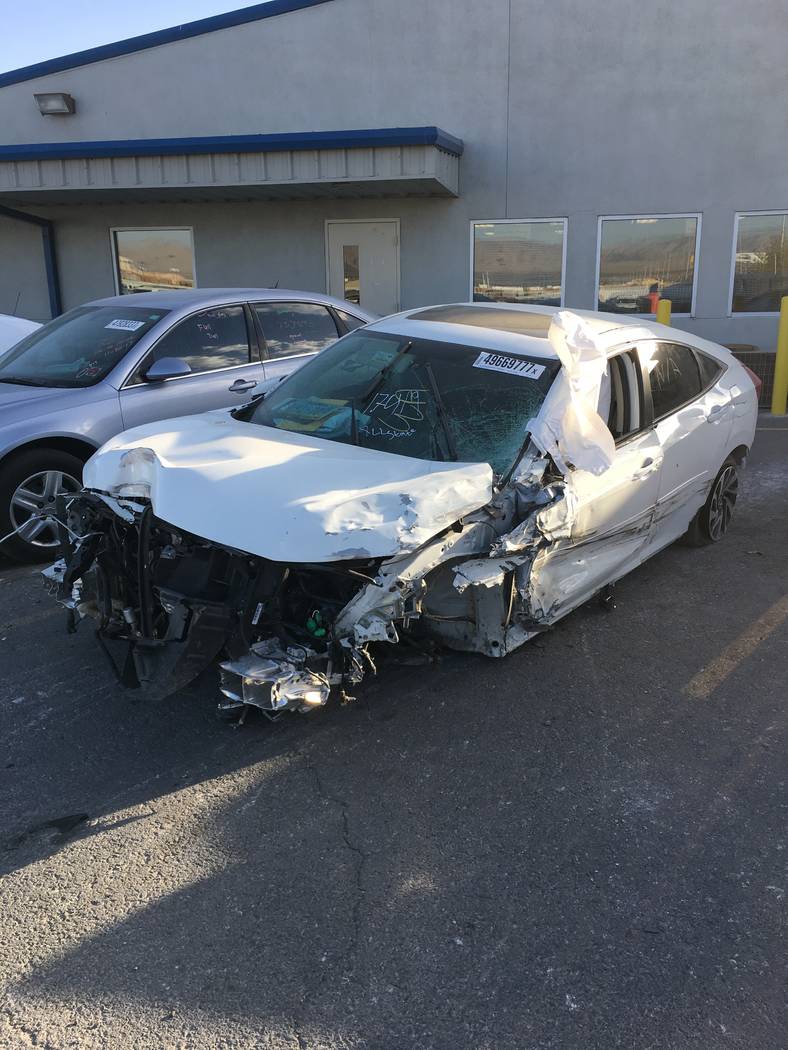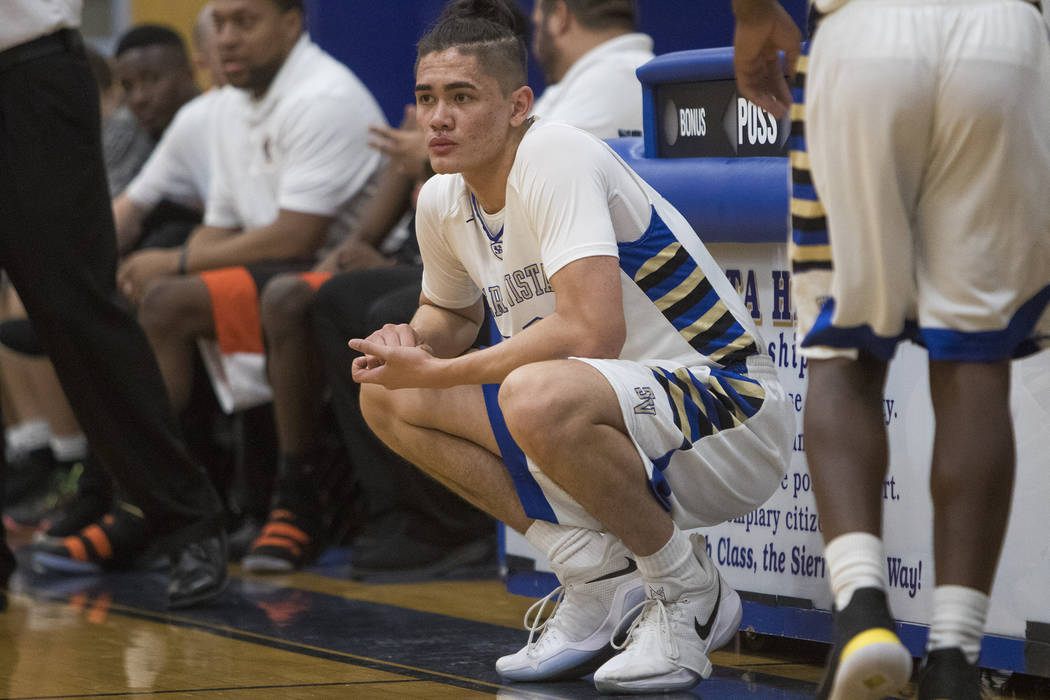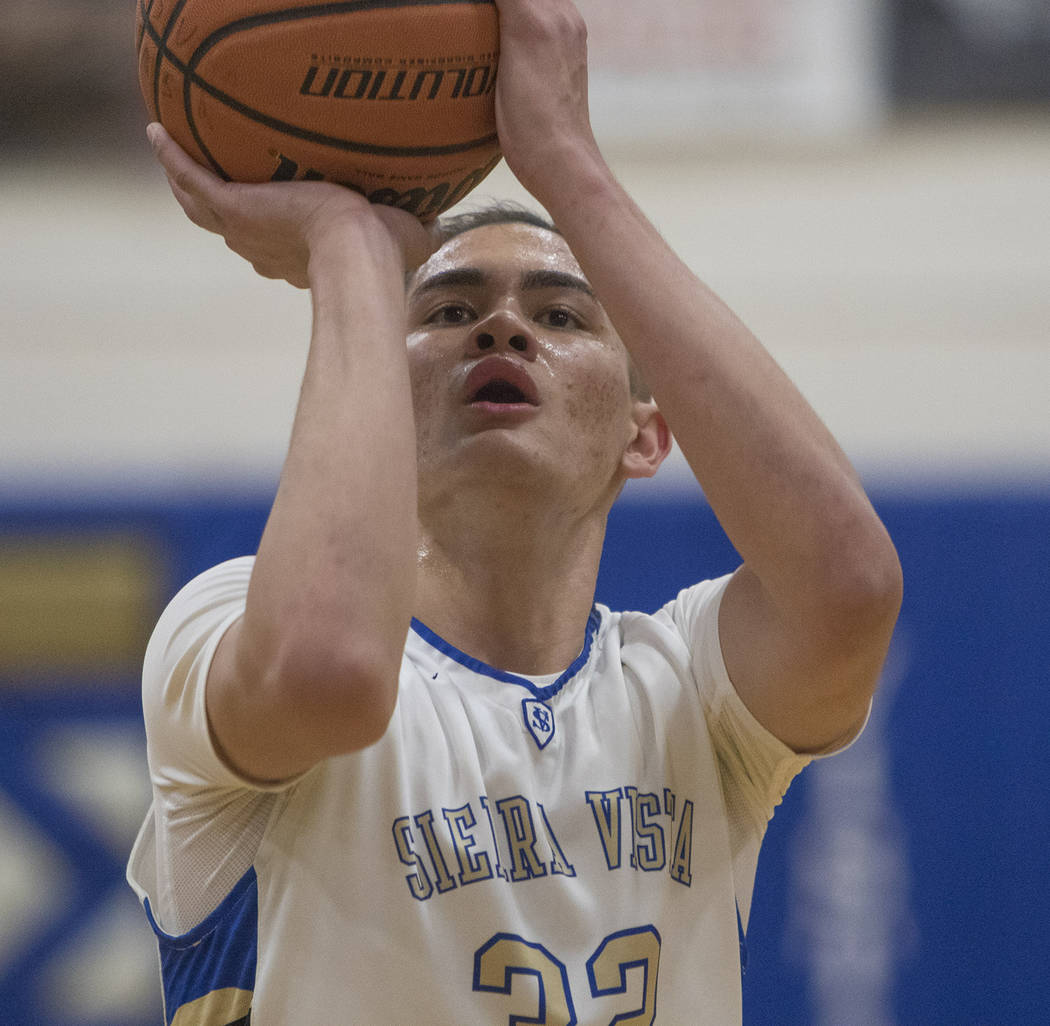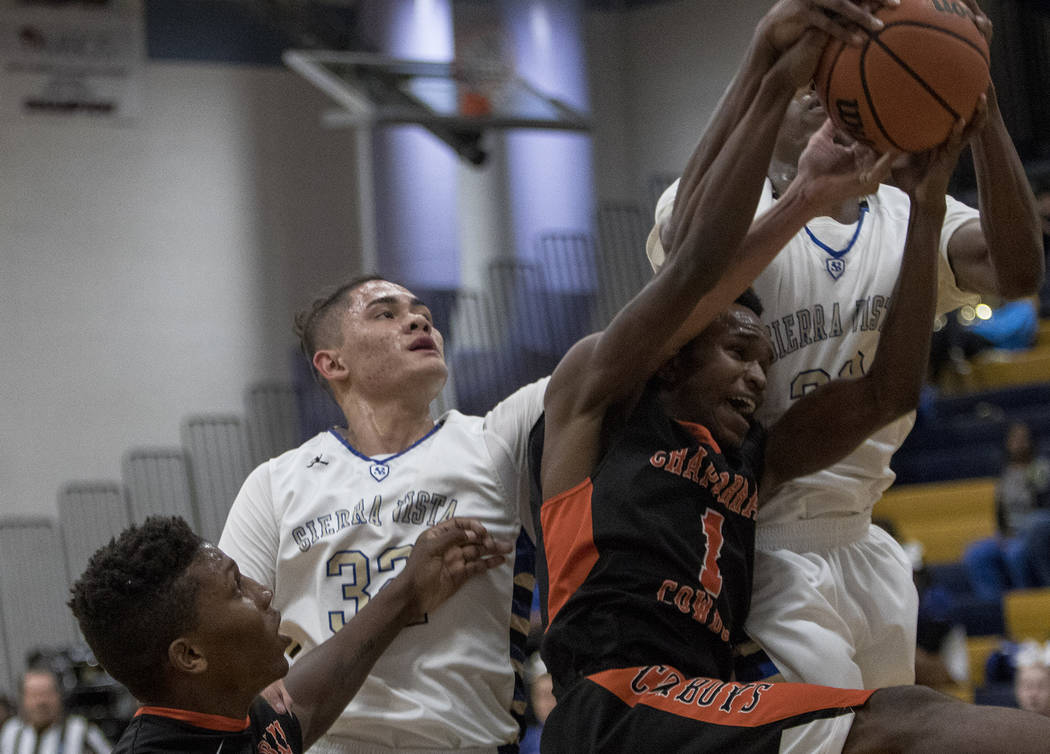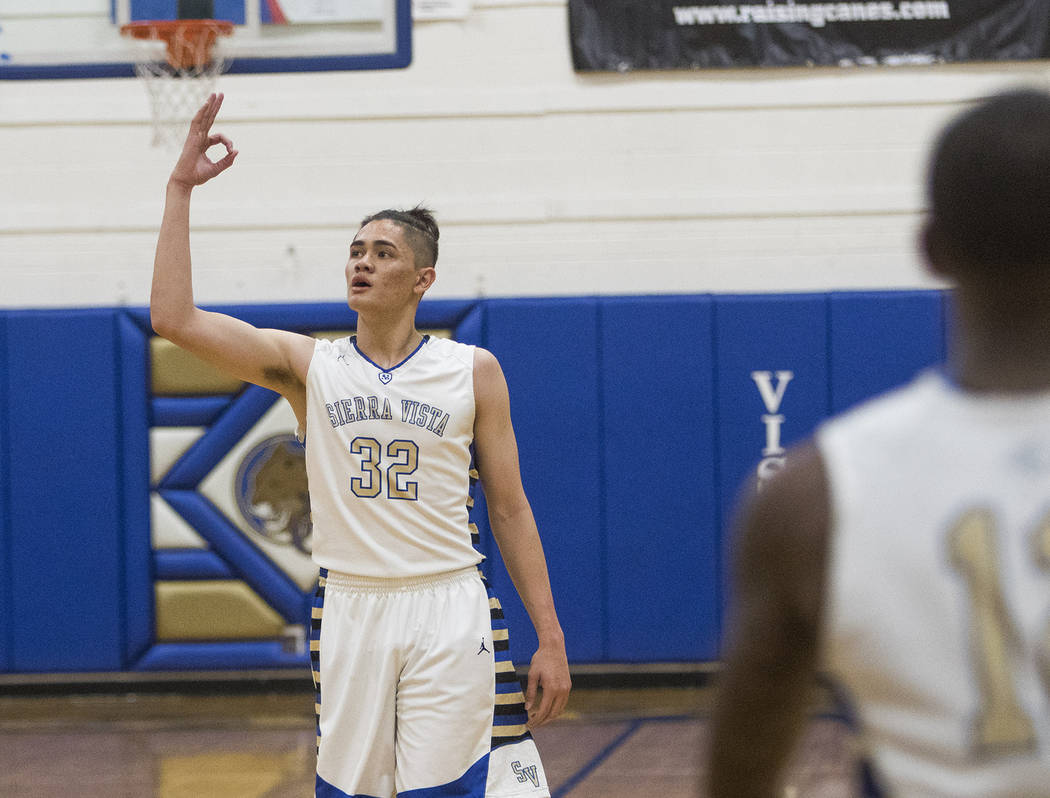 Adonis Hatwood prepared to drive a group of friends home after a late-night stargaze at Red Rock Canyon with a full heart and true sense of the moment.
Sierra Vista star basketball player Maka Ellis smiled before sandwiching his 6-foot-6-inch frame in the back middle seat of Hatwood's Honda Civic, between friends Austin and Krystina. Another friend, Alex, sat in the passenger seat.
"We were all telling each other, 'This is one of the best nights ever,'" said Hatwood, a senior at Sierra Vista, of their time together on Saturday night, Nov. 18, which had turned into Sunday morning when the five left for home.
Old friendships had been rekindled during a night of raving at an electronic dance music party, and the bright stars above Red Rock twinkled across the cold, desert sky.
Life was perfect. Until it wasn't.
The five didn't make it home in that compact white sedan.
A female driver ran a yield sign near Blue Diamond Road and El Capitan Way, ramming the front left tire of Hatwood's Civic with her black Chevy Equinox.
The Civic flipped twice, shattered glass flew everywhere, airbags deployed and the five teenagers wound up in a ditch at 4 a.m. Everything happened in slow motion in what they all described as "a quiet movie scene."
"I can't feel my legs," Ellis frantically told his friends with his legs tucked under the seat in front of him. "My career is over."
Silence ensued.
Ellis, one of the state's best basketball players and Sierra Vista's all-time leading scorer who is committed to attend Columbia in the fall to play basketball and study economics, suddenly found his promising career in jeopardy.
A bystander immediately called police while the teenagers helped one another up the ditch as the totaled car leaked fluid.
Amid tattered skin, broken bones and concussions, everyone was concerned.
Mostly about Ellis.
The Comeback
Ellis escaped from the accident with general soreness, bruising and a handful of scars on his legs. But nothing serious enough to derail his career.
Much to the relief of the Sierra Vista community.
"I was just at his signing (ceremony), and he's going to one of the most prestigious universities in the country," Hatwood said. "Now I'm part of the reason it won't happen. That really scared me. I didn't want to have this kid's dream ruined."
Ellis sat out several weeks of practice and the first two games of the season as he rehabbed with physical therapy and frequent visits to the chiropractor — a place he still visits once or twice a week.
He returned to action Dec. 4 against Canyon Springs and scored 12 points in limited action.
Things were starting to look up again for Ellis, but then he banged knees with a Riverside Poly (California) opponent in the team's third game of the Tarkanian Classic and missed four more games.
"It took a good four weeks to get his jumping ability back (after the accident) and his first step — that explosiveness that creates an advantage for him, especially off the dribble," Sierra Vista coach Keith Ulrich said. "He came back and couldn't be stopped. Then there was the Tarkanian injury."
Ellis continues to endure the strenuous rehab so he can finish out his senior season.
"I want to play for (my teammates), not just me," he said. "I've known a lot of them for a while, so I don't want to let them down."
That won't happen.
Teammates, coaches and parents praised Ellis' work ethic and devotion to Sierra Vista.
"He's a team captain," freshman Lorenzo Abellar said. "He shows us what to do. Shows us how to fight. And he just does what Maka does. … It's going to be hard (when he graduates), but we just learn from his footsteps and try to do what he does."
Among Nevada's elite scorers
Ellis' father, Ed, who at 6-8 played college basketball at Division II Hawaii-Hilo, knows what drives his son.
"He's got a little chip on his shoulder. He feels he's the best player in the city," Ed Ellis said. "And he wants to go out and dog some of these guys.
"He wants to lead his neighborhood team to the promised land. He wants to beat (top-ranked teams) Gorman and Clark."
Through 84 career games, Ellis, a four-year starter, has a 21.8-point average and has led his team to the playoffs every season. The Mountain Lions had made the playoffs in just three of the previous 10 seasons before his arrival.
Ellis has scored 1,832 points and joins Luke Babbitt of Galena and Shabazz Muhammad of Bishop Gorman — who both are playing in the NBA — in the top 10 of the Nevada Interscholastic Activities Association record book. Babbitt tops the list with 2,941 points.
Ellis has shown flashes of his brilliance this season despite battling through the injuries. The wing is averaging 23.2 points and 7.0 rebounds in 10 games for Sierra Vista (8-8, 2-2 Southwest League).
He scored 106 points in a three-game span in December, including 46 in a win over Jordan (Utah) in the Mountain Lions' first game of the Tarkanian Classic.
And he hasn't played a game at "100 percent" this season.
"Nah, not yet," said Ellis, grinning.
More preps: Follow all of our Nevada Preps coverage online at nevadapreps.com and @NevadaPreps on Twitter.
Contact reporter Ashton Ferguson ataferguson@reviewjournal.com or 702-383-0430. Follow @af_ferguson on Twitter.
Maka Ellis stats by season
2017-18 (10 games): 23.2 points, 7.0 rebounds, 2.3 assists, 1.6 steals
2016-17: 25.0 points, 8.7 rebounds, 3.3 assists, 2.1 steals
2015-16: 20.8 points, 4.8 rebounds, 2.3 assists, 2.0 steals
2014-15: 18.8 points, 3.6 rebounds, 1.7 assists, 1.2 steals
Class 4A scoring leaders in Nevada history
2,941 — Luke Babbitt, Galena (2005-08)
2,616 — Prince Fowler, Western (1991-94)
2,616 — Armon Johnson, Hug (2004-07)
2,397 — Heiden Ratner, Silverado (2004-07)
2,348 — Shabazz Muhammad, Gorman (2009-12)
2,122 — Fred Thompson, Las Vegas (1974-76)
2,002 — Freddie Banks, Valley (1981-83)
1,950 — Troy Brown, Centennial (2014-17)
1,832 — Maka Ellis, Sierra Vista (2015-18)