Memorable moments from first week of NBA Summer League in Las Vegas
Updated July 14, 2018 - 4:01 pm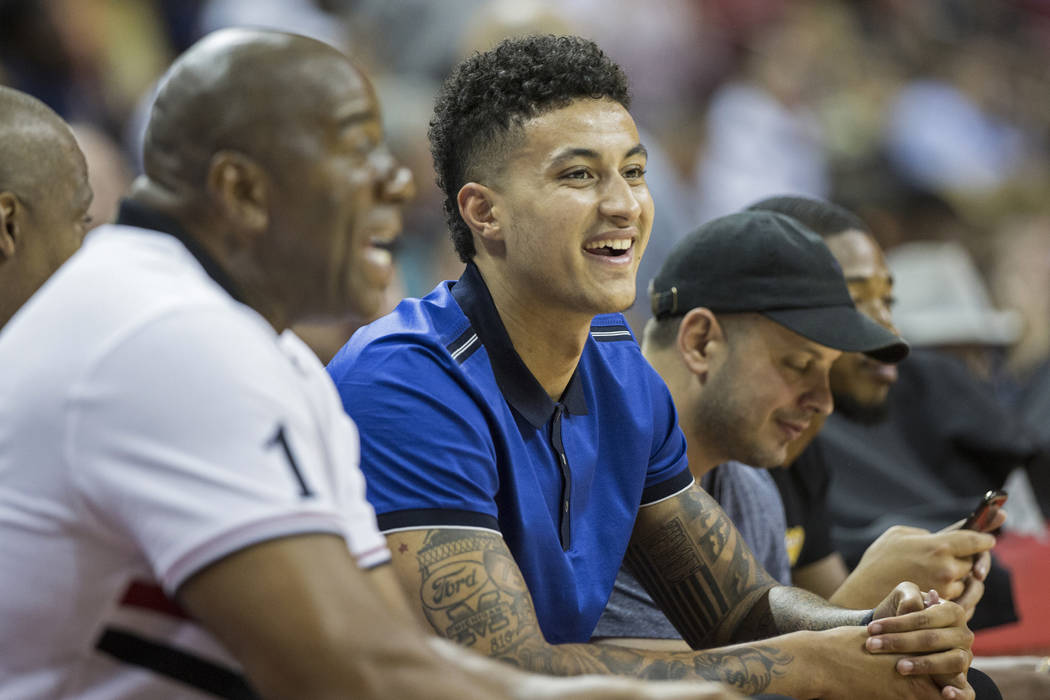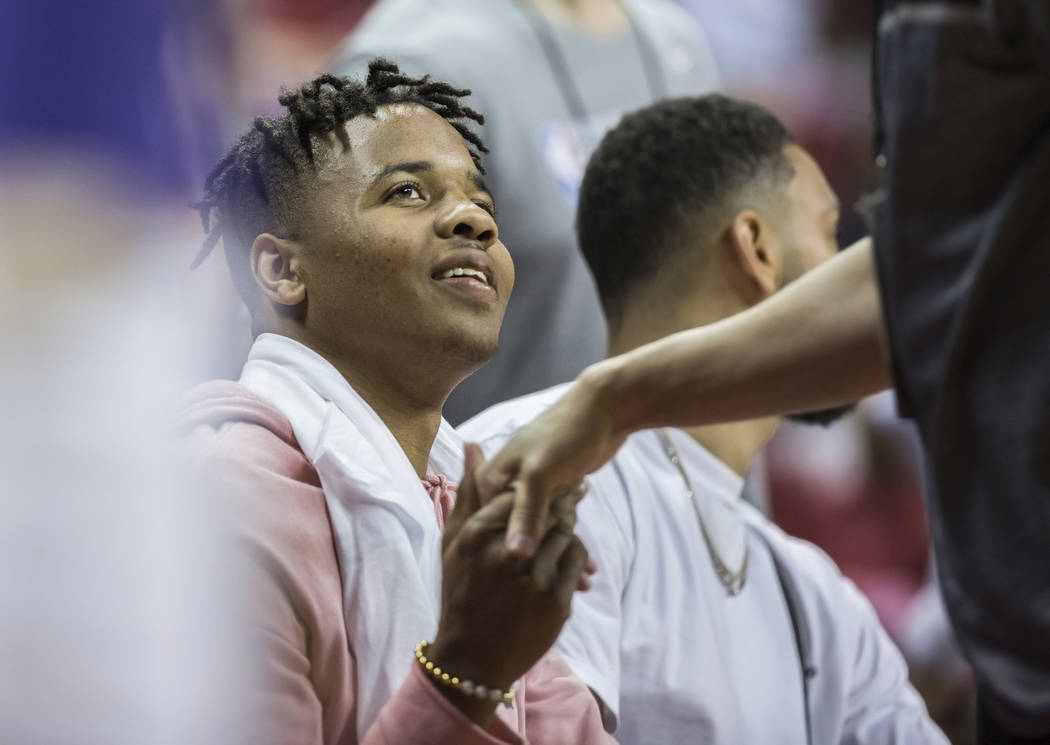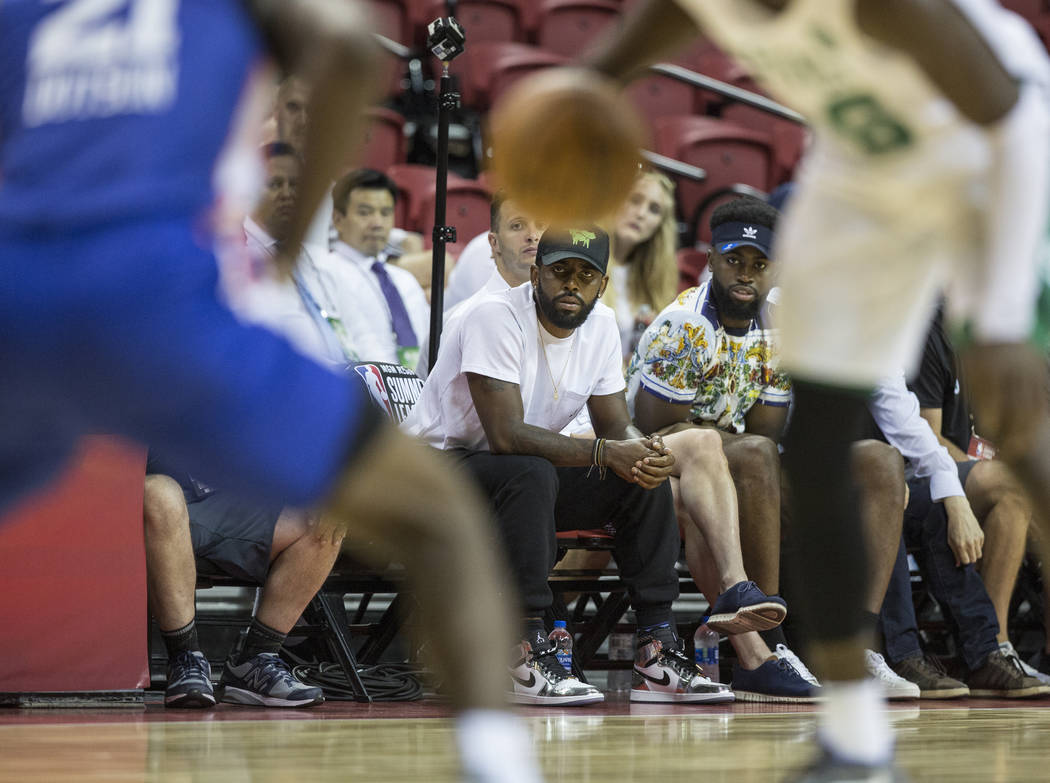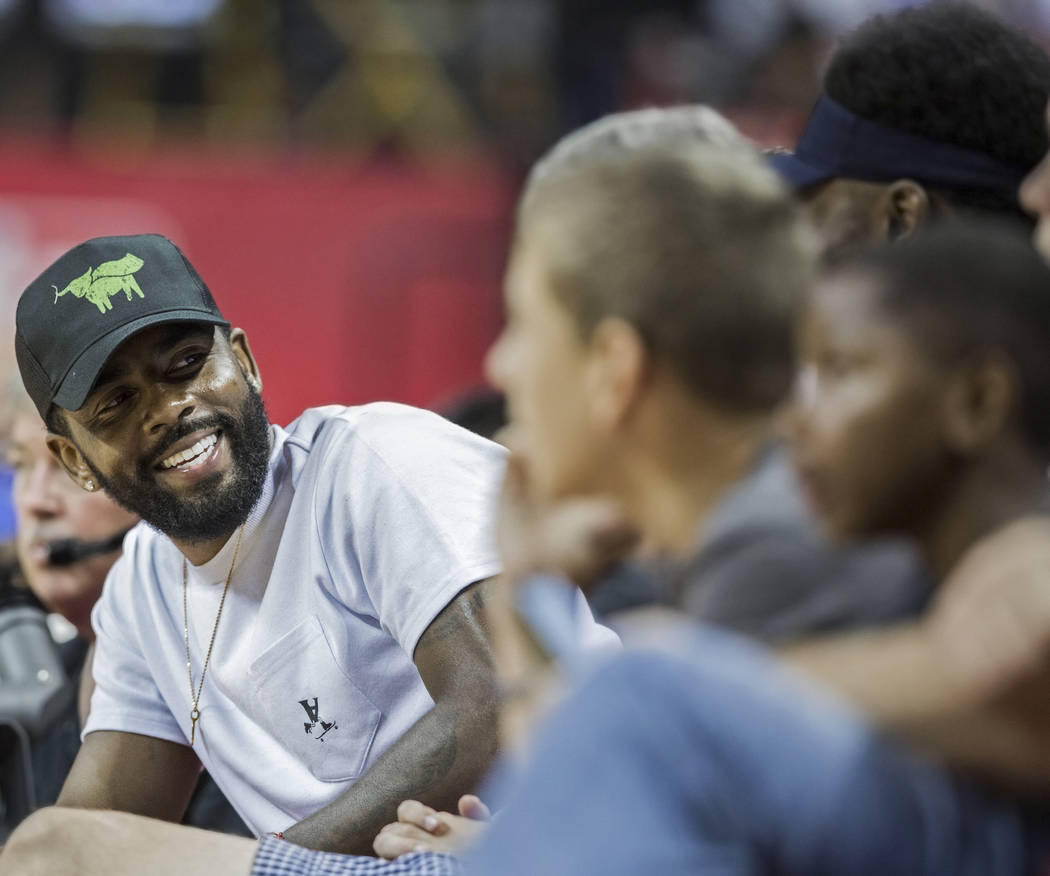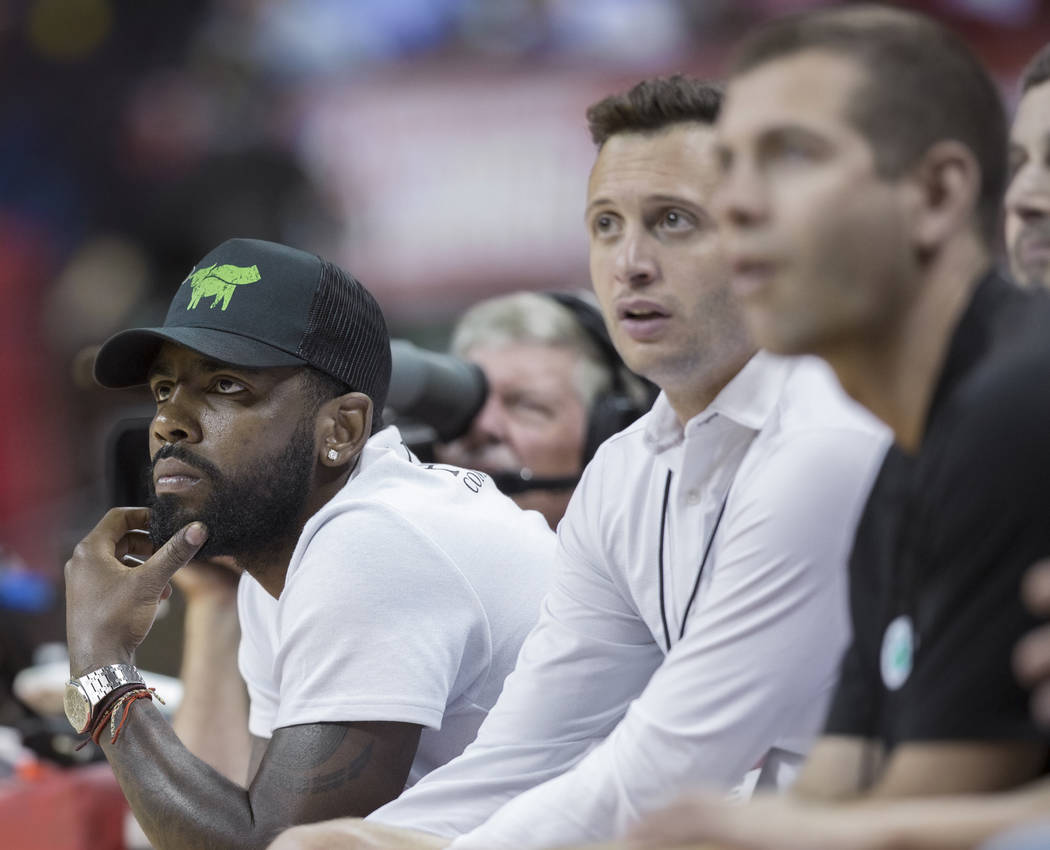 Warren LeGarie helped the Las Vegas Summer League become an annual destination for basketball fans around the country because he and his staff focused on promoting the next crop of NBA players from the latest draft.
"You can see the future stars of tomorrow today," said LeGarie, the executive director of the Summer League.
That's a big reason why the event continues to grow. But it also has become about seeing the past stars of yesteryear today.
For two weeks every July, Las Vegas is the home of the NBA. The biggest stars and most important people of the NBA meet in the Southern Nevada desert. What goes on in the stands, concourse and sidelines is just as exciting as the action on the court.
Many Los Angeles Lakers fans probably attended this year's Summer League hoping to get a glimpse of the newest Laker, LeBron James.
The King hasn't shown up but NBA stars such as Kyrie Irving, Damian Lillard, Blake Griffin and DeMar Derozan have attended this summer. Many of whom have stopped to speak to fans and sign autographs.
Away from the UNLV campus, you might find yourself partying next to the NBA MVP James Harden at a night club on the Strip.
As a sports writer covering the event, there aren't many breaks with games coming in waves and news breaking at a rapid pace. But when it slows down and there's an opportunity to look around, there's often a noteworthy moment occurring.
The greatest center
The biggest NBA celebrity sighting of the first week — it really doesn't matter who strolls through in the next few days — was Boston Celtics icon Bill Russell.
The 11-time NBA champion sat court side Wednesday at the Thomas & Mack Center wearing a white Celtics hat.
Kareem Adbul-Jabbar, the scoring king and Los Angeles Lakers legend, stopped by in his his Yasiel Puig Dodgers jersey to greet Russell. Both legendary centers but it seemed the exchange was all Adbul-Jabbar's pleasure as he walked away with a smile.
Celtics' icon Bill Russell #NBASummer pic.twitter.com/suLeiSxMGi

— Gilbert Manzano (@GManzano24) July 11, 2018
When Russell, 84, got up and began to slowly walk with a cane, you could sense his greatness in the air.
A few minutes later, Russell gave Vince Carter the middle finger, just days after doing the same thing to Charles Barkley on national TV at the NBA Awards. All in the sake of fun.
CP3 and the fans
Rockets star Chris Paul knows the importance of interacting with young fans at Summer League.
As Paul was heading for the exit at Cox Pavilion on Monday he noticed a group of children captivated by his presence. Paul stopped to greet them and answered their questions.
Paul said his goodbyes and went on his way. Then the All-Star point guard heard a boy call his name.
Like he does on the court, Paul weaved his way around the crowd heading in his direction to get to the boy.
"Yes," Paul told him.
"I liked when you crossed over Steph Curry," the young man replied.
Paul smiled and headed back for the exit.
Cuban holds court
Dallas Mavericks owner Mark Cuban took a seat on press row during Day 2 of Summer League at Cox Pavilion.
His team wasn't playing at the Thomas & Mack Center for another 30 minutes. The billionaire sporting a T-shirt and jeans wanted to soak in the environment from the neighboring venues.
Cuban, a mainstay on the reality TV show "Shark Tank," remembers when Summer League wasn't a big deal.
"It's grown. It's incredible now," Cuban said. "Dirk (Nowitzki) played here. (Steve) Nash played here. There used to be 20 people in the stands. Now it's a big deal."
Hotspot for trades
A lot of chatter about potential NBA moves occur in between Summer League games.
For instance, Celtics forward Jaylen Brown and general manager Danny Ainge were engaged in a deep conversation Monday.
Celtics' Jaylen Brown talking with Danny Ainge #NBASummer pic.twitter.com/k4Z8wBRWCI

— Gilbert Manzano (@GManzano24) July 9, 2018
Maybe Ainge was telling Brown the team doesn't plan on trading him for San Antonio Spurs star Kawhi Leonard? Or Ainge was just boring Brown with his summer vacation stories.
Who knows but looks like Brown is staying in Boston.
Side note: Celtics summer coach Jay Larranaga is still laughing after being asked if there was a possibility of Brown playing in Las Vegas.
"I said yes. I signed him," Larranaga said. "(Brown) wrote back in a written agreement that is binding, and you'll be seeing him next game."
Funny guy.
World Cup smile
Rudy Gobert, the 7-foot center for the Utah Jazz, had a giant smile on his face Tuesday. He was happy about his native France advancing to the World Cup final after defeating Belgium in the semifinals.
Gobert was asked about France's win. While the reporter was straining too look up at the big man, Jazz teammate Donovan Mitchell walked by
and blew on the recording device.
It's hard to imagine a pair of teammates having more fun this summer than Gobert and Mitchell.
Sharp dressed man
Gobert nearly won the best dressed award for Week 1 with his pink pants. Then came Brooklyn Nets forward DeMarre Carroll strolling by in his white short shorts to take the award.
DeMarre Carroll wins best dressed by a mile @BrooklynNets pic.twitter.com/kUocyUrs1S

— Gilbert Manzano (@GManzano24) July 10, 2018
A distant third was Chicago Bulls center Robin Lopez in his flip flops and Seattle Mariners baseball jersey with the name "Moose" on the back.
The final whistile
Retired NBA referee Joey Crawford can be the center of attention in any crowd with his fascinating stories.
Sitting next to Crawford on opening day of Summer League, this reporter's ears were glued to his stories as a 50-year-old college student.
Also, it seemed that about one milion people asked him about his memorable Tim Duncan ejection.
Jerry West, the Logo, and Joey Crawford, who famously ejected Tim Duncan #NBASummer pic.twitter.com/x0WbgJC4H5

— Gilbert Manzano (@GManzano24) July 9, 2018
More Mitchell pranks
Mitchell was getting a kick out of seeing a TV camera operator repeatedly fall backwards as players flew by under the basket at Cox Pavilion.
By the fourth fall, Mitchell held up four fingers to keep count as the crowd behind him did the same.
Luckily for the camera operator, Mitchell never held up five fingers. Tough gig.
Another "Woj bomb"
Meanwhile, behind the rows of press seats under one Thomas & Mack Center basket on Thursday, ESPN's Adrian Wojnarowski was furiously typing on his phone after talking to a number front-office types in polo shirts and cargo shorts.
Five minutes later, a tweet goes out from @wojespn that "Free agent guard Isaiah Thomas has agreed to a one-year deal with the Denver Nuggets."
Just another one of many "wojbombs" during the Summer League.
Michael vs. LeBron
It's not an NBA event if there isn't a LeBron James-Michael Jordan debate.
Colleagues Bryan Salmond and Sam Gordon were in disagreement about who's better. Dee Brown, the winner of the 1991 NBA Slam Dunk contest thanks to the no-look jam, settled the debate.
"Oh, MJ all day," Brown said.
There you have it. Now, stop talking about it NBA Twitter.
More NBA Summer League: Follow all of our NBA Summer League coverage online at reviewjournal.com/summerleague and @RJ_Sports on Twitter.
Contact Gilbert Manzano at gmanzano@reviewjournal.com. Follow @GManzano24 on Twitter.