Old-school Centennial guard soaring in basketball rankings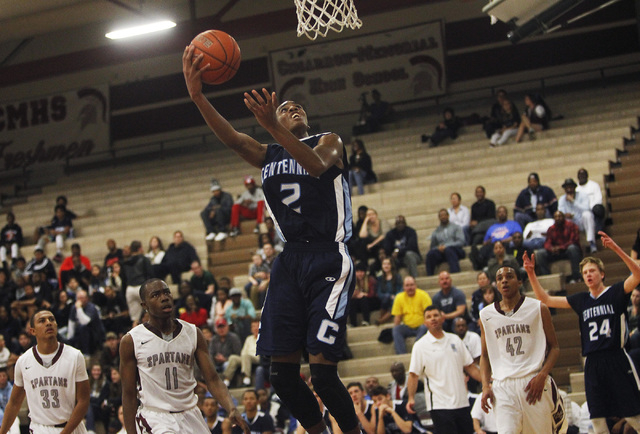 The move is a basketball relic. It went out of style with the midrange jump shot and knee-high white socks. And yet, Troy Brown Jr. still does it after every foul he commits.
He raises his hand.
Just a subtle gesture toward the scorer's table signifying he's the guilty player, like they did back in the day.
"It's something that I learned, just showing respect to the refs," Brown said. "It's kind of a habit now."
Brown, who doesn't turn 15 until Monday, has an old hoops soul. He's a flashback to a time when players handed the ball to referees and, yes, took responsibility for their fouls.
Even the player he'd prefer to be compared to comes from an older generation.
"Most people say I play like Penny Hardaway, but I kind of like the idea of a Magic Johnson," Brown said. "I just like the way he plays the game and how he facilitated the basketball to his teammates but at the same time could take over a game."
Brown, a rising sophomore at Centennial High, is the latest in a string of elite boys basketball prospects to hail from Las Vegas in recent years. Listed at 6 feet 5 inches — Brown says he's closer to 6-6 — and with the length coaches covet, the point guard is ranked No. 2 in the class of 2017 by ESPN.com and also was included in Scout.com's list of the top 100 players in the country, regardless of class.
This week, Brown will suit up for the Las Vegas Prospects at the Las Vegas Fab 48, one of four travel-circuit tournaments taking place locally that will cap the July evaluation period for college basketball recruiters. The Fab 48, adidas Super 64, Las Vegas Classic and Vegas Finals tip off today at multiple gyms across the valley and conclude Sunday.
Brown and the Prospects play in a showcase game at 5 p.m. today at Bishop Gorman against Supreme Court Force (Calif.), which is expected to feature 6-10 DeAndre Ayton, the top player in the class of 2017.
"I've been doing this for 13 years, and if you had to compare him to every other freshman (from Vegas), he's the best at this age," said Las Vegas Prospects coach Anthony Brown, who is not related to Troy. "You're drawn to him because he's such a great kid. When he walks into a room, he lights it up. … Most guys, they get that superstar status, they're like, 'Let me get home.' He initiates conversations. That's rare."
Troy Brown earned a scholarship offer from UNLV before he ever suited up for Centennial and went on to enjoy a stellar freshman campaign. Brown averaged 15.3 points, 9.7 rebounds, 4.0 assists and 2.7 steals as the Bulldogs (25-4) reached the Division I Sunset Region final last season.
His reputation blossomed further this summer with an impressive showing during the Stephen Curry Select Camp at Alameda, Calif., followed by a dominating effort at the local LeBron James Skills Academy this month. Brown reportedly got the better of his head-to-head matchup against Jalen Brunson, a five-star recruit in the class of 2015, at James' camp before sitting out the final day with a minor injury.
Troy Brown Sr., a former basketball player at Texas A&I (now Texas A&M-Kingsville), said his son's height and athleticism come from his mom, Lynn, and the younger Brown is a rare commodity as a tall point guard. Basketball scouts have chased that white whale since Oscar Robertson retired, with varying degrees of success.
For every Magic or Michael Carter-Williams, the reigning NBA Rookie of the Year, there was a George McCloud or Walt Williams.
College coaches and recruitniks have been enamored all summer with Brown's holy trinity of point-guard skills — size, leadership and court vision — and the Hardaway comparisons are obvious, thanks to their similar skill sets and body types.
But in this age of instant gratification, the younger Brown remains a throwback. He continues to compete against players his own age with the Prospects' 15-and-under squad and is in no rush to decide his future.
Brown said he benefited from seeing his older sisters go through the recruiting process — Janae is a rising senior thrower on the UNLV track and field team; Jada is a rising sophomore forward at Kansas — and won't start looking at schools until next year. Along with UNLV, the younger Brown has oral scholarship offers from Arizona, Arizona State, Southern California and UCLA.
Brown will try out for USA Basketball's under-16 national team this fall, and his next mission is to improve his strength and jump shot. Brown shot 45 percent from the floor as a freshman for Centennial, a number that was dragged down by a 14-for-77 (18 percent) showing from 3-point range.
"We'll try to put him in the best positions; he has to go out and realize his dream," Troy Brown Sr. said. "I think our family, we want to give back. And more than anything, we want him to be somebody that when you walk away, people say that's a good kid. I think that's the thing me and his mom are most proud of. It's not the basketball. It's the fact he's a good human being."
Contact reporter David Schoen at dschoen@reviewjournal.com or 702-387-5203. Follow him on Twitter: @DavidSchoenLVRJ.