Former UNLV forward falls short of NCAA bid with new team
Updated March 10, 2023 - 11:07 pm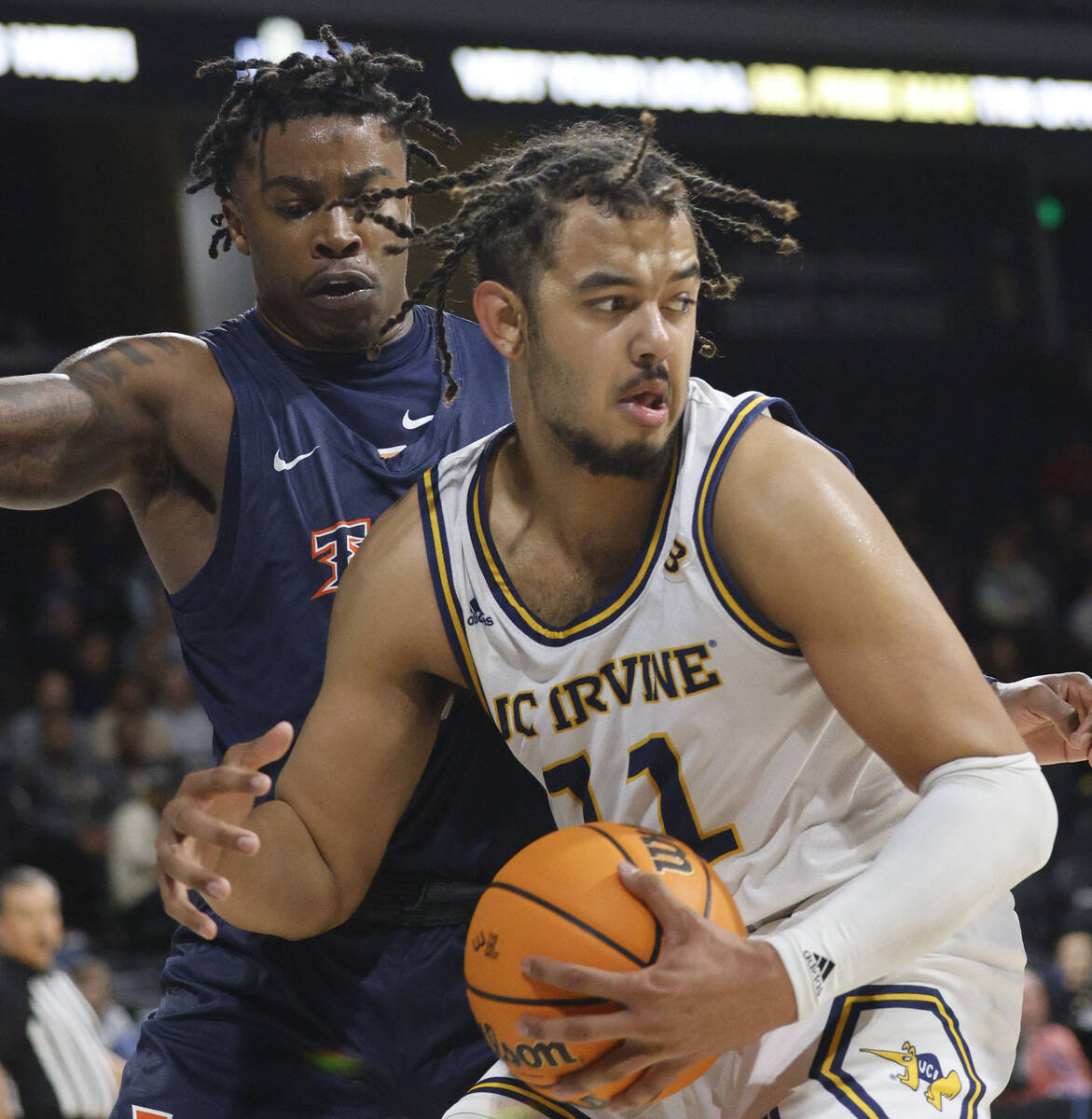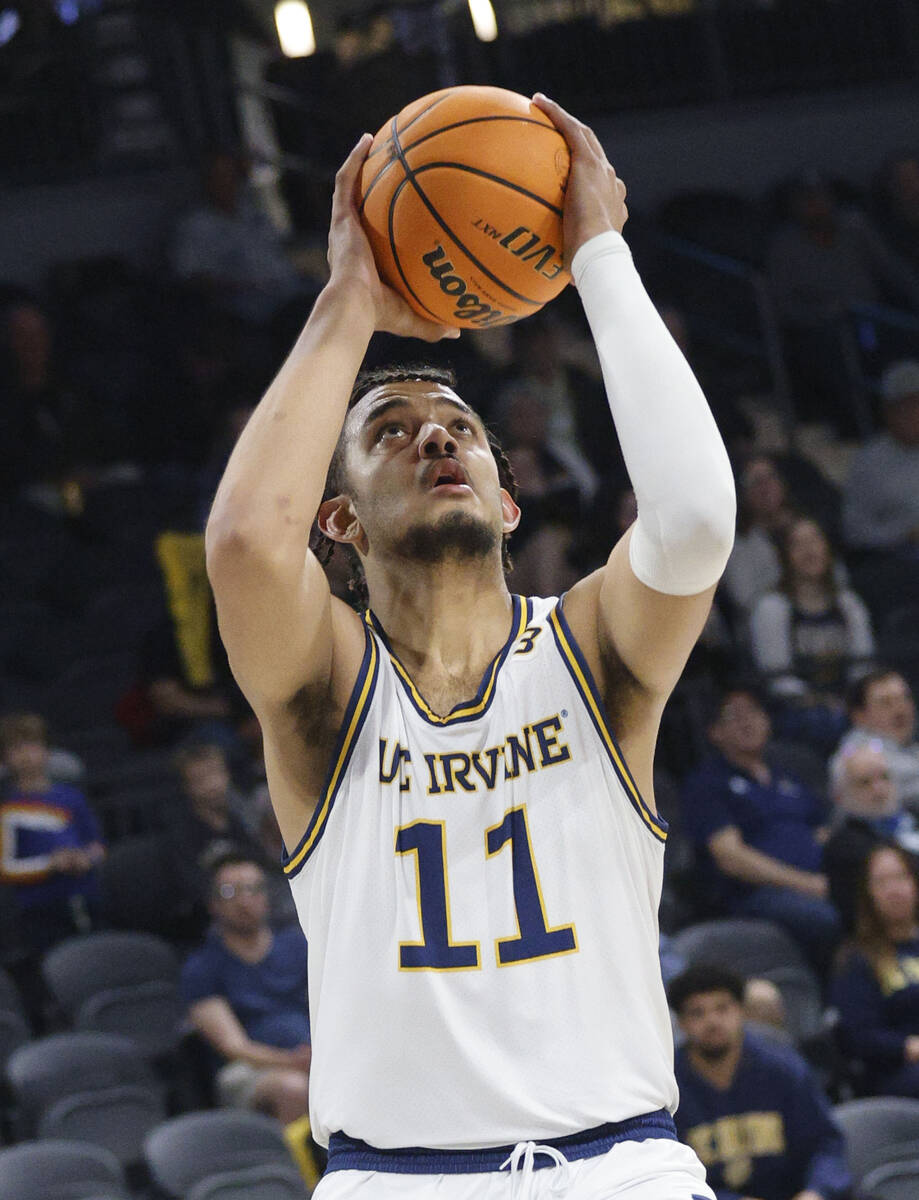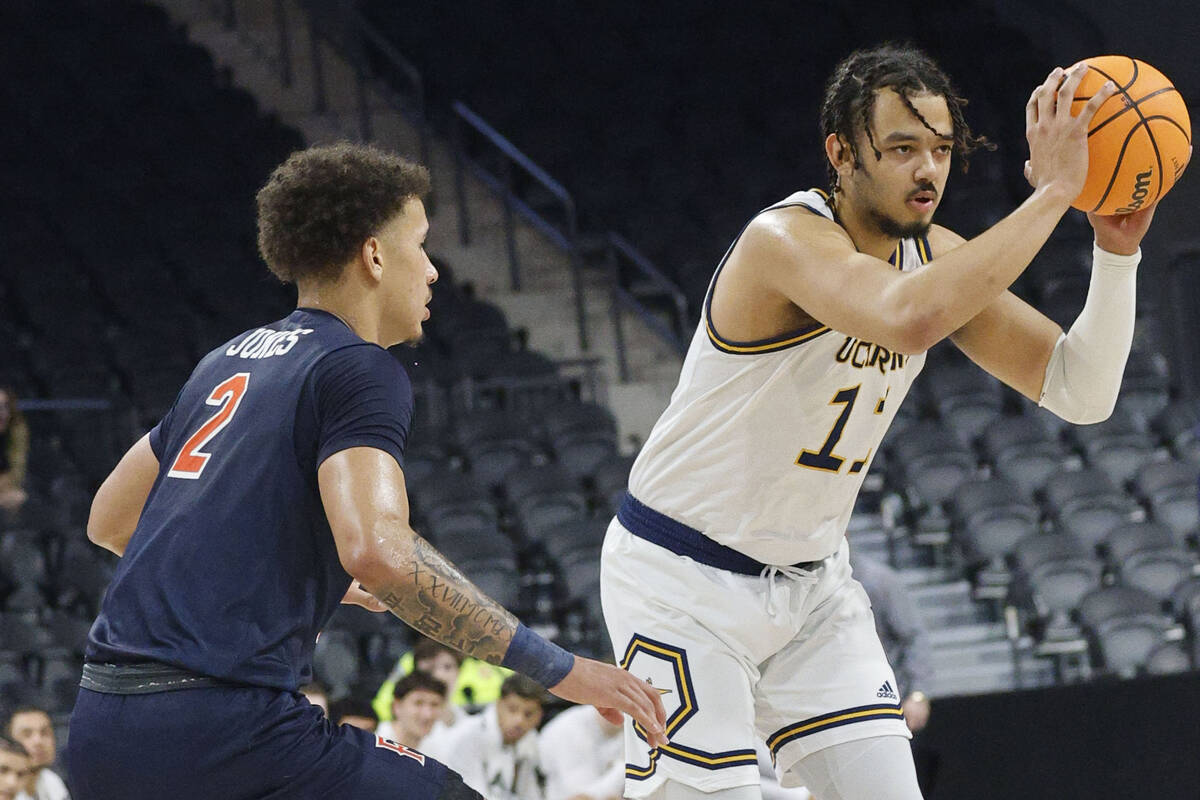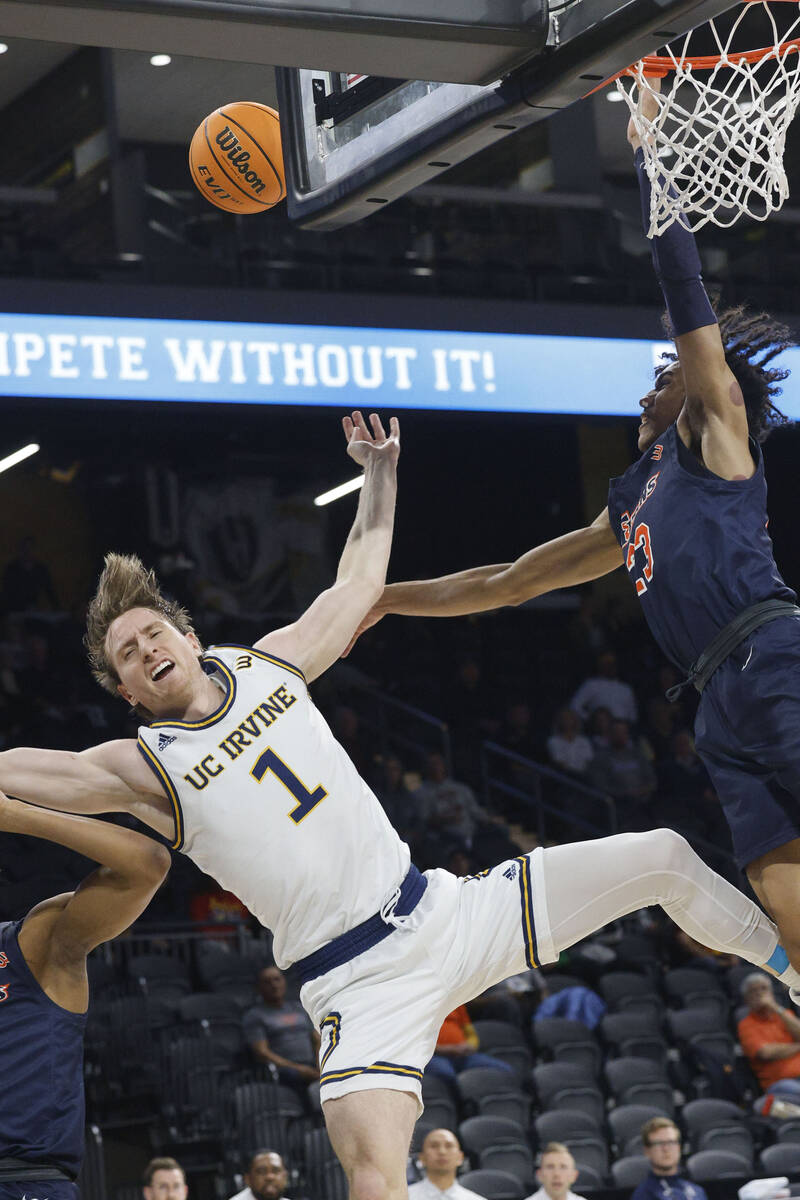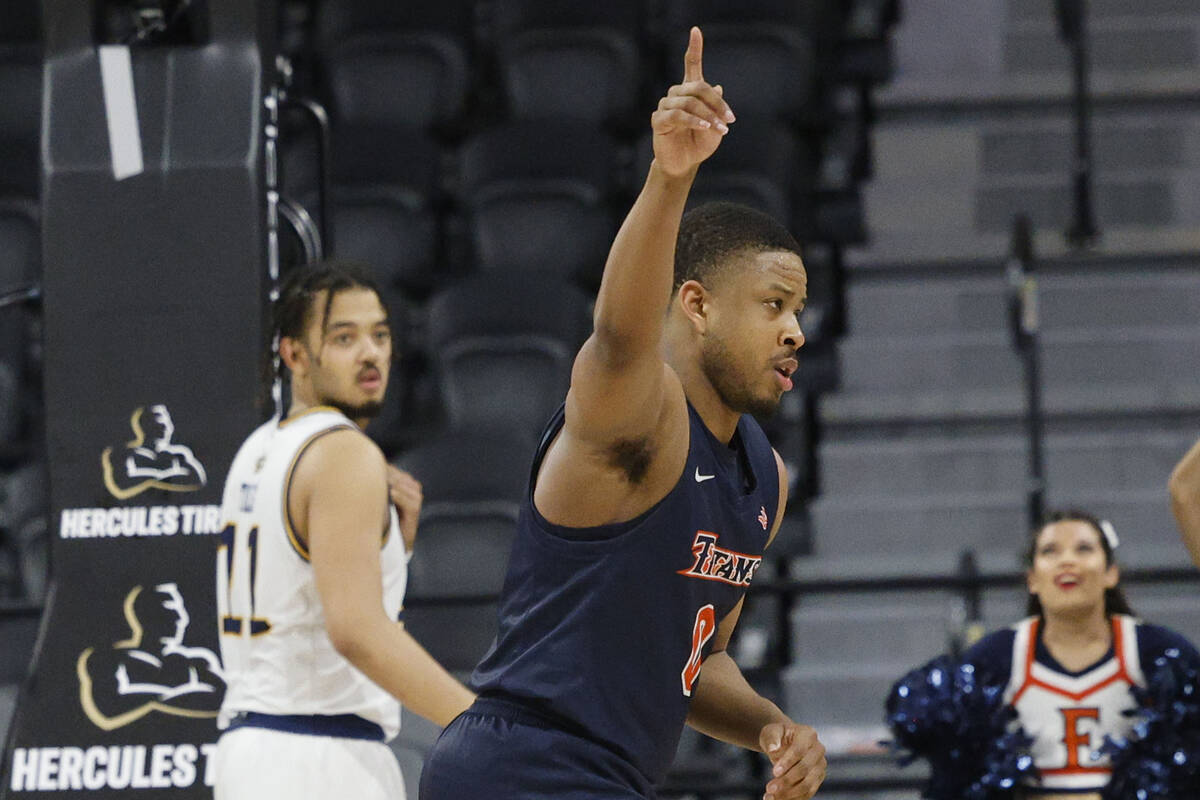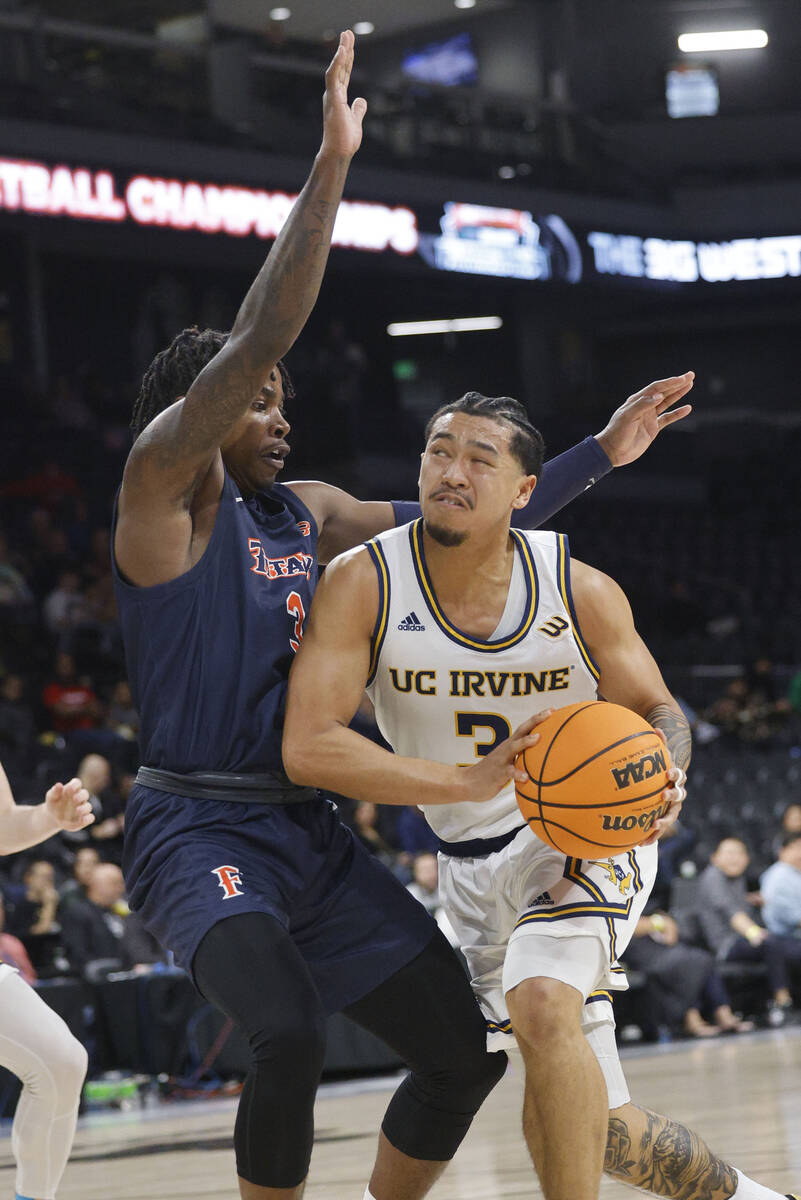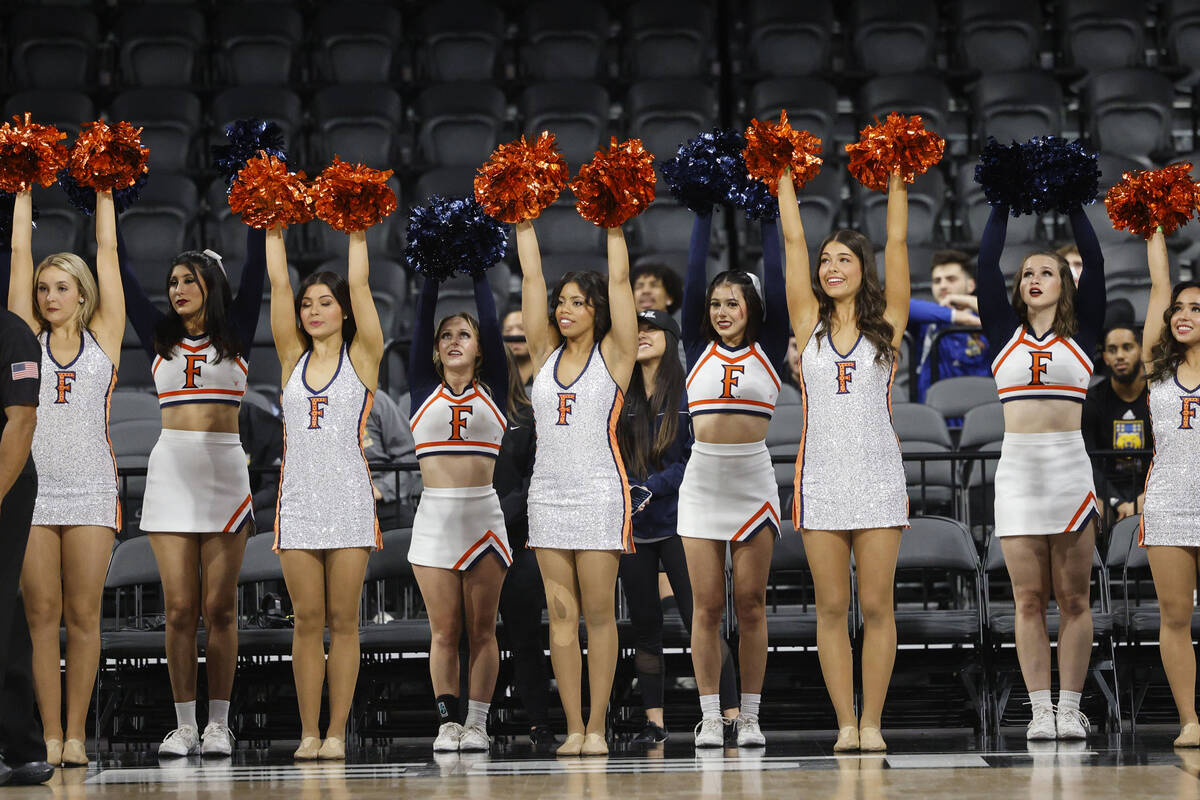 Devin Tillis stood on the court after the final buzzer with his hands on his knees and his eyes directly affixed on the floor of Henderson's Dollar Loan Center on Friday night.
This was not the way his return visit to Las Vegas was supposed to end for Tillis, a redshirt sophomore forward who transferred from UNLV two years ago to be closer to home and consistently compete for NCAA Tournament bids.
Tills and top-seeded UC Irvine were ousted 83-80 in the Big West tournament semifinals by fourth-seeded Cal State Fullerton when a contested 3-point attempt by DJ Davis hit harmlessly off the backboard as the buzzer sounded.
"It just hurts," Tillis said. "You play a tough game like that and feel like you can win it right to the end. But the other team makes more plays than you, and you feel like you could have done more, and it's over so there's nothing more you can do.
"We lost, but you can't feel like a victim. We just have to come back better."
The Anteaters (23-11) were good all season, but they were ousted by a Cal State Fullerton team that went 10-for-17 from 3 on Friday. The Titans (20-12) advanced to play UC Santa Barbara, a 92-87 winner over UC Riverside, in the final at 6:30 p.m. Saturday.
Tillis finished with nine points and seven rebounds. He found some solace in the fact that the Anteaters earned an automatic bid to the NIT by virtue of winning the regular-season title, but that's not the postseason tournament the Los Angeles native had in mind when he transferred to one of the Big West's premier programs.
"That was the biggest goal," Tillis said of finding a program that could regularly put him in position to make the field of 68. "The culture here is great, and we have a chance to win championships every year. We couldn't get it done today, but we were definitely in position to go to the NCAA Tournament."
While coach Russell Turner has made two NCAA Tournaments during his 13 years on the job, his teams have not lost more than five conference games since 2013 and have won at least 20 games in eight of the last 10 full seasons.
The Orange County campus is also closer to home than Las Vegas, which was another factor in his decision to transfer after T.J. Otzelberger left UNLV for Iowa State. Tillis had played in 24 games as a freshman, including eight starts at the end of the season. He averaged 3.7 points and 3.5 rebounds.
"I learned a lot of things that year," he said. "There were a lot of ups and downs, so I was able to learn to be a better leader and a better teammate. It's not always about you, it's about your team. I think I really grew as a person and a player.
"It was definitely a positive experience. I have a lot of love for the city of Las Vegas and UNLV, especially. I loved being here, I loved the guys and the coaching staff. It's nothing but love."
His decision to move closer to home to continue his career became almost fortuitous when he had to miss the entire 2021-22 season, his first at UC Irvine, due to injury.
"That was really hard," he said. "It sucks being hurt, especially when you feel you could be out there helping your team. It was kind of a dark time, but I bounced back because I had the right people around me."
Being a short drive away from his parents' home didn't hurt.
"That was huge," he said. "Being close to mom and dad, getting some home cooking and some love. It's always the best."
Tillis said he made a big step forward this season as he returned to full strength and made 30 starts, averaging 7.2 points and a team-high 6.1 rebounds.
He said he hopes to continue that upward trajectory and play basketball for as long as he can.
His natural leadership abilities will help. The sophomore has become an extension of his coaches on the floor, often taking the initiative to call his teammates together for a quick discussion during the game or offer words of encouragement.
"Early in my career, I believed that could be my role, but I didn't really know how to impose that on my team," he said. "But Coach Turner has kind of delegated that role, and I've really tried to take it by the reins."
That will come in handy as the Anteaters process the disappointment of falling short and try to channel it into excitement to keep playing in the NIT.
Contact Adam Hill at ahill@reviewjournal.com. Follow @AdamHillLVRJ on Twitter.