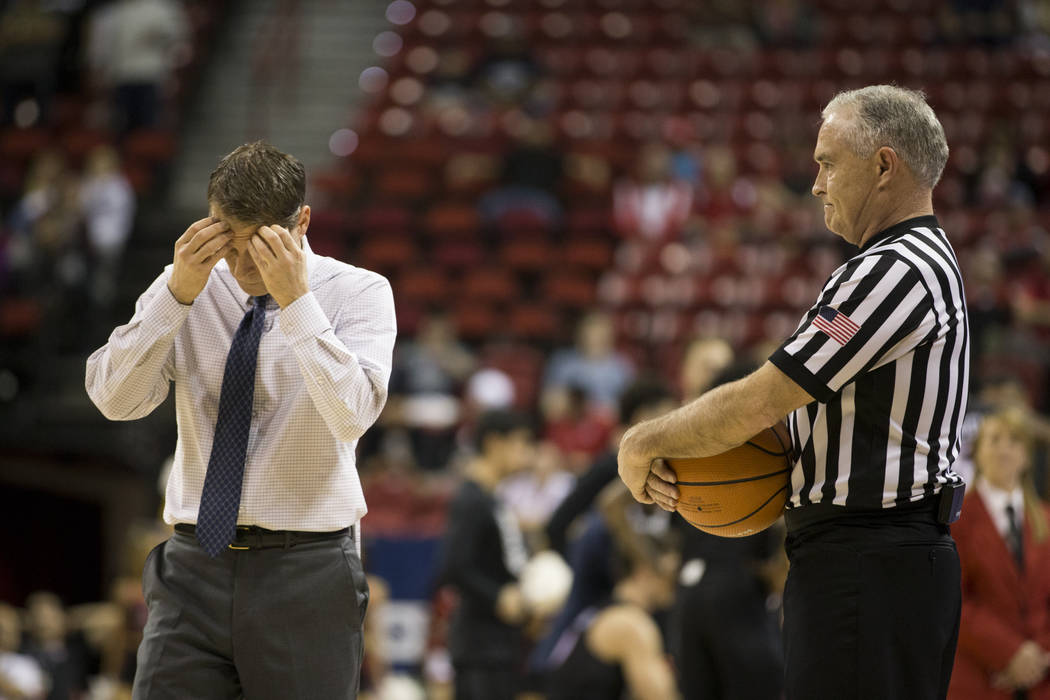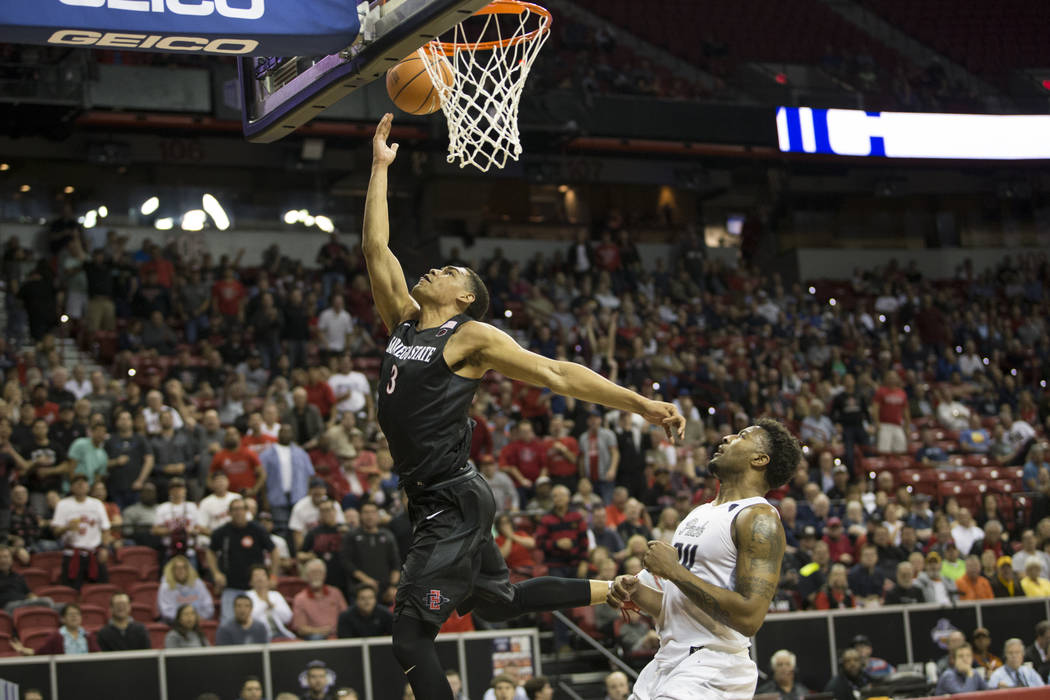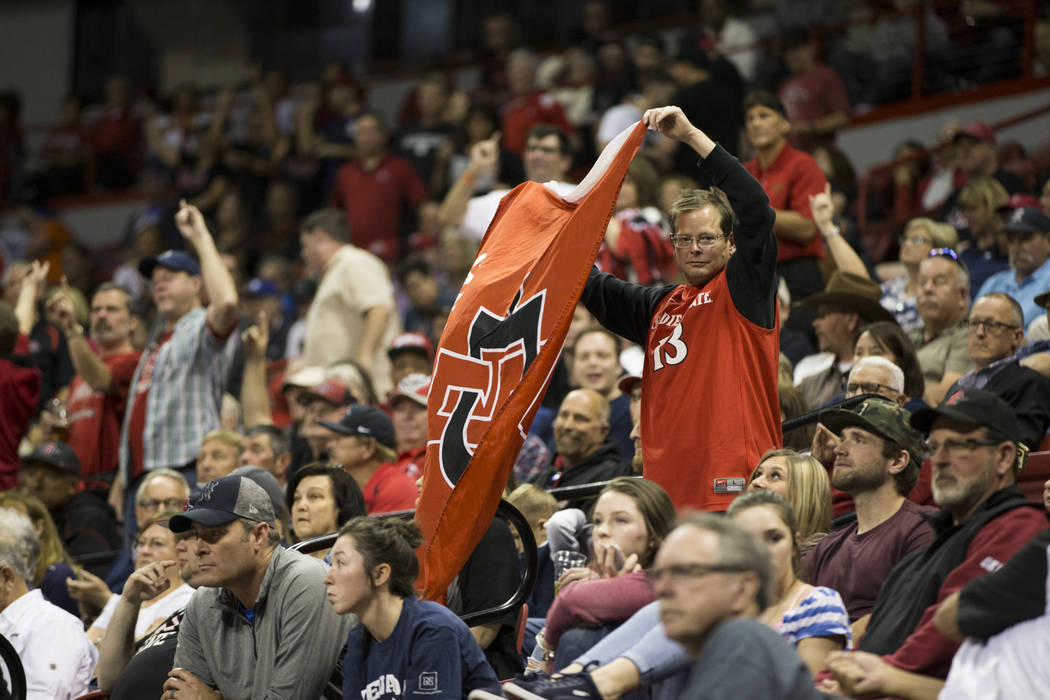 It wasn't long ago when the Thomas &Mack Center was the place to be in Las Vegas this time of year.
An announced crowd of 15,135 showed up for the 2014 Mountain West men's semifinals to watch UNLV play San Diego State and Boise State face New Mexico.
Now crowds are so sparse that the future of the Mountain West tournament in Las Vegas is in question. The conference considered moving the event to San Diego or Phoenix in 2020, but extended the agreement with Las Vegas an extra year.
What happens in 2021 and beyond is anyone's guess.
"We've had a really long and robust relationship with Las Vegas," Mountain West deputy commissioner Bret Gilliland said. "Our fans have made it clear that this is a destination they like to come to, so that's going to be part of the consideration. (Las Vegas Events) has been a great partner with us, but we have to do our due diligence on it as we do on anything and evaluate what the future is for it.
"I don't know that we have any definitive plan other than we will evaluate, take a look at it and say, 'What's the best direction to go?'"
Conference commissioner Craig Thompson is in New York to represent the Mountain West on the NCAA Tournament selection committee and wasn't available for comment.
The buzz that the Mountain West tournament used to create has been taken over by the Pac-12 Conference, which moved its event to Las Vegas in 2013. It became so successful at the MGM Grand Garden Arena that last year the tournament moved to T-Mobile Arena, drawing record crowds, including 19,224 for one session.
At the Thomas &Mack last season, an announced crowd of 5,602 attended the championship game between UNR and Colorado State, and the four-day tournament averaged 5,381. That's the lowest attended Mountain West tournament, which is in its 19th year.
An internal Thomas &Mack Center memo obtained by the Review-Journal estimated about 5,000 fans would attend Saturday's championship game between San Diego State and New Mexico. Gilliland and Mountain West senior associate commissioner Dan Butterly said, however, that they were encouraged, pointing to the increased attendance this year compared to last. Through Friday, an average of 6,322 fans had attended.
"When we started the Mountain West 20 years ago, this market was certainly a lot different than it is now on a number of levels," Gilliland said. "We're certainly in tune with that, and you've got to try to mesh all those different pieces together. There are competitive considerations. There are economic considerations, travel, fans, all those sorts of things. I continue to believe that if we perform at the levels that we have in the past, we're not going to be all that much impacted by other tournaments in town."
More than the Pac-12, the issue has been the decline of the Mountain West's marquee programs. At their best, UNLV, San Diego State and New Mexico would win and attract fans in droves.
UNLV is still trying to reclaim its past glory, but San Diego State and New Mexico are showing signs of making their way back, so maybe there is hope in that regard.
"The years that we were drawing 18,000 and selling out the semifinals, we were a three- to five-bid league for the NCAA Tournament," Butterly said. "If we're performing, fans will be here."
San Diego State 90, UNR 73 — The fifth-seeded Aztecs dominated from the start, going up as many as 34 points in crushing the top-seeded and 22nd-ranked Wolf Pack to reach the Mountain West men's championship.
San Diego State (21-10) extended its winning streak to eight games and beat the Wolf Pack (27-7) for the second time in six days.
The Aztecs will need to win Saturday's title game to earn a spot in the NCAA Tournament. The Wolf Pack are expected to make the field of 68.
Devin Watson led a balanced San Diego State scoring attack with 20 points, and Jalen McDaniels had 17 points and 12 rebounds. The Aztecs made 51.9 percent of their shots.
Jordan Caroline had 25 points and 10 rebounds for UNR.
New Mexico 83, Utah State 68 — The third-seeded Lobos went on a 19-point run in the first half to take control over No. 7 Utah State.
New Mexico (19-14) has won seven games in a row and will face No. 5 San Diego State in Saturday's championship at 3 p.m.
Troy Simons led New Mexico with 17 points. Sam Merrill scored 17 for the Aggies (17-17).
Contact Mark Anderson at manderson@reviewjournal.com. Follow @markanderson65 on Twitter.
MW tournament
Year;city;average crowd
2000;Las Vegas;10,008
2001;Las Vegas;9,674
2002;Las Vegas;13,421
2003;Las Vegas;13,483
2004;Denver;8,322
2005;Denver;8,974
2006;Denver;7,459
2007;Las Vegas;10,984
2008;Las Vegas;10,380
2009;Las Vegas;9,522
2010;Las Vegas;12,002
2011;Las Vegas;13,983
2012;Las Vegas;12,625
2013;Las Vegas;12,826
2014;Las Vegas;12,006
2015;Las Vegas;8,524
2016;Las Vegas;7,348
2017;Las Vegas;5,381