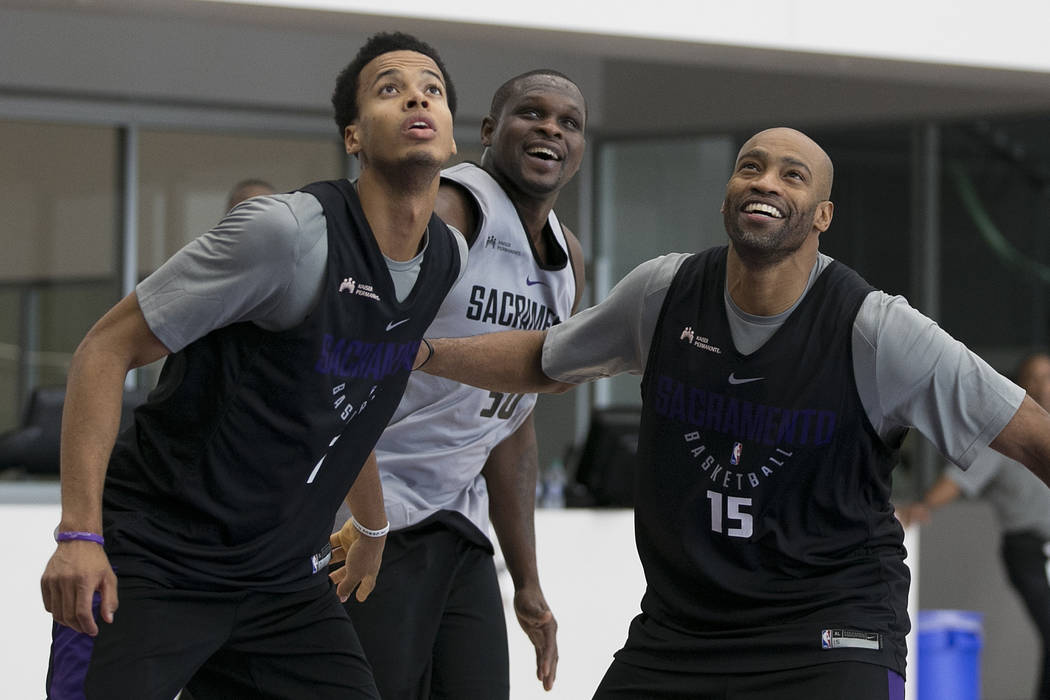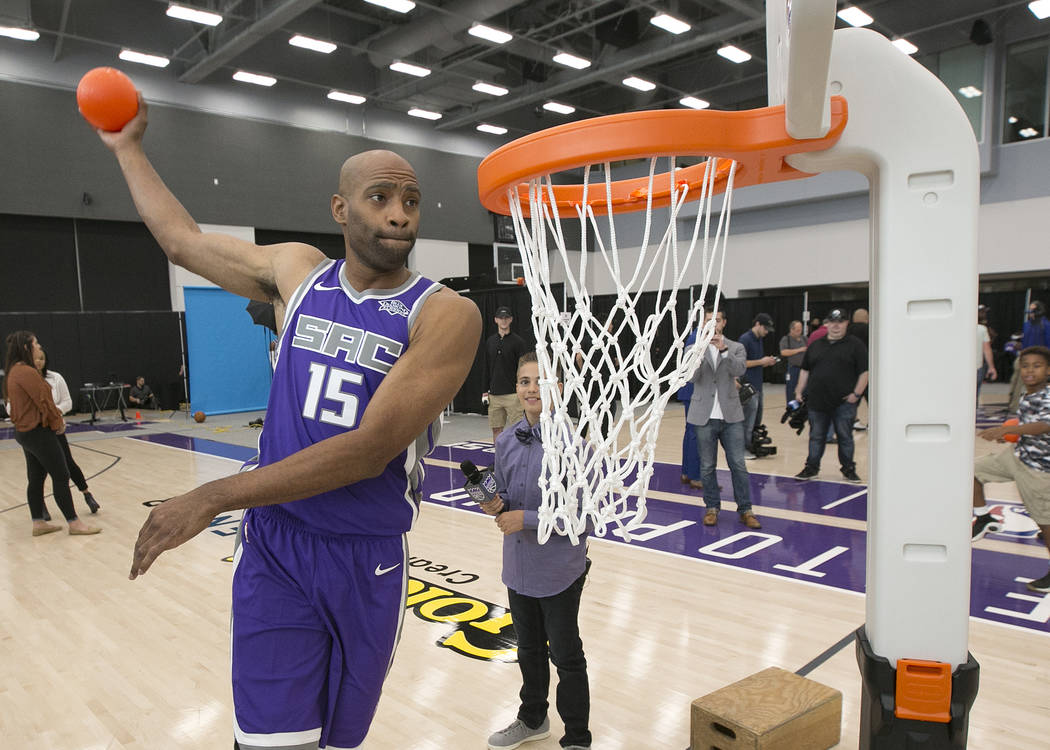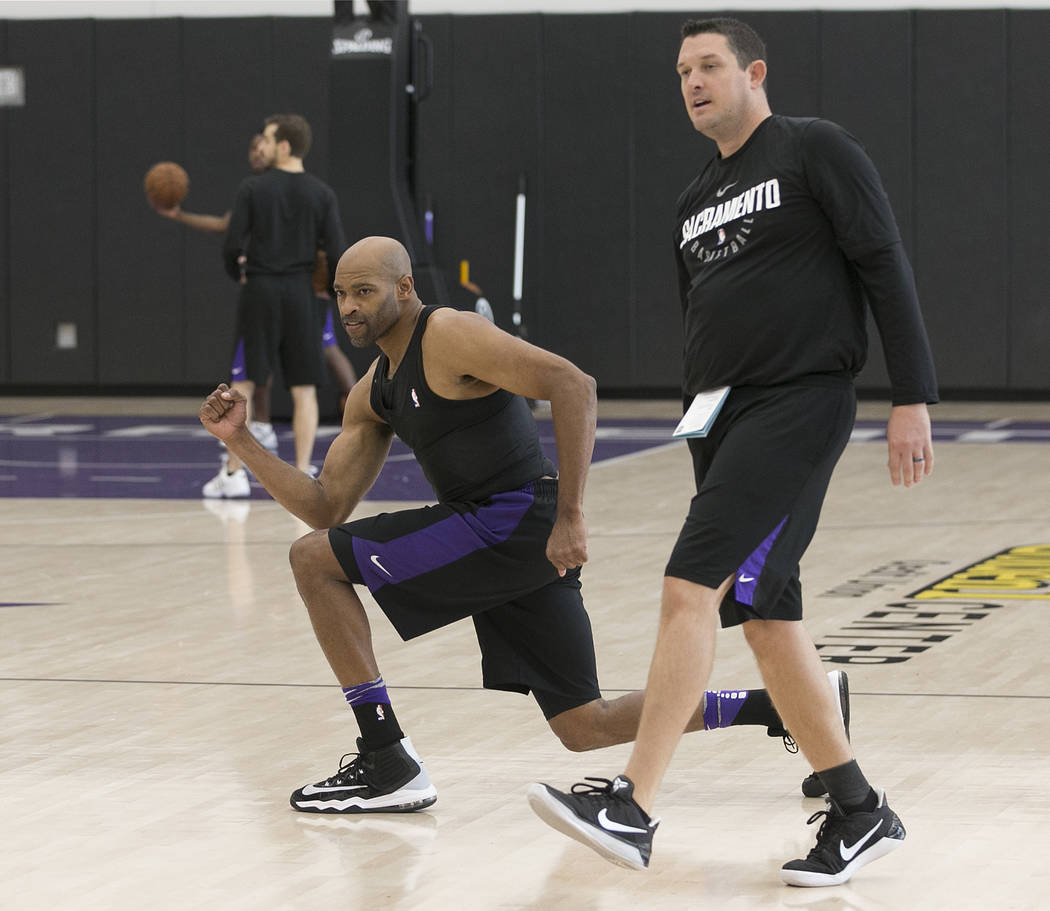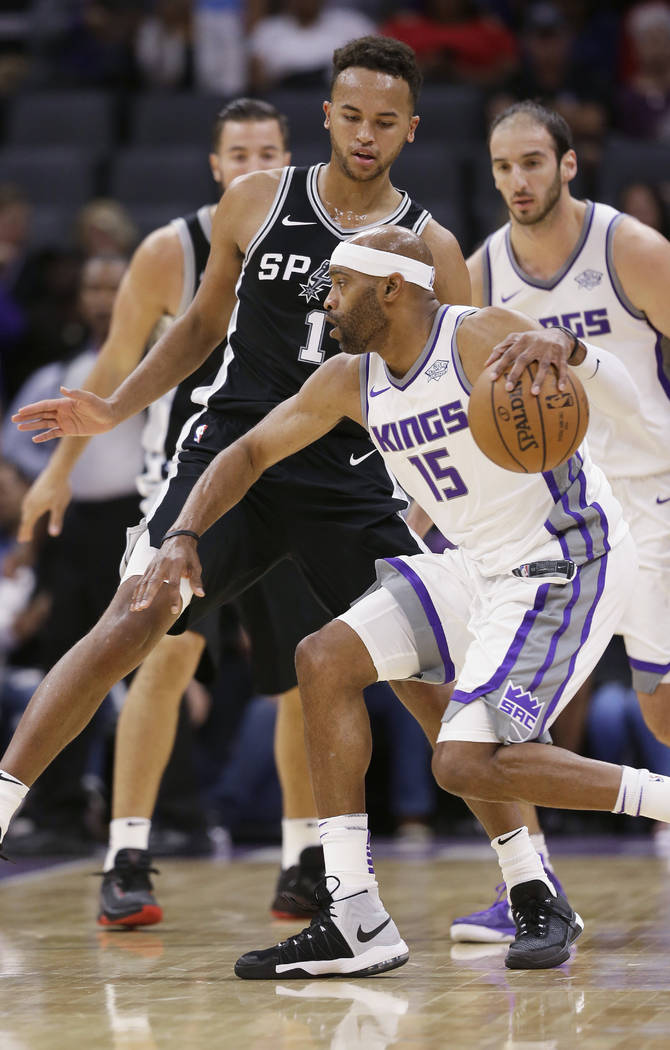 Sacramento Kings rookie swingman Justin Jackson was 4 when Vince Carter ventured into stardom by unleashing a dazzling array of dunks at the 2000 NBA Slam Dunk Contest in Oakland, California.
There were the reverse 360 windmills, the East Bay Funk dunk and, of course, the iconic "Honey Dip."
"That was my first vivid memory (of Carter)," Jackson said. "It's crazy just to think now that (we're teammates)."
Crazy indeed.
Carter, 40, signed a one-year deal with the Kings in July after spending the past three years with the Memphis Grizzlies.
Sacramento, which plays the Los Angeles Lakers in a preseason game at 6 p.m. Sunday at T-Mobile Arena, has not qualified for the postseason since the 2005-06 season, and is in the midst of another rebuild around young players such as No. 5 overall pick De'Aaron Fox and Jackson.
Carter was broached by Kings brass about playing a mentorship role and is embracing it.
He shares his insights with his younger teammates about what it takes to be successful on and off the court, and Jackson said he picks his brain on a regular basis.
"He's a terrific mind. Still can play, and also a mentor for teammates, whether they be young or older, because nobody's older than he is," said Sacramento coach Dave Joerger, who coached Carter for two years in Memphis. "He can be a mentor for everybody."
Carter was one of the Grizzlies' top reserves last season, averaging 8.0 points and 24.6 minutes in 73 games. He hasn't been the "Human Highlight Film" in quite a few years, but is still spry enough to occasionally get to the basket.
He's improved his 3-point shooting over the course of his career, too — a necessity in today's pace-and-space era — and shot 37.9 percent on 3s last season.
Carter said he knew early in his career that he wanted to play as long as possible, and made corresponding lifestyle decisions to get the most out of his talent.
"(I've prolonged my career by doing) the right things. Stretching, taking care of my body. Getting my rest," Carter said. "You have to decipher what's important. Do you want to hang out and live the lifestyle? Or do you want to enjoy the NBA life?"
Carter said he was motivated to return for a 2oth season because he still loves to play and enjoys sharing his experiences with the younger players.
"I love being a part of all this, with what it comes with," Carter said. "It's hard to walk away from."
And while he might not be the bounciest player on the team anymore, he can still put on a show from time to time.
"He'll act like his knees hurt and stuff like that," Jackson said. "But he can definitely get up a little bit."
Contact reporter Sam Gordon at sgordon@reviewjournal.com. Follow @BySamGordon on Twitter.
Lakers vs. Kings
What: NBA preseason game
When: 6 p.m. Sunday
Where: T-Mobile Arena
Tickets: $22-$145
TV: ESPN, WatchESPN