Warriors coach Steve Kerr to lead Western Conference team in All-Star Game
January 24, 2017 - 10:33 am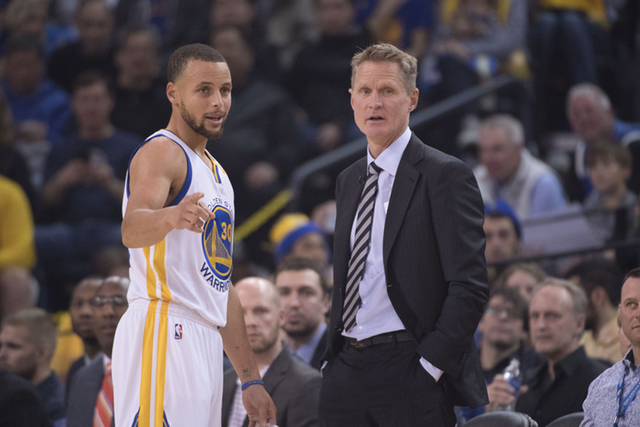 Golden State Warriors coach Steve Kerr will coach the Western Conference in the NBA All-Star Game on Feb. 19 after the Warriors locked up the conference's top record through games played on Feb. 5.
Thanks to the Houston Rockets' 127-114 loss to the Milwaukee Bucks on Monday, Kerr and his staff — which consists of assistants Ron Adams, Mike Brown, Jarron Collins, Chris DeMarco, Bruce Fraser and Willie Green — were assured their spots on the bench in New Orleans.
Golden State (38-7) holds a 2 1/2-game lead in the West standings over the San Antonio Spurs (35-9) and a 5 1/2-game advantage over the Rockets (34-14).
Spurs coach Gregg Popovich was not eligible for consideration after coaching the West to a record-setting 196-173 win in last year's All-Star Game.
Kerr is the second coach in Warriors' history to be selected as the West's coach twice. He guided the West to a 163-158 victory in the 2015 All-Star Game in his first year as Golden State's coach.
Former Warriors coach Alvin Attles also coached the All-Star Game twice in 1975 and 1976. Kerr is also the first coach to earn two All-Star nods in his first three NBA seasons since Paul Westphal with the Phoenix Suns in 1993 and 1995.
On Nov. 18, Kerr became the fastest coach in NBA history to earn his 150th coaching victory after doing so in his 176th game.
Before Monday's game against the Heat in Miami, Kerr lashed out at players around the league for not taking their All-Star voting responsibilities seriously.
"I am very disappointed in the players," said Kerr, via the San Francisco Chronicle. "They asked for the vote, and a lot of them just made a mockery of it. … I saw the list. I saw all the guys who got votes. Were you allowed to vote for yourself? I don't know. Were guys voting for themselves? There were 50 guys on there that had no business getting votes."
The East's coach will be chosen from the conference's team with the best record upon completion of games played two weeks before the game. Cleveland's Tyronn Lue is ineligible after coaching the East in last season's loss.
The Cavaliers (30-13) own a 2 1/2-game lead over the Toronto Raptors (28-16) for the East's top spot.