England and Las Vegas sports books set to lose $15M on EPL's Leicester City Foxes
April 12, 2016 - 11:34 pm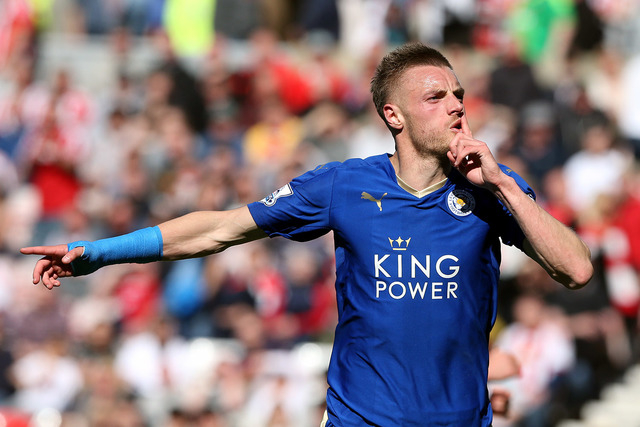 Who is Jamie Vardy? Ask the average football fan that question, and the likely answer will be a blank stare.
But we're not talking NFL. The topic is English Premier League soccer.
Vardy leads the Leicester City Foxes, the team that is threatening to cost sports books in England and Las Vegas a combined $15 million.
"We're a six-figure loser if Leicester City holds on," said Michael Grodsky, director of marketing for William Hill books in the U.S.
MGM Resorts sports book director Jay Rood said he's counting losses in the "low six figures," and other bookmakers are also reporting significant losses in soccer futures, meaning Las Vegas books are facing estimated damages in the $1 million range.
This is the definition of a Cinderella story: Leicester City is close to winning the Premier League and cashing at odds as high as 5,000-1 in England and 2,500-1 in Las Vegas.
"I have not seen anything close to this in a team sport as far as these odds actually cashing," said Jeff Sherman, soccer oddsmaker at the Westgate Las Vegas. "I don't know what you could even equate it to. It's crazy. It's unbelievable."
Imagine the Cleveland Browns winning the Super Bowl, and multiply that feat by 10. The Browns' odds of 200-1 are the highest of the NFL's 32 teams on the Westgate futures board.
"It's ugly," Rood said. "It's not a huge deal, but it's going to wipe out everything we've done to soccer because it's such a low-handle sport for us. Anything associated with soccer will be a loser because of this result."
It is really ugly across the pond, where soccer is a high-handle sport. According to a report by ESPN.com, English sports books will pay out around $14 million if Leicester City wins the title. William Hill spokesman Graham Sharpe told ESPN that 25 bettors played Leicester City at 5,000-1 odds.
With five games remaining, the Foxes are seven points ahead of second-place Tottenham. At the Westgate, Leicester City is posted at 1-8 odds (minus-800) to win the title, followed by Tottenham (5-1), Arsenal (30-1) and Manchester City (250-1).
Grodsky detailed three wagers on Leicester City at the opening odds of 2,500-1 at William Hill books in Nevada:
• $10 at the Silver Sevens book on July 15, 2015.
• $5 at the Buffalo Bill's (Primm) book on June 24, 2015.
• $2 on the mobile app on June 6, 2015.
Sherman said the Westgate took a $5 bet at 2,000-1 and a $10 bet at 1,000-1 before the odds "started declining pretty rapidly."
Rood said MGM Resorts wrote nine tickets, with an average wager of $20, at 1,000-1, and added that "most of our damage" was done at 400-1 odds.
"It's going to be our worst loss we've ever had in Premier League futures," Sherman said.
Vardy has 21 goals for Leicester City, which was considered one of the worst teams in the league last summer.
"Vardy has come out of nowhere fast," said Sherman, who saw "no indication" the Foxes were set to go on an improbable title trot.
Rood said Las Vegas bookmakers often rely on the "experts across the pond" to set accurate odds on English soccer.
"It should not have been this high because they had this kid Vardy who was the hottest player this year, and soccer can be impacted by a hot player," Rood said. "It seems like this was a severe oversight."
Contact sports betting reporter Matt Youmans at myoumans@reviewjournal.com or 702-387-2907. Follow on Twitter: @mattyoumans247